Back when people first started making soap, there were only two readily-available ingredients: lye and tallow. Tallow is basically animal fat rendered for soapmaking, and many soapers still use tallow in their recipes. While it can be a controversial ingredient, it acts similar to palm oil in soap, adding lather stability and hardness to soap. Some soapers choose to use it in place of palm oil, because they have a ready supply of it or because they like the properties it adds to their soap. In today's guest post, crafter Eric Vought explains the benefits of tallow and how to use its unique properties to your advantage.  — A.M.
Tallow is rendered animal fat (curious how to render tallow? This post has information as well as this informative Teach Soap post). Tallow is mentioned in the first Greek legends when soap was accidentally created from ash and fats. It's great for making hard, white bars, and it's ideal for certain decorating techniques.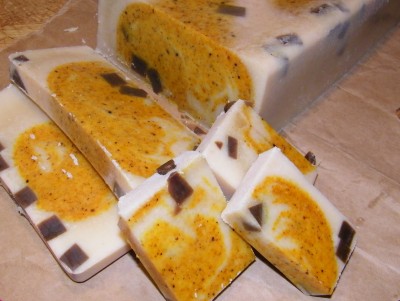 Eric Vought, the author of this post, made this laundry soap from a combination of sheep tallow, coconut oil and olive oil. Watch for the tutorial coming soon!