I hope everyone had a lovely and safe Fourth of July. We put the kiddos to bed early (thanks to a city-wide personal fireworks ban, that was possible this year). Today, we did a fun play date on Lake Samish (complete with a slip'n'slide for the kiddos). I am continually amazed by the beauty of this place! The weekend isn't promising to be as hot as last weekend, but since it's not over yet, I still plan on doing lots of gardening and taking a few sunset evening walks. At Bramble Berry, we're gearing up for a series of tutorials next week to give your skin a beautiful bronze glow, so keep your eyes on the blog and sign up for our newsletter.
Enjoy the rest of the holiday weekend! With the help of my very active set of kids, I know I will =)
Pins: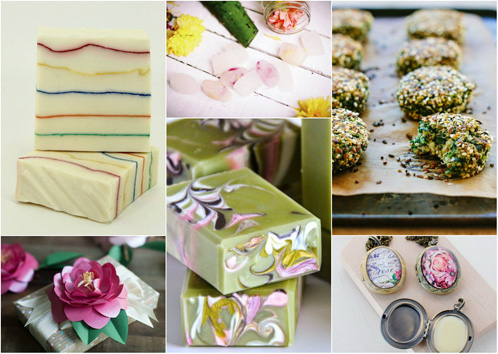 Top row, left to right:
Instagram:
We spent last Friday filming tutorials to go along with the Summer Soap Crafting Club. Below is the beautifully simple Linear Swirl:
And the  Psychedelic Green Tea soap. If you'd like to sign up for the summer session, there's still time! The first kit will go out at the end of this month =)

Tweets:
 You've heard of computer hacks, and these 10 'life hacks' are just as innovative! They include everything from how to peel a kiwi perfectly with a spoon and how to start a grill with potato chips.
With all the World Cup craziness going on (go USA!), it's interesting to see the effects on the web of millions — if not billions — of World Cup watchers. Google has set up an entire team of people specifically to monitor and create content around the Cup.
What happens when you elect an anarchist mayor? Ask Reykjavik, Iceland! The city elected Jón Gnarr as mayor in 2010, and his four years of governing have been a wild ride. He is no longer the mayor, but rumor has it he may run in the country's presidential elections. This article is hilarious and uplifting.
Have a great holiday weekend! To keep up with the latest soapy social media throughout the week, you can follow me on Twitter, Tumblr, Instagram, Pinterest, Vine and YouTube.