Find this patriotic DIY project here.
Happy Independence Day! I hope you are all having a wonderful holiday. This week, we rounded up our Summer Hair Series and featured a wide variety of guest posts. Then, Jodi of Empire Rose Soap Co. shared her takeaways from a HSCG 2014 session, regarding formulating scrubs and body butters. Dawn from Horsing Around Soap also shared her HSCG experience with tips and tricks for turning your hobby into a business.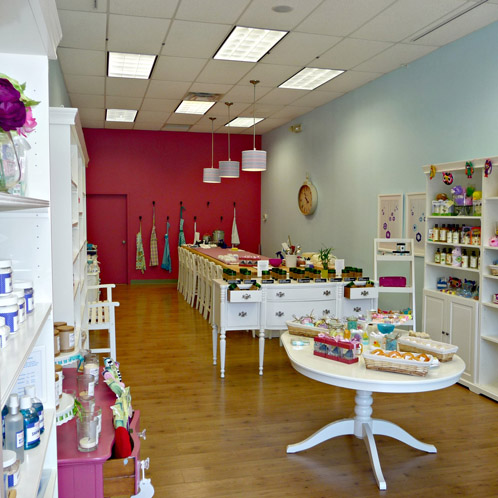 With summer barbeques in full swing, why not bring a little craftiness to the party? Creating bath bombs is a fun and easy group activity, and it was the perfect addition to my sister in law's baby shower. Here are some tips to make your own bath bomb fizzy station for your next get-together.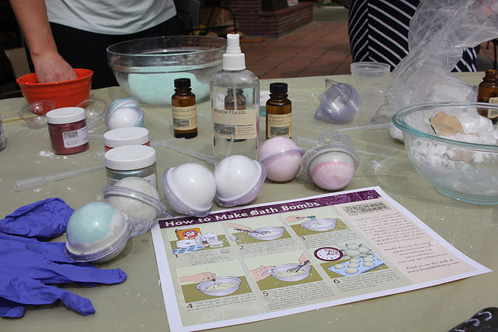 A simple melt and pour project is another great party activity. The Perfect Party Favors Project is not only easy to make, but creates a fun activity once the soap has been unmolded! If you're looking for a more advanced project, the Rainbow Unicorn Melt and Pour Tutorial is full of sparkle and color.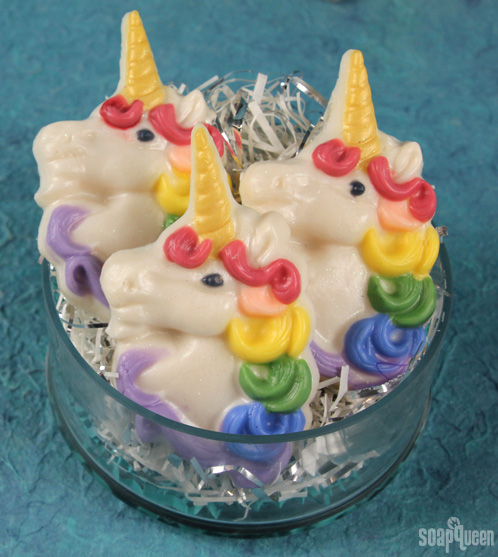 Speaking of colors, let's focus on the colors of the day: red, white and blue! Our Facebook Photo of the Week from Lotions and Soaps is full of patriotic spirit. With plenty of sparkle, color and soapy frosting, these cupcakes and loaves of cold process really shine. If you'd like to try creating your own cold process soap frosting, check out the Rose Garden Cold Process Soap Tutorial. It's easier than you think!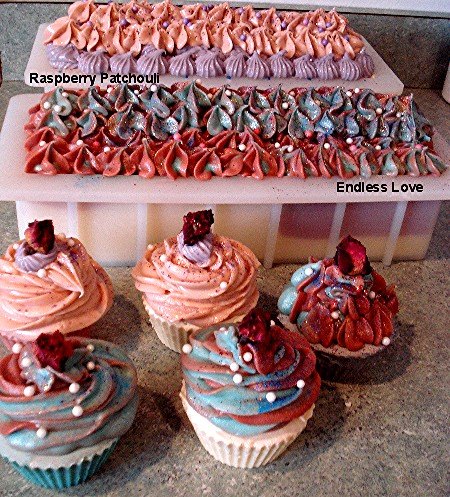 For more Independence Day inspiration, the 4th of July Fireworks Cold Process features layers along with mica oil painting. If you're looking for a simpler project, the Easy 4th of July Stars is a great way to celebrate the USA. The 4th of July Mashup showcases a wide variety of Independence Day inspired projects from the soaping community.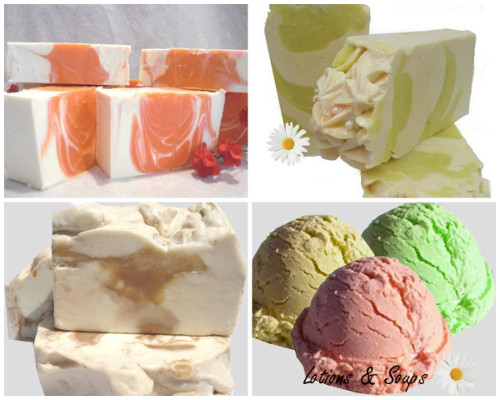 Shown above (top left, clockwise) is the summery Black Raspberry and Vanilla soap, Lemongrass and Mint soap, Ice Cream Bubble Scoops, and the Oatmeal, Milk and Honey soap. One of Bramble Berry's top sellers, Oatmeal Milk and Honey Fragrance Oil is a fabulous blend of soft honey and toasty oats. If you are looking for some projects using this scent, check out the Oatmeal Milk and Honey Mantra Swirl Soap and the Silicone Column Oatmeal Milk and Honey Tutorial.
Find Lotions & Soaps
On the Web
On Facebook
Post pictures of your crafty creations on the Facebook page each week for a chance to be featured on the Soap Queen blog and receive a sweet soapy package from Bramble Berry. Photos are chosen based on consensus from the Bramble Berry staff, so the best way to increase your chances of winning is to show us lots of photos!