Phew! I'm sorry this blog post is a day late. We had our big Soap Crafting Book release party last night where we announced our special Soap Crafting Club. The celebration went late! =) Stay tuned to hear more about that and see photos of the cupcake laden event.
The rain has really picked up around here, and we're once again starting to live up to our nickname as 'Evergreen State'. But cooler temperatures and a wetter climate doesn't have to be a bad thing — in fact, for this soap we took a cue from all the evergreen trees around here that give us our lush reputation. I love the way the brown, white and black colors swirl to look like tree rings, and the gold mica dusting on the outside mimics bark. For this technique, we used our fabulous Silicone Column Mold, which seals so tightly you can fill it with water and not worry about spilling a drop. We scented this soap with our ever popular Oatmeal Milk and Honey Fragrance Oil for a warm, comforting touch.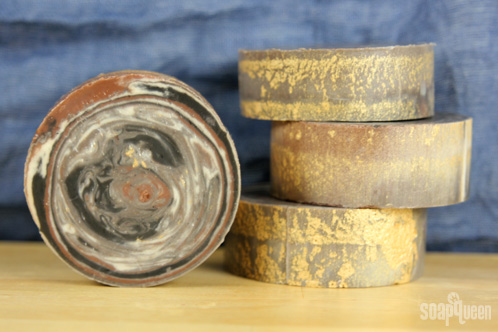 What You'll Need:
3.6 oz. Canola Oil
.69 oz. Castor Oil
7.5 oz. Coconut Oil
3.4 oz. Olive Oil
7.5 oz. Palm Oil
3.3 oz. Sodium Hydroxide
7.5 oz. distilled water
1.5 oz. Oatmeal Milk and Honey Fragrance Oil
Titanium Dioxide
Brown Oxide
Black Oxide
Silicone Column Mold

Click here to add everything you need for this project to your Bramble Berry shopping cart!
Side note: This soap stayed pretty soft for a while. I wish I would have used 1 tsp of Sodium Lactate per pound of oils (added to my lye water).
If you've never made Cold Process soap before, stop here! I highly recommend checking out our FREE four part SoapQueen.tv series on Cold Process Soapmaking, especially the episode on lye safety. And if you'd rather do some reading, Bramble Berry carries a wide range of books on the topic, including my newest book, Soap Crafting. You can also checkout the digital downloads for that instant gratification factor.
COLOR PREP: Disperse 1 teaspoon of each colorant into 1 tablespoon of Sunflower or Sweet Almond Oil (or any other liquid oil). Use a mini mixer to get clumps worked out smoothly.
MOLD PREP: This mold is absolutely water and soap tight but you need to make sure it is FULLY CLICKED in the seam area. Run your fingers over those seams extra times just to be on the extra safe side.
SAFETY FIRST: Suit up for safe handling practices! That means goggles, gloves and long sleeves. Make sure kids, pets, and other distractions and tripping hazards are out of the house or don't have access to your soaping space. Always soap in a well-ventilated area.
ONE: Slowly and carefully add the lye to the water and gently stir until the lye has fully dissolved and the liquid is clear. Set aside to cool.
TWO: Combine the Canola, Castor, Coconut, Olive and Palm Oils (remember to fully melt then mix your entire container of Palm Oil before portioning). Once the lye water and the oils have cooled to 130 degrees or below (and are ideally within 10 degrees of each other), add the lye water to the oils and stick blend until thin trace. If you'd like a harder bar of soap that lasts longer in the shower and releases faster from the mold, you can add Sodium Lactate to the cooled lye water. Use 1 teaspoon of Sodium Lactate per pound of oils in the recipe.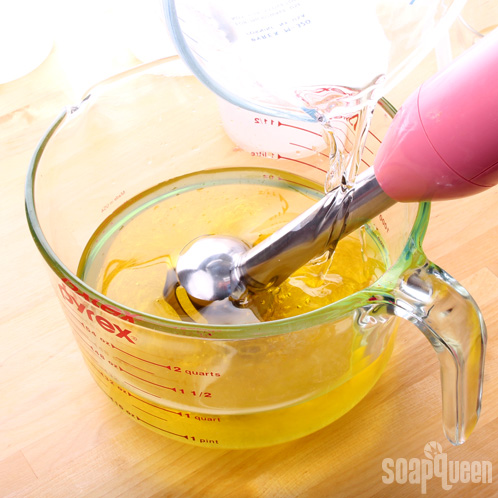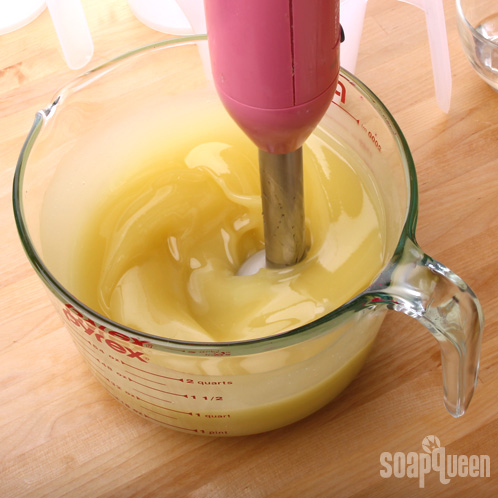 THREE: Once the batter has reached thin trace, divide it into three equal portions (each container should hold approx. 4 cups of batter). Side note: How awesomely amazing are these containers? They can even hold lye water and their long pouring spouts make for easy design work.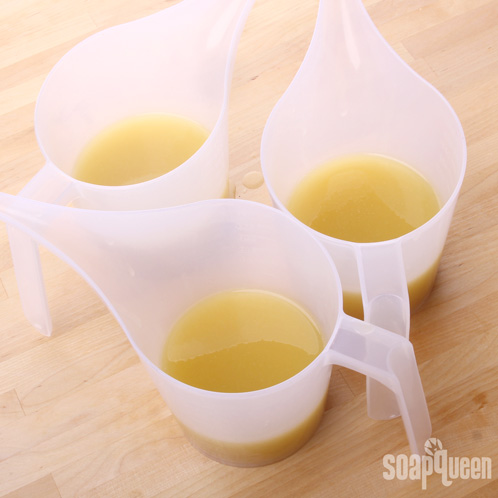 FOUR: Now add the dispersed colorants. We added 3 teaspoons of dispersed Titanium Dioxide to one cup, 1 teaspoon disperse Black Oxide to the second and 1 teaspoon dispersed Brown Oxide to the third. Whisk the colorant into the batter so as to not accelerate trace.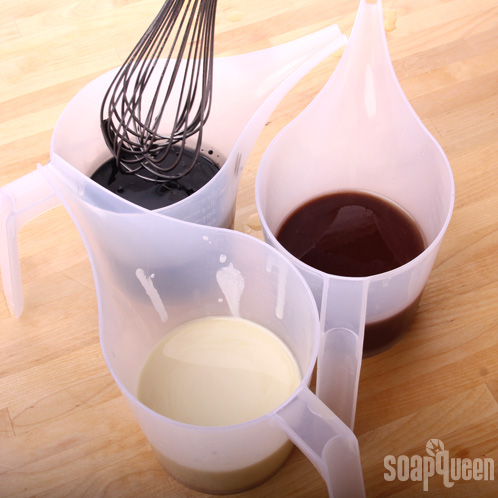 FIVE: Divide the fragrance evenly between the three cups. Use a spatula or spoon to incorporate the fragrance into the batter.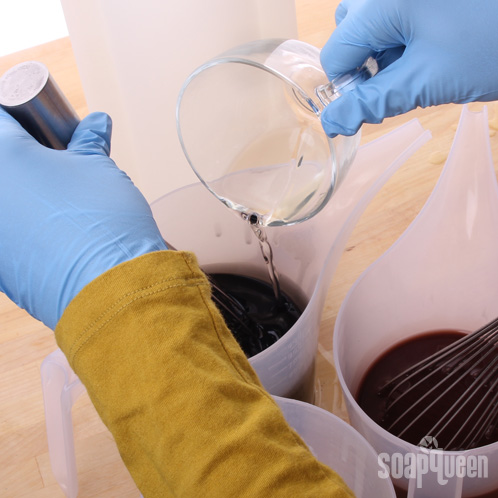 SIX: Once the fragrance and colorant have been fully mixed into the batter, pour off about 1/4 cup of one color into the mold. In between pours, use a Powder Duster to dust a thin layer of Sparkle Gold Mica directly over the opening of the silicone column mold.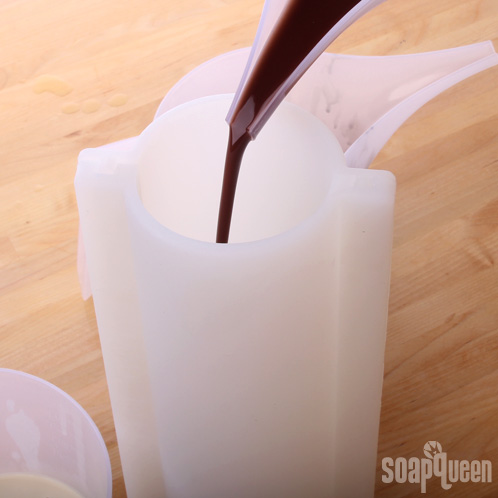 You can see from the above photo how thin of a trace I'm working with. I really wanted to have the colors swirl beautifully together, rather than be a traditional faux-funnel pour (which works with slightly thicker trace to suspend the design).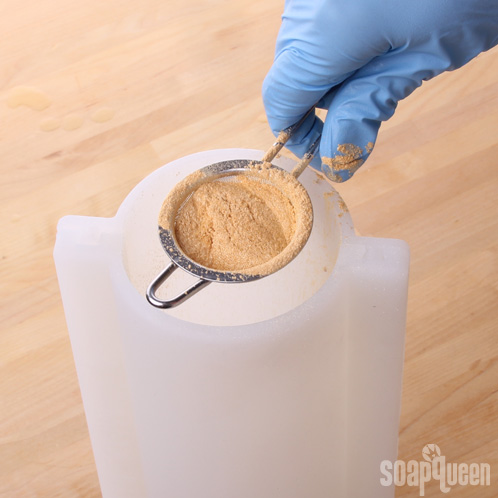 SEVEN: Continue alternating between pouring each color and dusting a mica vein. Continue the pattern until the soap fills the mold. I count to 'three' to know when to stop with each color. It's more accurate for me than eyeballing the pour.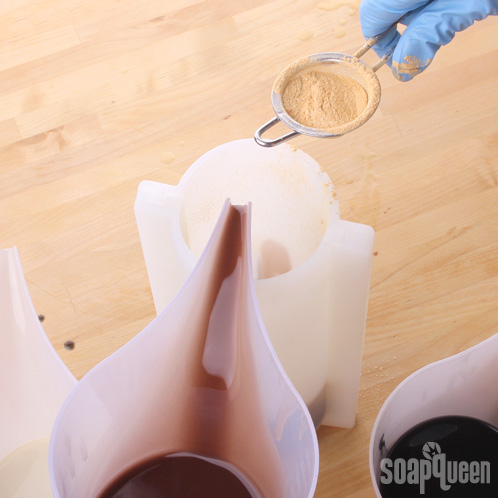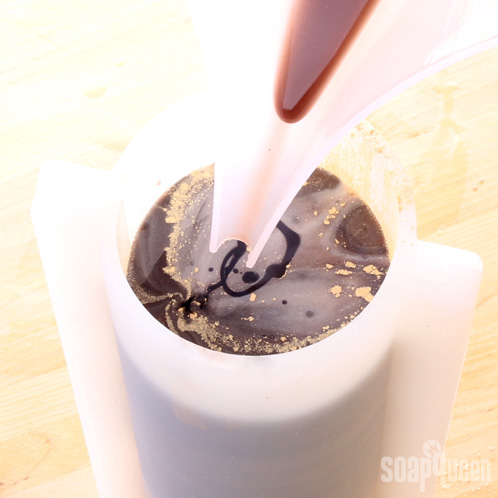 To unmold the soap:
Because this is a particularly soft soap, we recommend waiting 1-2 weeks before unmolding it and then another week after that to cut it. Really, I said "weeks". You can freeze the soap and it will come out sooner but we just were super patient. The recipe combined with the nature of silicone molds to  not release and evaporate water makes this a longer release and cutting period that most soaps.
ONE: Stand the mold up on its end and pull apart the seam on one side. If you find that the mold is pulling soap off the loaf, it is still too soft and needs to be left in the mold for a few more days. Once the seam has been opened on one side, gently pull apart the seam on the other side.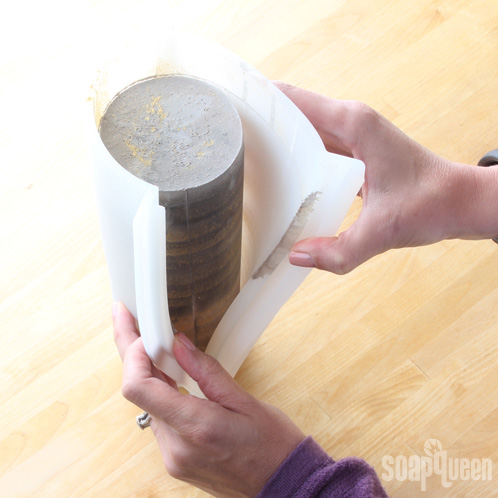 TWO: Even though you've unmolded the soap, it may still be soft enough to show finger prints if you touch it directly. To eliminate this, roll the loaf onto a piece of wax paper (shine-y side up!). Using a sharp knife, cut the soap between 1 – 1.5 inches thick. Place on a cookie cooling rack to dry.
Allow the soaps to dry for another 1 – 2 weeks, then enjoy!