One of the best things about the soaping community is how generous soapers are to one another. This week we announced the lucky winner for the Soap Guild Ticket Giveaway, and were blown away when another soaper came forward to giveaway her ticket as well. Congrats to the winners of the ticket giveaway — Gates of Burly Stone Soap Co. and Dawn of Horsin Around Soap. We can't wait to hear about your experiences!
With summer quickly approaching, it's time to prep your skin for the sun. Exfoliation is the key to healthy, glowing skin and this Margarita Salt Scrub Tutorial leaves your skin feeling silky smooth. Curious about which exfoliant is right for your project? The new Exfoliant Sampler Pack allows you to experiment with eight different kinds. If you're instead looking to sooth irritated skin, the Sunday Night Spotlight: Oats has great info and project suggestions.
Speaking of sun, look no further than our Facebook Photo of the Week for lots of bright sunshine rays. It could bring sunshine to even the gloomiest of days!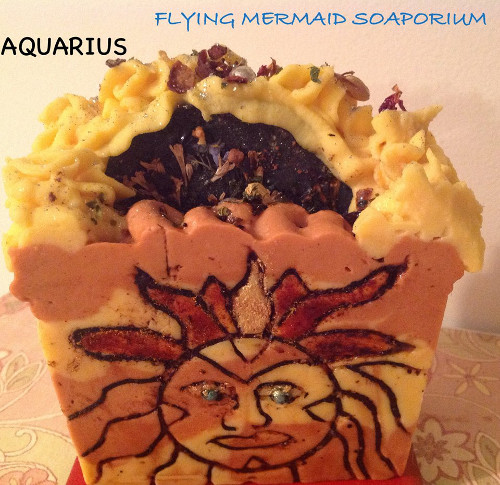 This week's Facebook Photo of the Week comes to us from Jan from Flying Mermaid Soaporium. Jan's soaps are full of artistic flair and unique techniques, and I love her recognizable style. The soap above is called the "The Aquarius," and features a hand drawn design rubbed with cocoa powder, tumeric and gold mica. Scented with a blend of Vanilla Select Fragrance Oil and Patchouli Essential Oil, and topped with rose petals and buds, this soap is bursting with personality.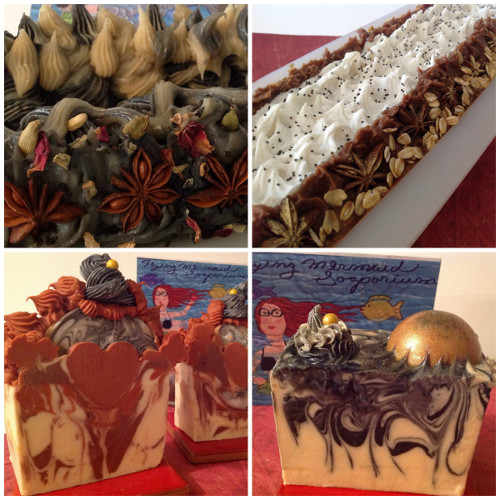 Pictured above (from top left, clockwise) is Flying Mermaid Soaporium's Oasis soap, Guinness Stout Beer Soap, O' Fortuna Soap, and Hallelujah Soap. If you'd like to make your own beer soap, we have plenty of tutorials to get you started! The Bramble Beer Soap Tutorial features a layer of gold mica, while the Black and Tan Beer Soap has a rustic, natural look. The Marbled Beer Soap Tutorial is full of tips and tricks for making beer soap.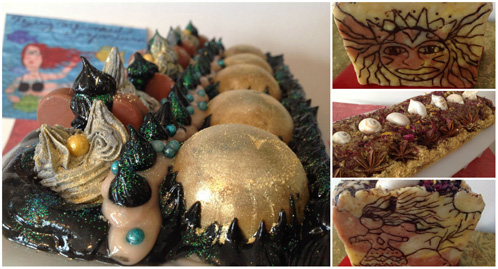 Find Flying Mermaid Soaporium 
Would you like your photo or project to be featured on the blog? Come join us for soap talk, contests and lots of crafty inspiration on Bramble Berry's Facebook page and share a photo of your latest project. Your handmade soap might be next week's feature!