Everyone is familiar with recycling. Even at a young age, we're always taught that recycling, reusing and reducing is the way to go. This Earth Day, we're not just recycling — we're upcycling! Upcycling is all about turning something old and used and turning it into something new and beautiful. Instead of throwing those used food containers in the trash, use them to create beautiful soapy projects.
To celebrate Earth Day, we're using the concept of upcycling and asking you to get creative. From now until April 21, we want to see your most creative recycled molds. If you make soap using a milk carton, yogurt cup or even egg shells, we want to see it! Post photos of your soap — and your mold — on our Facebook page with the hashtag #BBEarthDay to win an Eco Chic Melt and Pour Kit.
The kit contains 2 lbs. of Organic Melt and Pour Base, 1 oz. Spirulina Powder, 1 oz. Cranberry Seeds, .5 oz. Orange Valencia Essential Oil and .5 oz. Lavender 40/42 Essential Oil.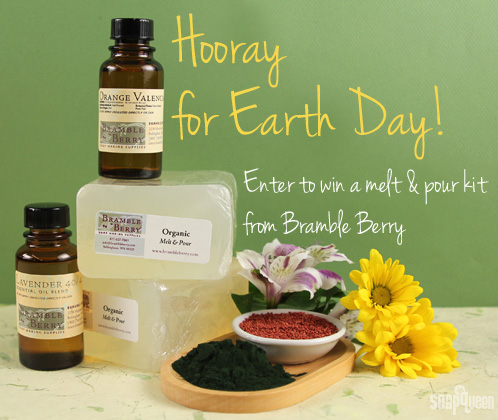 Soapmaking at it's core is a wonderful way to recycle, reuse and re-purpose. Think about it — soap as originally made with tallow, which is pure animal fat, and turning fat into soap is a creative way to use every last scrap of the animal. Although various oils may have replaced tallow for many soapers, there are still plenty of ways to be Earth-conscious in your soapmaking. Earth Day may only come once a year, but we're trying to celebrate Earth Day all year long! To recap:
Post a photo of soap made with a recycled mold. You can make cold process or melt & pour.
Post the photo on our Facebook page with the hashtag #BBEarthDay.
The contest ends April 21. Photos posted after that date will not be considered for the contest (but we will still enjoy seeing them).
On April 22, we will announce three winners who will receive the Eco Chic Melt and Pour Kit. International winners will receive a gift certificate for the value of the kit due to shipping restrictions.
Need a bit of inspiration to get your creative juices flowing? Check out this SQTV video for a project with the Eco Chic Kit.
Make Natural, Earth Friendly, Eco-Chic Soap from Soap Queen on Vimeo.
The inspiration doesn't have to stop there though. Check out this post for more mold ideas. Everything from applesauce cups to juice boxes can be turned into soap molds!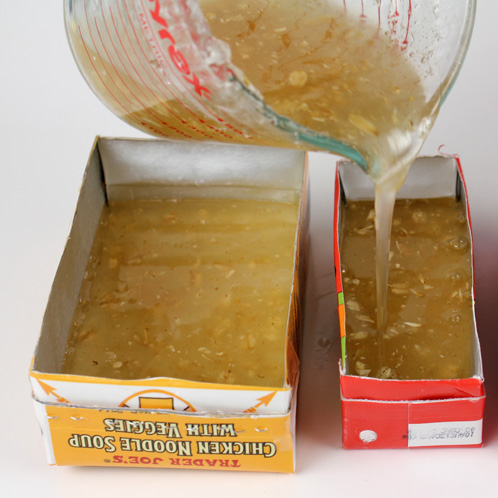 Don't throw those containers away just yet! We gave new life to this juice box and soup container by using them to make honey oat soap.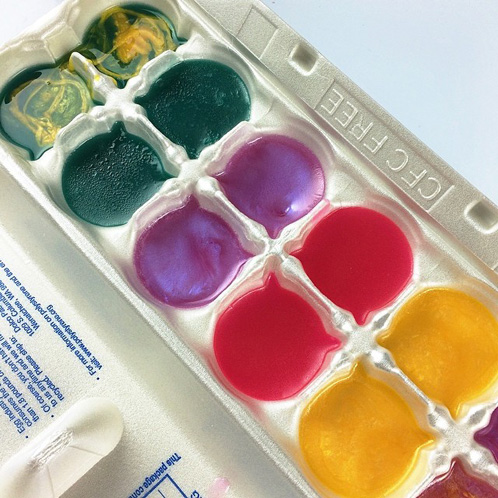 We used an egg container to make cute, Easter-themed gum drop soaps.
Anything that has a little 'give' in it and you can clean, makes a great potential mold.

We didn't limit ourselves to just soap either. We got inexpensive teacup sets from a local thrift store and re-purposed them as candles. Look out for this tutorial coming in May.
Good luck, and happy soaping everyone! I can't wait to see what you'll come up with =)