It's Friday and you know what that means! It's time to announce the winner of our weekly Facebook Photo of the Week. This week was a particularly creative week on our Facebook page. Keep those soapy pictures coming! They make us all drool (for soap).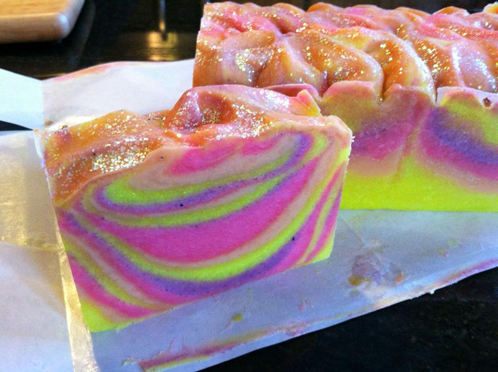 This week's photo comes to us from Becky Sheffler. This is her Faux Funnel Soap using Bramble Berry's Neon Colorants. She said she was super pleased with the outcome and noticed that the soap even looks like it is smiling at you. I love the bright colors that she used in her soap! Thank you so much, Becky, for sharing your photo with us and we can't wait to see more from you. A little fun and soapy package is being sent your way.
Missed previous Facebook Photo of the Week posts? Check out our winners here:
1/4: Jasmine Hales
12/28: Crystal from She Dragon Body Products
12/21: Linda from the Enchanted Bath
12/15: Kira and Cody from Oak Street Soaps and Candles
12/7: Lisa Bilik
11/30: Marcy from Kiku's Creations
11/23: Juli from Inspiri Body
11/16: Mike from Soap Passion
11/9: Brooke from Her Best Apple
Would you like your photo or project to be featured in a blog post? Come join us for soap talk, contests and lots of crafting inspiration at Bramble Berry's Facebook page. Share a photo with us of your latest project and your handmade soap might be next weeks feature!