With a wide selection and skin-loving properties, clays make a great addition to bath and beauty projects. Clays can add color to a project and oil-absorbing properties, making it a versatile additive. Brazilian clays are a popular variety, and come in multiple colors, including pink, purple, dark red, yellow and natural. Other popular choices include sea clay, rose clay, kaolin clay and bentonite clay.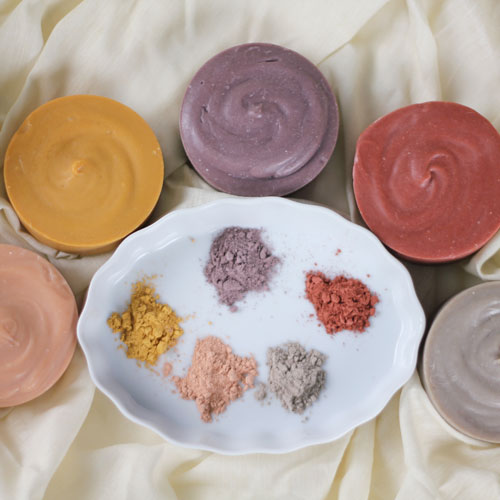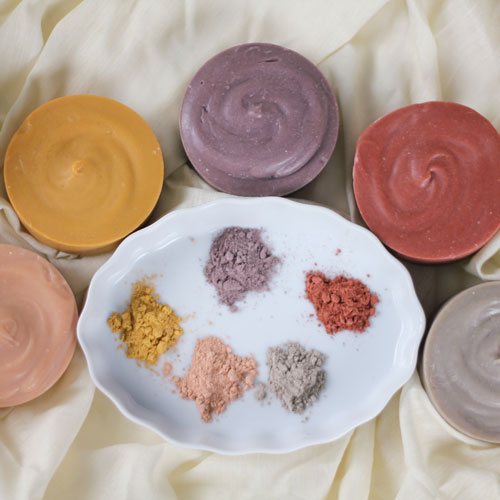 The Brazilian Clay Sampler pack is a great way to try out a variety of clays!
In cold process soap, clays are a fantastic natural colorant option. In the Waves of the Sea Cold Process, sea clay adds a smoky green layer that looks great against the deep blue. Dark red Brazilian clay is used in both the Honey Bee Cold Process and the Natural Colorant Taiwan Swirl, resulting in various shades of pink.

Dark red Brazilian clay also works wonderfully in hot process, as shown in the Oven Process Layers Tutorial. Many soapers choose to disperse clays in water rather than oil in cold process soap. Clay naturally absorbs liquid, and dispersing them in water prevents the clay from drying out the soap which may lead to a crumbly bar.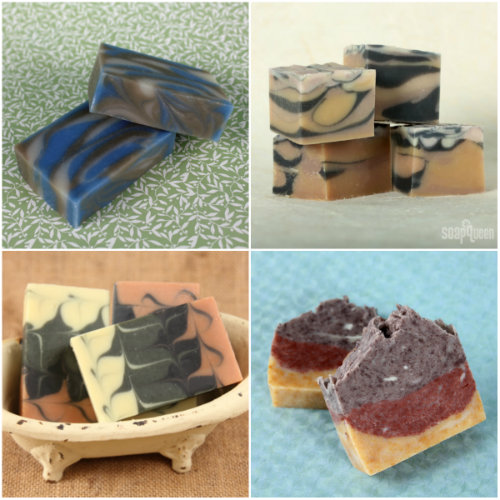 Top row, left to right: Waves of the Sea Cold Process, Honey Bee Cold Process
Bottom row, left to right: Natural Colorant Taiwan Swirl, Oven Process Layers
If you prefer to make melt and pour soap, clays work wonderfully. In the Under Your Spell Melt and Pour Clay Tutorial, various Brazilian clays are used to fill in the intricate details of the Paisley Tray Mold. If you'd like to learn more about Brazilian clay, check out the Sunday Night Spotlight: Brazilian Clay post. The oil absorbing properties of green zeolite clay is used in the Tea Tree & Rosemary Cleansing Bar to create a facial soap for oily skin types.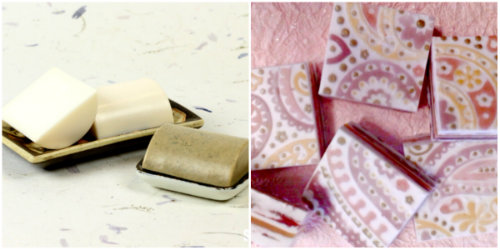 Left to right: Cleansing Bars for Dry and Oily Skin,  Under Your Spell Melt and Pour Clay Tutorial
If you're looking for even more melt and pour ideas, the Charcoal and Rose Clay Spa Bar on Soap Queen TV uses rose clay to give the project a beautiful pink hue. Activated charcoal adds a striking layer of contrast, and also contributes cleansing properties to the project. This soap is not only striking, the essential oil blend of Red Brazilian Mandarin, Rose Absolute and Sandalwood smells amazing.

Because clays have gentle exfoliation properties, they are the perfect addition to body and facial scrubs. In the Rose Clay Sugar Scrub, rose clay adds color and contributes to the scrubs creamy, thick texture. In the Rough Patches Wash Tutorial, walnut shells and bentonite clay create a body scrub that's perfect for the knees, elbows, hands and feet. Looking for an extra gentle scrub that also acts as a facial mask? The Oatmeal Facial Scrub & Mask contains oil-absorbing bentonite clay, leaving skin feeling clean and refreshed.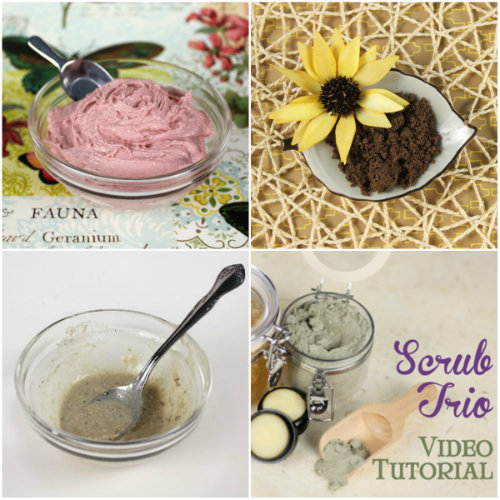 Top row, left to right: Rose Clay Sugar Scrub, Rough Patches Wash
Bottom row, left to right: Oatmeal Facial Scrub & Mask, 3 Scrub Recipes on Soap Queen TV
When used in bath bombs, clays create a harder bath fizzy. In particular, kaolin clay is a fantastic choice for bath bombs because of its neutral color. In the French Macaron Inspired Bath Fizzies, kaolin clay helps the thin bath fizzy shape stay together. Kaolin clay is also used in the For the Love of Waterlily Bath Bomb, a project that's full of color and perfect for Valentine's Day. If you're looking for more colorful, heart-inspired bath bombs, the Mini Heart Bath Bombs contain pink Brazilian clay for a soft hint of color.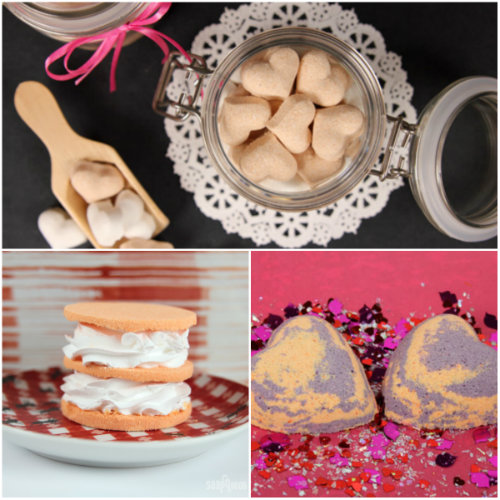 One of the most popular uses of clays in the beauty industry is to create facial masks. In the Cleansing Clay Mask episode of Soap Queen Tv, three facial masks are created using various ingredients designed for different skin types. If your skin is on the oily side, clays can be mixed with water immediately before application to create an oil absorbing paste. If your skin needs more hydration, mixing the clays with oil creates a moisturizing clay mask. Learn how to make both types, along with a "Fresh Clay Mask" in the Soap Queen TV episode below.

What is your favorite way to use clays in your projects? Keep your eyes on the blog in the coming week for a collection of recipes using a wide varieties clays!