Shorter days and longer nights don't have to be a bad thing — hopefully that means more time to spend with family and maybe even more time to soap! If you're looking for some stunning natural colorants that can be used in both cold process and melt & pour recipes, you will be interested in these new colorants that have been added to the Bramble Berry line: Brazilian Clays. Our Brazilian Clays are versatile, natural, beautiful and non-bleeding.
These clays are naturally colored and do not contain any artificial dyes or pigments. The various shades are actually achieved by variations in the minerals found in the soil in the different regions of Brazil. Bramble Berry carries five different natural clays — Natural Brazilian, Purple, Yellow, Pink and Dark Red.You can buy each color individually, or buy all five at once in our Brazilian Clay Sampler.
The clays are stable in cold process soaps and make a great addition to any clay mask or cream. Clays can be a bit tricky if you haven't used them before, and you'll need some additional preparation before using them in your cold-process soaps. Clays are incredibly absorbent and tend to accelerate trace when added dry. They can also cause cracking if they aren't dispersed first. To prevent this, disperse your clays in distilled water using a mini-mixer. You can use a ratio of 1 teaspoon of clay to 1 tablespoon of water per color. Make sure that the clay is completely saturated with water before mixing or you might end up with a messy cloud of clay.
If you are making melt & pour and want to add any of Bramble Berry's clays without clumping or settling, we suggest dispersing the clay in a small amount of rubbing alcohol before adding it to your batch. We recommend a dispersion ratio of 2 teaspoons of clay to 1 tablespoon of alcohol. To learn more about natural colorants in melt & pour, check out this blog post.
Below are some fun tutorials that include our Brazilian Clays. If you get a chance to try out the different colors (Natural, Purple, Yellow, Pink, & Dark Red), we'd love for you to leave us a review on the product's page or share a picture with us on Bramble Berry's Facebook page. Happy soaping!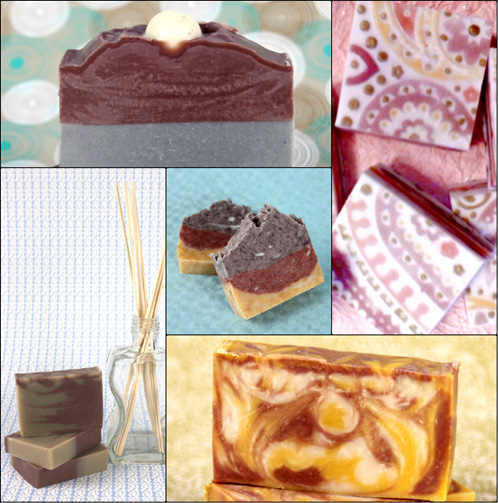 Top Left – Clockwise: Cute as a Button, Under Your Spell – Melt and Pour Clay Tutorial, Tiger Stripe "Hanger" Swirl Tutorial, In-The-Pot Swirl & Hot Process Series: Oven Process Layers