We filmed this Soap Queen TV episode earlier in the summer with Erin Pikor of Naiad Soap Arts. We had so much fun on the set (she's such a hoot to work with)! We couldn't fit in all of the hilarious out-takes, but don't worry, we squeezed a couple in.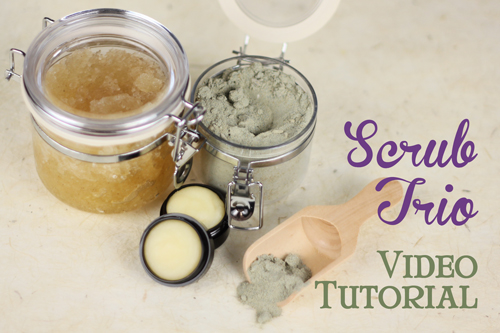 In this episode, Erin and I demonstrate how to make (and use) not just one, but 3 scrub recipes! The first is Erin's Salt Glow Scrub with sea salt and nourishing oils. Next, Erin shows how to make her Gentle Facial Scrub with Lavender and Green Zeolite Clay. And finally, I show my favorite sugar lip scrub with luxurious Shea Butter and the super yummy Buttercreme Flavor.
How to Make 3 Kinds of Scrubs from Soap Queen on Vimeo.
Ingredients and Tools for Each Recipe

  Salt Glow:

 Gentle Facial Scrub:

 Lip Sugar Scrub: