Love is in the air and we couldn't be happier. February is one of my favorite times of the year because Valentine's Day lands in the middle of it and there are always so many fun projects that you can do for it.  Still on the lookout for more Valentine's projects? Check out this V-Day mashup for more inspiration.
This project came to me back when we announced the S.O.A.P. 2012 fragrances, I knew that I just had to use the Waterlily Orange in a Valentine's Project because it just smells amazing! And, we all know how much I love bath fizzies, so read on and learn how to make a great and fizzy Valentine's gift.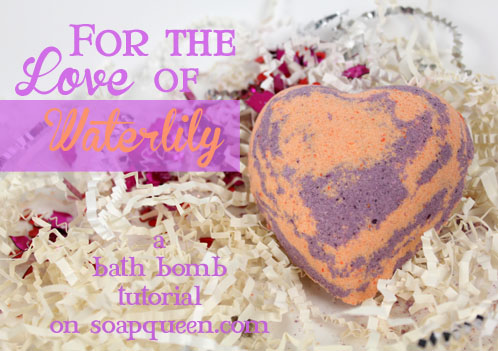 Recipe:
1 cup Citric Acid
2 cups Baking Soda
4 Tablespoons Kaolin Clay
1/4 cup Epsom Salt
2 Tablespoons Deodorized Cocoa Butter, melted
9 mL Waterlily Orange Fragrance Oil
 Click here to add everything you need for this project to your Bramble Berry shopping cart!
ONE: Measure out the Citric Acid, Baking Soda and Kaolin Clay into a large bowl.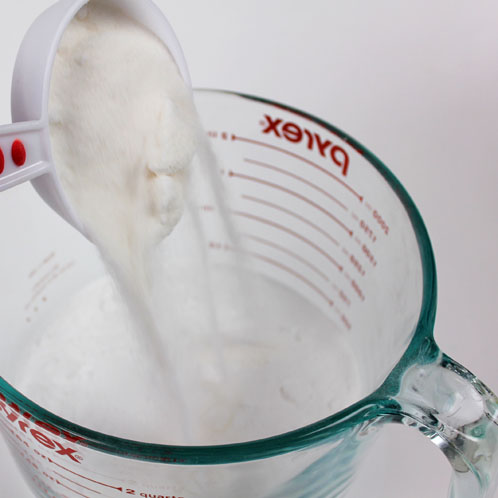 NOTE: Citric Acid and even Baking Soda can tickle your nose, so if you're sensitive you might want to wear a mask for this project.
TWO: Place a mesh colander over a second large bowl. Sift the clumpy ingredients through the mesh colander. Set the empty bowl aside (but keep it handy, we'll be using it again soon!).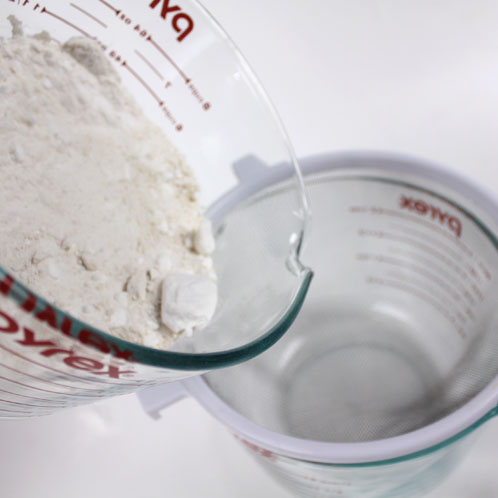 THREE: Add the Epsom Salt to the powders and mix well.
FOUR: Melt and add the Deodorized Cocoa Butter. Mix in well, making sure there are no clumps.
TIP: Using the fine edge of a cheese grater to shave off enough Cocoa Butter for this project will make melting a snap!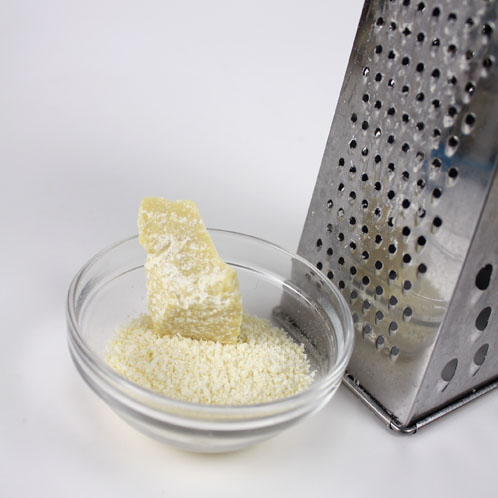 FIVE: Add 9 mL Waterlily Orange Fragrance Oil and mix until there are no more clumps.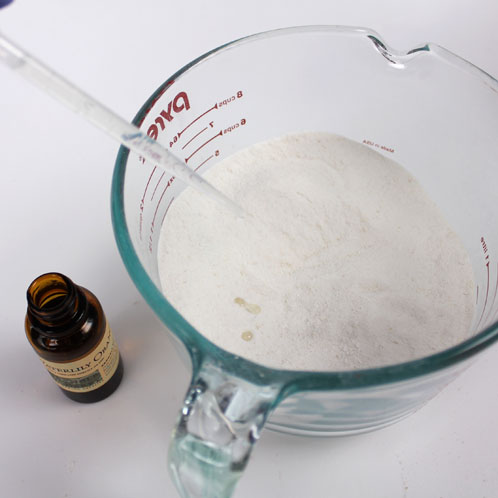 SIX: Grab the empty bowl from earlier and split the mixture into two about-equal parts (you can totally eyeball it!). Color one half with 5-10 drops of Cantaloupe LaBomb Colorant, and the other half with 5-10 drops of Gurlie Pink LaBomb Colorant. Mix the colorants in until there are no more clumps.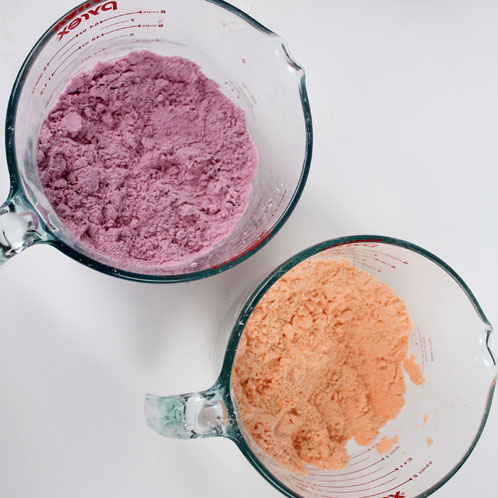 NOTE: What you see is what you get with Bath Bomb colorants, so if you'd like a brighter color, add more LaBomb colorant until you're happy. Keep in mind, though, that the more colorant you use, the more likely the colorant will color the bathwater when the fizzy is used. My son happens to love it when that happens! Click here to read more about LaBomb colorant usage rates to get that perfect color.
SEVEN: Spray each of the bowls of fizzy mix with Witch Hazel and mix until the moisture is just enough to allow the fizzy mix to clump when you squeeze a fistful of it.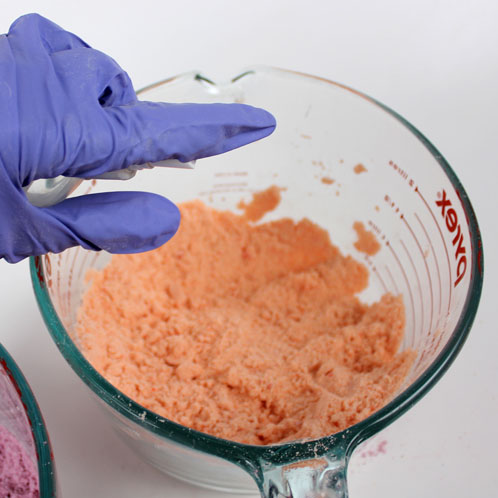 EIGHT: Get your Simple Heart Mold and two bowls of fizzy mix arranged in an easily accessible way. Grab a handful of each color, one in each hand, and drop the mix into the heart mold a little bit at a time, alternating colors. After each hand is empty, press the mix until the mold. Repeat until each cavity is full.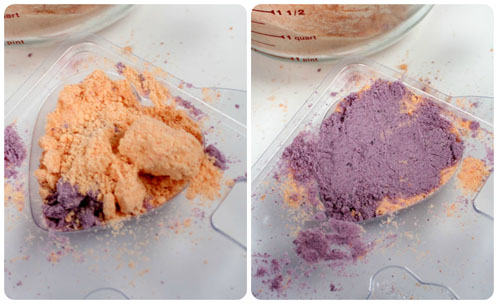 NINE: Once each cavity is full, this mix will allow you to unmold them very quickly! Grab a plate or other flat object, and place face-down on top of the mold. Flip the plate and the mold together, and slowly lift the mold from the plate. Reuse the mold until all of your fizzy mix is used up. Try not to move the bath bombs for a while – the reason they are able to unmold so quickly is because they are quite soft. I was able to make 9 bath bombs with this recipe!
TEN: Allow the bath bombs to sit overnight and harden. Use right away as an indulgent treat, or wrap 'em up for your favorite Valentine!