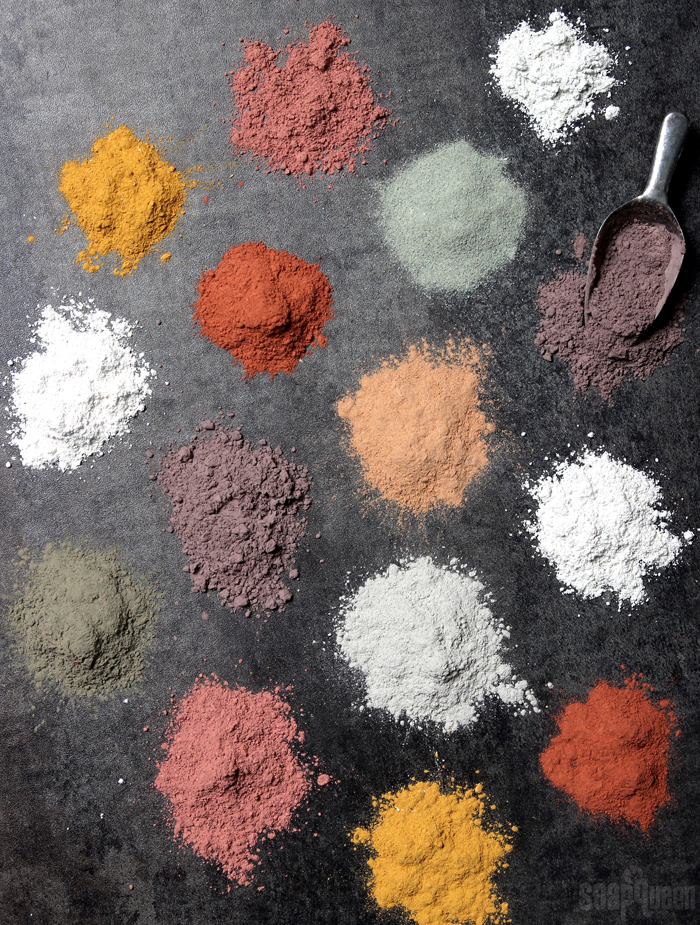 When searching for effective skincare ingredients, the ground may not be the first place that comes to mind. But, clays (which are essentially types of dirt) are well known for their amazing cleansing and purifying properties. Natural clays have been used on the skin for centuries, and continue to be a popular ingredient in products today.
In general, clays are soft, fine-grained mineral substances. There are different types of clay which vary in composition depending on the origin. While the properties of each clay varies, they are most commonly used in skincare because of their absorption properties. When applied, clay pulls oil from the skin, leaving it balanced and clean.
Depending on your skin type, one clay may be better suited for your skin than another. For example, kaolin clay is a fine-grained clay with mild absorption properties, which makes it better for dry to normal skin. On the other hand, French green clay and bentonite clay have stronger absorption properties, making them a good fit for oily skin.
In general, clays are best for normal to oily skin types because they absorb moisture. If you have extremely dry skin, products containing clay can leave your skin feeling a little uncomfortable. Drier skins can still use clay products. But, it's important to choose a milder clay. If you're formulating skincare recipes and would like to include clay, learn which is best suited for your skin type below.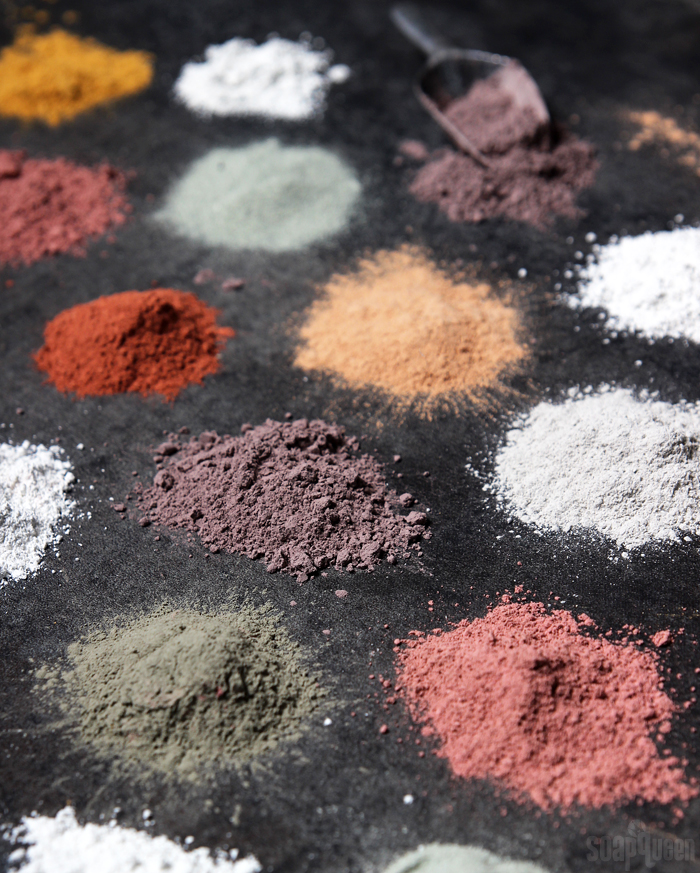 *A note about medical claims and clays – If you do a little research online about clay and skincare, you'll find a lot of medical claims. According to the web, clays treat acne, reduce scars, treat psoriasis, regenerate skin tissue, draw out toxins from the skin and more. While it's true that clay is great for the skin, if you sell products that include clay, you cannot claim that your product treats any skin condition. This would classify your product as a drug, which requires testing and approval from the FDA. Learn more about cosmetic vs. drug claims here. In the descriptions of each clay below, I specifically left medical claims out. While you cannot claim the products you sell treat the skin, these medical claims may affect which clay you choose and use for personal use.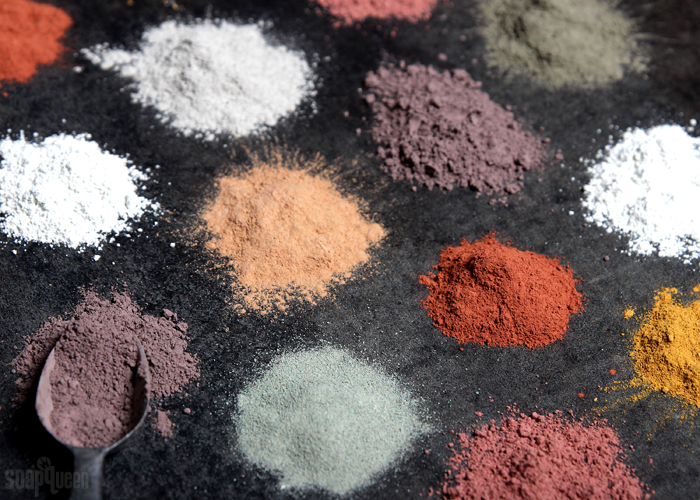 Bentonite Clay
Bentonite clay is created from volcanic ash. The U.S. is the top producer of bentonite clay, with much of the production happening in Wyoming. In bath and beauty products, bentonite clay gives products a nice "slip." This texture is great for shaving soaps, as it helps the razor glide over the skin. It has strong oil absorbing properties, and is able to absorb more than its mass in water. This makes bentonite clay a great choice for very oily skin.
Brazilian Clay (Natural, Dark Red, Pink, Purple, Yellow)
Brazilian clays are a type of kaolin clay, and come in a wide variety of vibrant hues. The're naturally colored and do not contain any dyes or pigments. The various shades are achieved by variations in the minerals found in the soil in the different regions of Brazil. Bramble Berry carries five different natural clays — Natural Brazilian, Purple, Yellow, Pink, and Dark Red. Brazilian clays have an "average" amount of absorption, making them a suitable additive for a wide variety of skin types.
French Green Clay
This clay comes from France and is known for its terrific oil absorbing properties. It has a fine texture and is commonly used for color and and oil absorption in facial masks. The light green color comes from decomposed plant matter and iron oxides. It's best suited for oily skin types.
Green Zeolite Clay
Zeolites are microporous minerals that form when volcanic rocks and ash react with alkaline groundwater. Green zeolite clay has a slightly larger texture than most clays, as well as great absorption properties. Because of the larger texture, it also has very gentle exfoliating properties. It's best suited for normal to oily skin types.
Kaolin Clay
Kaolin clay is a very fine powdered clay, and can come in a variety of colors. The most common color of kaolin clay is off-white. The fine texture makes it easy to incorporate into a wide variety of projects. This includes eye shadows and cosmetics, as well as soap, bath bombs and more. It is a gentle clay, with less liquid absorbing abilities than most. This makes it suitable for more sensitive and dry skin. 

Rose Clay
Rose clay is considered a type of kaolin (kaolinite) clay. It has a fine texture like kaolin, and is suitable for dry skin. The clay is a light to medium pink shade, which comes from a naturally occurring iron oxide. In some projects, it can take on a deep red color or an orange hue. Rose clay makes a fantastic soap additive for both color and gentle oil absorbing properties.
Sea Clay
A dark green clay, sea clay originates from mud laid under the sea millions of years ago. It has a dark green, grayish color. It is commonly used in facial masks to cleanse the skin. It is suitable for normal to oily skin types.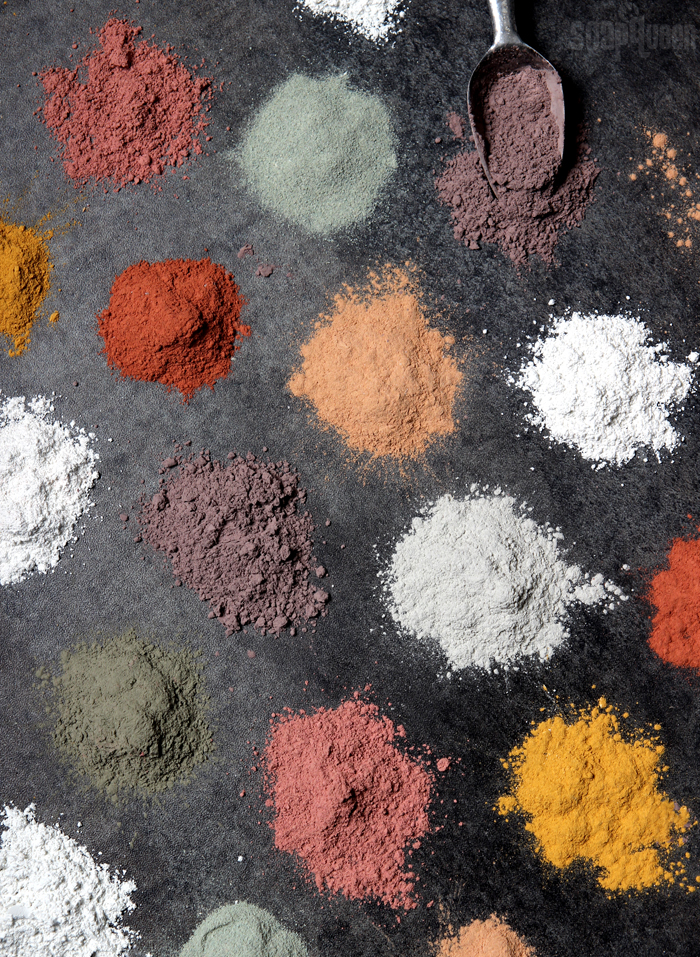 Dry Skin/Normal Skin – Rose Clay, Kaolin Clay, Brazilian Clay (Natural, Dark Red, Pink, Purple, Yellow)
Normal/Oily Skin – Sea Clay, Green Zeolite Clay, French Green Clay, Bentonite Clay, Brazilian Clay (Natural, Dark Red, Pink, Purple, Yellow)
Do you have a favorite type of clay for your projects? Personally, I have combination skin that leans towards oily so I gravitate toward sea and green zeolite clay. But in soap, I love rose clay and purple Brazilian clay for the gorgeous colors. Be on the lookout for some clay inspired recipes next week!