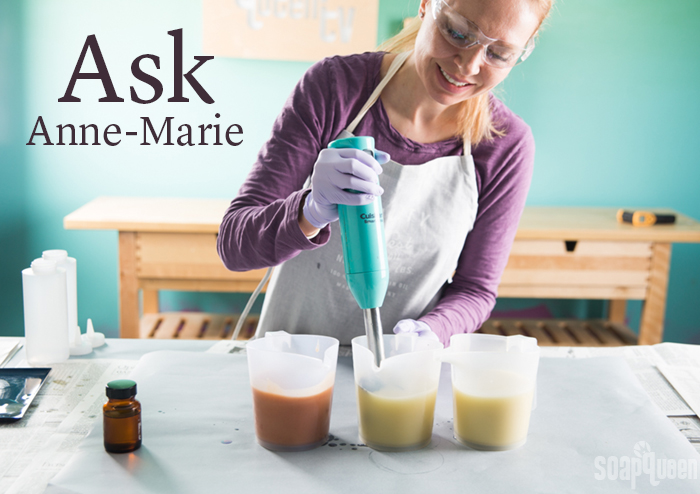 Anne-Marie and the Bramble Berry team get hundreds of questions every day, across various social media outlets and email. Unfortunately, Anne-Marie can't answer them all…but she can answer some! In this Soap Queen TV video, Anne-Marie answers questions from Instagram, YouTube, the blog and more.
Questions:
– @1:30 How did you get into the soap making business?
– @2:27 If you could only make and use one soap for the rest of your life, what would it be?
– @3:10 What's the one item you 'hate' to make but people love?
– @3:45 We all have reasons why we love soapmaking, but…what is the worst part in making soap for you? For me it's definitely washing all the oily dishes 🙂
– @4:33 What is the best piece of advice that you have ever been given?
– @5:32 Is there an alternate ingredient to use in place of the lye? I thought that was a bad ingredient.
– @6:32 What happens to all the soaps that you make in your tutorials? Do you sell them, give them away as gifts, or use them on your own? 🙂
– @7:28 What was your biggest, most horrible soap fail?
– @9:00 When (and how) do your best soap ideas come to you?
– @10:12 What is your all-time favorite fragrance to work with in cold process soaping, and why?
– @11:10 My question is, when taking a cold process recipe, what is the difference between that and making it HP?
– @12:25 How long did it take you to get started on your soaping business??
– @13:44 Do you have a website or Etsy where you sell the actual soap?
Do you have a question that you'd like Anne-Marie to answer in the next "Ask Anne-Marie" video? Leave a comment below. We would love to make these videos a regular series on Soap Queen TV.