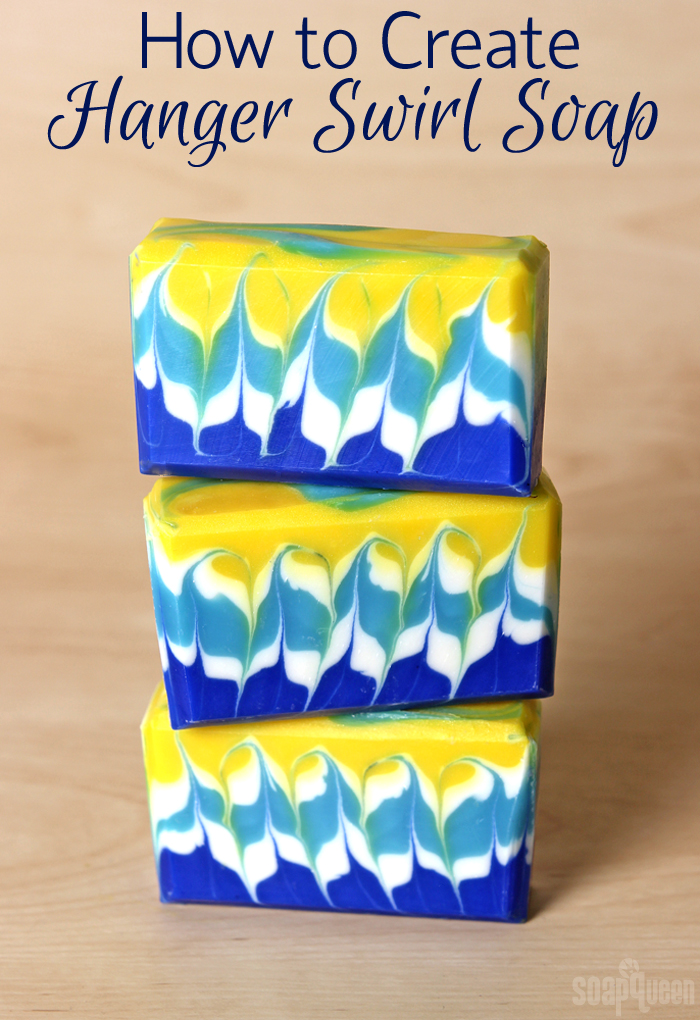 In this Soap Queen TV episode, I'm demonstrating one of my favorite techniques…the Hanger Swirl! The Hanger Swirl refers to a technique that involves inserting a Hanger Swirl Tool into the soap and moving it in various directions. A "classic" Hanger Swirl design involves layering various colors and moving the Hanger Tool in an "down, over, up, over" pattern, as shown in this video. Hanger Swirl Tools can also create more specific swirls like the Butterfly Swirl made popular by Zahida of Handmade in Florida (see our tutorial here). The Hanger Swirl Tool can also be used to create less precise swirls, as shown in this tutorial.
For this tutorial, I wanted to demonstrate the "classic" Hanger Swirl. Crisp Cotton Fragrance Oil gives these bars a clean and fresh scent. It also gives plenty of time to layer and swirl the soap, as it does not accelerate. The Swirl Recipe Quick Mix also plays a huge role in this project because the combination of slow-moving oils keeps the soap fluid and workable. If you're new to soaping, this is a more advanced tutorial because it requires a good understanding of trace. If you're just starting out, I would recommend using the Hanger Swirl Tool along with a spoon plop design, as shown in this video. It's a little bit easier because it does not require precise layers, but still makes gorgeous bars.
What You'll Need:
10″ Silicone Loaf Mold
Hanger Swirl Tool
33 oz. Swirl Recipe Quick Mix
4.6 oz. Sodium Hydroxide Lye
10 oz. Distilled Water
2 oz. Crisp Cotton Fragrance Oil
Ultramarine Blue Pigment
Yellow Lip Safe Mica
Titanium Dioxide
Neon Blue Raspberry Colorant
Optional: Sodium Lactate
Get everything you need to make this project on the Bramble Berry website!