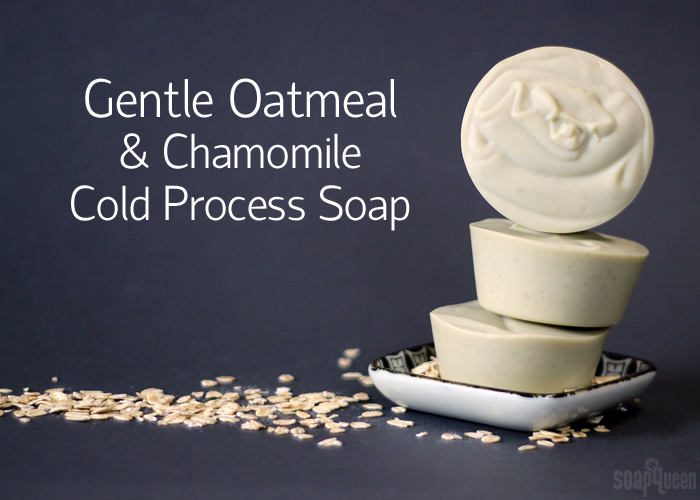 This Gentle Oatmeal Soap recipe is perfect for babies, or those with sensitive skin. The majority of the recipe is made with olive oil pomace that has been infused with skin-loving chamomile herb. Chamomile has been used in skin care for centuries, and is well known for its calming properties. The soap also contains shea butter for moisture and castor oil for lather.
This soap does not contain any fragrance, because that can sometimes be irritating to extremely sensitive skin. If you'd like to add some, feel free. In particular, lavender essential oil would be a great choice. You can use the Fragrance Calculator to find out how much to add to the recipe. Once unmolded, the soaps are stamped with the Stork & Baby Acrylic Stamp for a cute finishing touch. They would be a perfect gift for a baby shower! Looking for more baby soap recipes? Check out the Buttermilk Bastille Baby Bar tutorial!
What You'll Need:
Infusion
14.5 oz. Olive Oil Pomace
2 Tbs. Chamomile Herb & Sealable Tea Bag

Round (Cupcake) Silicone Mold
Stork & Baby Acrylic Stamp
13.8 oz. Olive Oil Pomace (infused)
0.8 oz. Shea Butter
0.5 oz. Castor Oil
1.9 oz. Sodium Hydroxide Lye
4.3 oz. Distilled Water (plus 4 Tbs. to disperse bentonite clay)
1 tsp. Sodium Lactate (optional)
2 tsp. Bentonite Clay
2 Tbs. Colloidal Oatmeal


Click here to add everything you need for this project to your Bramble Berry shopping cart!