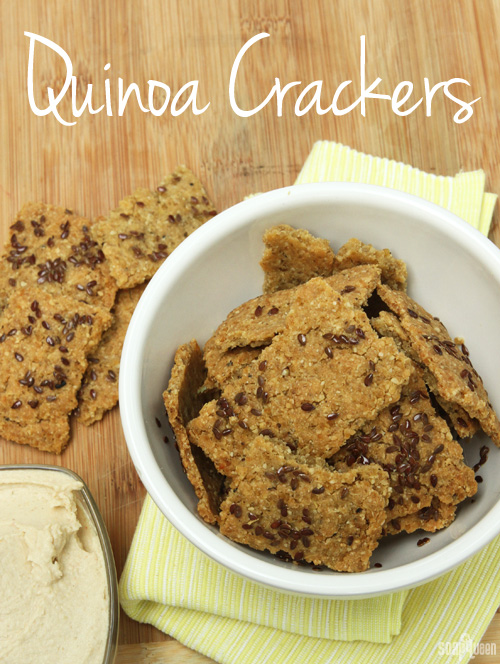 When eating healthy, it's easy to let snacking ruin good habits. "Just one potato chip!" Then before you know it, the entire bag is gone. Because of this, I try to keep healthy snacking options on hand to stay on track. Having prepared fruits and veggies in the fridge are great snacks to have available, as well as these easy quinoa crackers.
Made from cooked quinoa, almond meal and garbanzo flour, these gluten-free crackers are perfect for a light snack between meals. Great on their own, I love dipping them in hummus! Flax seeds give the crackers extra crunch and texture. I like to season mine lightly with sage and oregano, but these crackers would be great with other spices as well! I'm thinking about trying a cumin and coriander combination next.
Love quinoa as much as I do? Check out the Quinoa Feta Burgers, Gluten Free Vegan Chocolate Quinoa Cookies, and the Banana Quinoa Spelt-Whole Wheat Pancakes. Yum!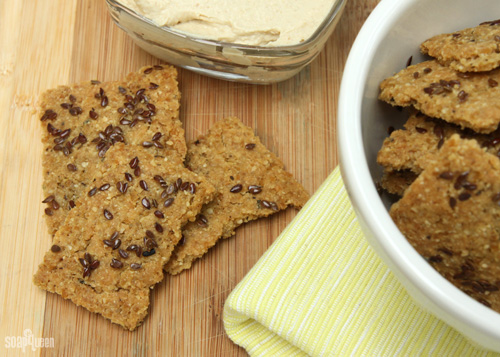 What You'll Need:
2 cups cooked quinoa
1 cup almond meal/flour
1 cup garbanzo flour
1/2 tsp. baking soda
1/2 tsp. salt
3/4 cup olive oil
1/4 tsp. sage
1/2 tsp. garlic powder
1/2 tsp. oregano
fresh ground pepper
3-4 tbs. flax seeds
ONE: Preheat oven to 375 degrees F. Mix all ingredients except olive oil and the flax seeds, and place into a food processor and blend until nicely mashed up.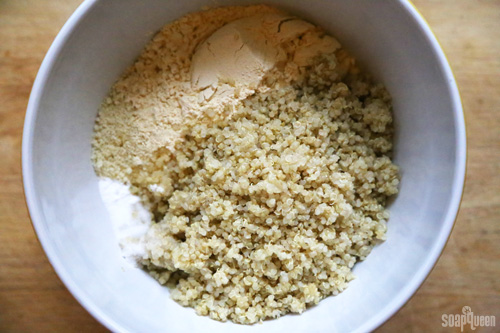 TWO: Transfer back into the bowl, and mix in olive oil until fully incorporated.
THREE: Line a 9×12 cookie sheet with parchment paper or silicone baking mat. Roll dough into a ball, and begin spreading the dough out. To spread the dough, I just used my hands! Dough should cover the entire pan.
FOUR: Sprinkle flax seeds onto the dough, and press them in.

FIVE: Bake for about 20 minutes, or until the edges are golden brown. Oil may bubble up. For the last few minutes, turn the broiler on high and let broil for about 2 minutes. If you turn the broiler on, keep an eye on the crackers so they don't burn!
SIX: Remove from the oven, and cut into squares. Allow to fully cool and enjoy!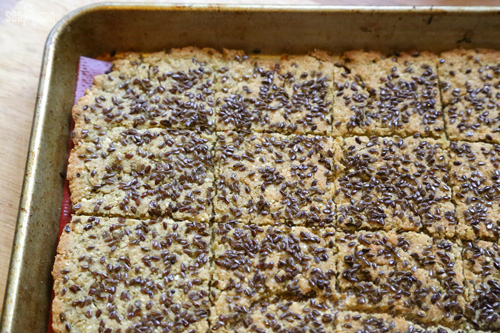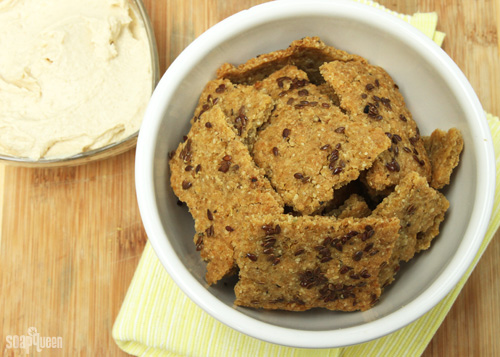 What is your favorite healthy snack?