If you haven't heard of the newest up-and-coming young soaper from Suds by the Sea, you are in for a great interview today! I first found out about 15-year old Emily when she commented on our Facebook Photo of the Week post that featured another young soaper, Jasmine Hales. Emily told us that she was so excited to see that there were other young soapers around and I knew at that time that I wanted to learn more about her. Back in March I was able to feature some of Emily's soaps as the Facebook Photo of the Week and since I started soaping at 16, had a special spot in my heart for her even before I learned more about her. Read on to get inspired…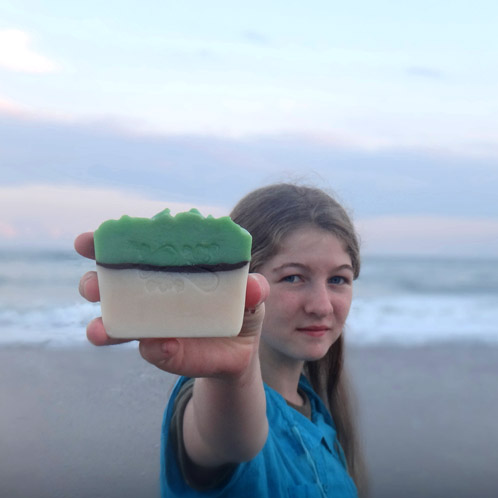 Soap Queen: What got you interested in soap making?
I have always had a love for arts and crafts; however, soap making had never crossed my mind until I was ten years old. I was reading through a family magazine, when an article caught my eye. It was titled "Hand-milled Soap Surprise". Immediately, it sparked my interest, I began experimenting, and re-creating commercial soap bars into soap (rocks) balls. After experimenting with numerous additives (some of which were from my Mom's kitchen pantry—should have asked first about that-oops!), and using up nearly every bar of soap in the house, my parents thought it would be a good idea to invest in some quality soap-making ingredients (as well as some gloves and safety goggles!).  Having read about soap from scratch, I thought it would be a good idea to start there. After making my first successful batch of cold process soap, I could not bring myself to stop! My sister and I began giving some of it away as gifts to our friends and neighbors.  Word started to spread that I made handmade soap, and from there, the business began.
Soap Queen: How does the ocean inspire your products?
Since we live so near the ocean, it seemed only natural to name our business after it. The ocean is also a theme for many of our scents and color schemes as well as our photo backdrops, Facebook page, online store and blog.
Soap Queen: What is your favorite soaping technique?
My favorite technique is definitely funnel pour pattern in cold process soap because of its beauty and simplicity.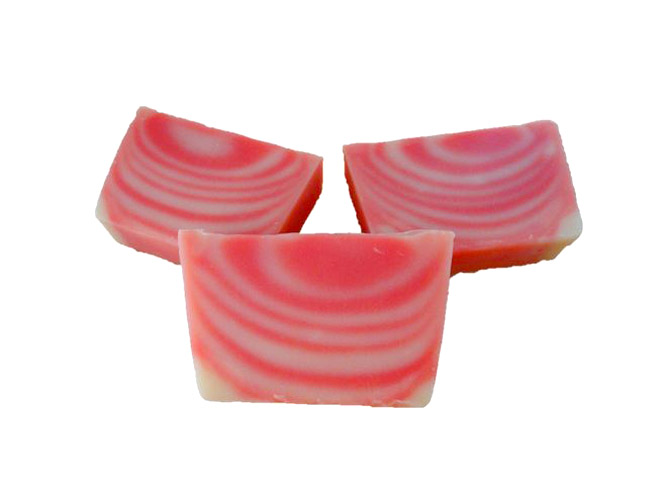 Soap Queen: What is your favorite BB product?
Everything that I've gotten from Bramble Berry has been wonderful, but my favorite product so far is Apple Jack Peel Fragrance Oil, it smells so yummy and crisp!
Soap Queen:What is the most important soaping lesson you've learned in business? Do you have any advice for beginners in business?
The best lessons in business so far have been:
1) Have good customer service
2) Get connected socially (make the most of Facebook, Twitter, Blog, etc.)
3) Keep your followers updated.
4) Spread the word to friends.
5) Keep professionalism and friendliness well-balanced.
6) Make it a point to get to know what your customers enjoy.
7) Tuck a business card, or flyer with your contact information in the bag (or package). Write on it a brief, personal note thanking them for their business. It is a great way to further the service that customers have received from you. It also invites them to come back and look at your products again.
8) Make friends with the Soap Queen : )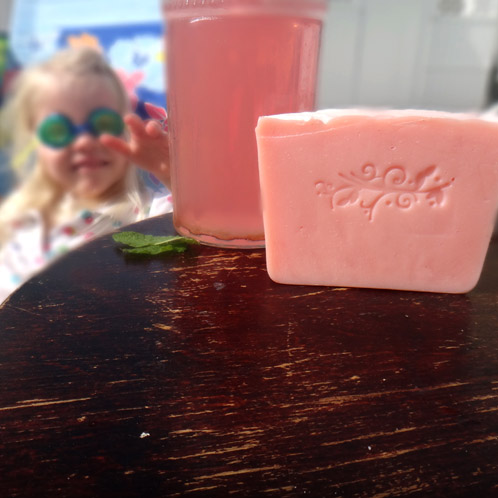 Soap Queen: What other bath and body products do you like to make?
I have really enjoyed making bath bombs, perfume, lip balms, sugar scrubs, and lotions in the past, but I'm still working on perfecting their recipes before I add them to our store.

Thanks for taking the time to chat with us, Emily! I loved hearing about how you got started on soaping and can't wait to see where the future take you and your soapy business. For more inspiration, check out Emily's Facebook page, Online Store and Blog.