It's finally spring and we are seeing a teensy bit of sunshine here in the Pacific Northwest. We spent the day outside in sunny but chilly 45 degree weather, throwing rocks and visiting koi ponds (Jamisen totally tried to ruin a fish's life by throwing a rock in the pond; we were horrified). In honor of the spring, I created a fun and bright lip balm tutorial that will definitely give your lips a tropical punch with Pineapple and Papaya Flavor Oils.  Craving more tutorials for your kisser? Check this link out. I'm working on a new body butter whip next week and perfecting deodorant recipes this weekend (sooooo close!). Read on to find out this week's Facebook Photo of the Week…
P.S. We got a genius tip from one of our Facebook fans this week. She used our silicone liner and found a great way to keep them steady and open before you pour. Use paperclips to hold the liner against the mold and they won't leave any marks or lines on your soap. Thanks, for the tip Margo!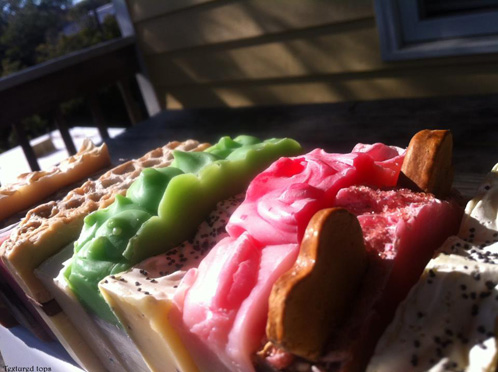 This week's photo comes to us from Emily from Suds by the Sea. Emily submitted this beautiful variety of her cold process soaps to Bramble Berry's Facebook page and I just had to share them. From pinks to green and browns, these soaps popped right out. I also loved the photography and composition of the photo and thought the natural lighting was fabulous! You can check out her other soaps (and the cute island theme she has going) on her blog and facebook page below. Thank you so much, Emily, for being a part of our soapmaking community on facebook. We can't wait to see more from you and expect a special little package to be heading your way.
Emily's Facebook Page: Suds by the Sea

Emily's Blog: Sud's By The Sea

Would you like your photo or project to be featured on the blog? Come join us for soap talk, contests and lots of crafty inspiration on Bramble Berry's Facebook page and share a photo of your latest project. Your handmade soap might be next week's feature!