It's the last day to enter our Pinterest-iffic Soap Crafting Contest! We've already seen some fantastic pins, Instagrams and even a few book reviews of Soap Crafting. We can't wait to see more, so show us what you've got, soapy friends!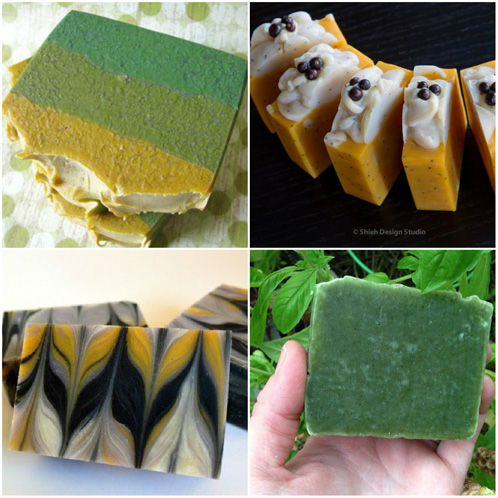 Some of the entries we've received so far! Clockwise from left: Avocado Moisturizing Bar, the Juniper Berry Natural Infusion, the Linear Swirl and a Natural Colorants recipe.
 Not sure what we're talking about? You can check out the original blog post here, but we'll also give you a refresher of the contest rules: today is the last day to pin your Soap Crafting-inspired projects to our Soap Crafting Pinterest Board. Be sure to include the hashtag '#soapcrafting' with your entry. You can also Instagram your creations with the hashtag #soapcrafting and we'll pin those onto the board too! To break it down:
We will repin your pins or pin your Instagram photos to our Soap Crafting Pinterest Board.
We will announce our three favorite projects in a blog post on September 30. The three winners will receive all the ingredients for one of the projects in the book.
We can't repin your pins without the hastag #soapcrafting or pin your Instagram pics without the hashtag #soapcrafting, so don't forget the hashtag!
That's it! We can't wait to see your take on the Soap Crafting projects.