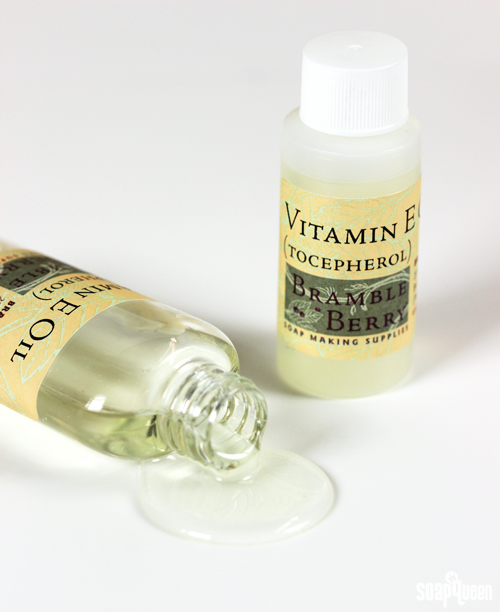 Easy to use in a wide variety of projects, vitamin E oil is a fat soluble antioxidant. Thick and rather sticky, vitamin E oil is great for use in lip balms, lotion, balms and soap. It is well known for its skin loving properties, including its ability to protect the skin from free radicals.
Vitamin E refers to two classes of molecules, tocotrienols and tocopherols. Both classes of molecules consist of four different forms: alpha-, beta-, gamma-, and delta-tocotrienol/delta-tocopherol. Tocopherol is often considered the most important to the human body. Tocopherols can also be found in some foods, such as tomatoes, almonds and some vegetable oils.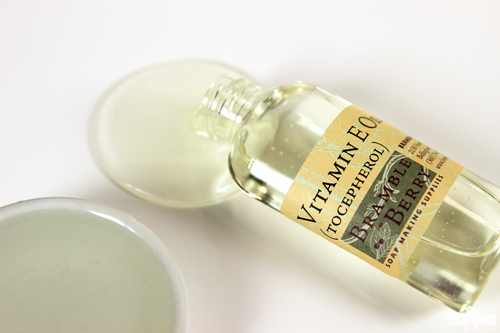 Vitamin E oil can be used in fixed oils to help prevent rancidity. This is especially helpful when using oils with a low shelf life, or when making soap with a high superfat. Soap made with a high superfat or with short shelf life oils is more likely to develop dreaded orange spots, aka: DOS. Adding vitamin E oil to the oils helps prevent oxidative rancidity, making DOS less likely. Learn more about dreaded orange spots here. While vitamin E oil can extend the life of fixed oils, it is not a preservative as it does not prevent mold and bacterial growth.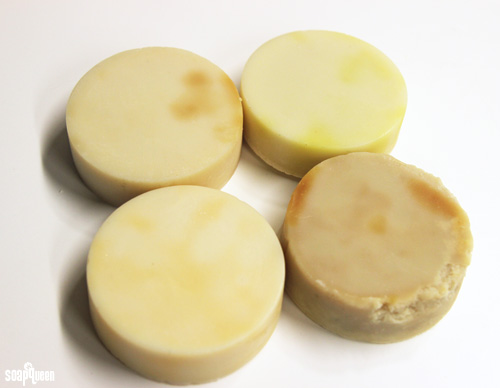 Vitamin E oil helps prevent oil rancidity, which can contribute to DOS. 

Vitamin E oil is a fabulous addition to leave on products. In the Nourishing Nail Oil and Rosemary Lavender Cuticle Salve tutorials, vitamin E oil helps condition and moisturize dry hands and nails. In the Healing Under Eye Serum, vitamin E Oil is used to add anti-oxidant power to the delicate under eye area.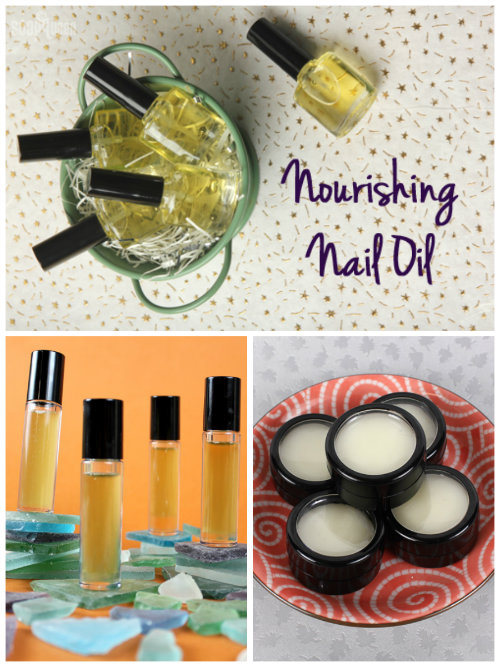 Top, clockwise: Nourishing Nail Oil, Rosemary Lavender Cuticle Salve, Healing Under Eye Salve 
Vitamin E oil is commonly used on scar and other skin imperfections. Because of this, vitamin E oil works wonderfully in solid lotion bars and salves. The Soothing Lavender Breast Balm uses vitamin E Oil to help soothe irritated skin. Vitamine E oil would make a great addition to recipes such as the Everything Balm, or Argan and Sandalwood Vanilla Lotion Bars.
Lips need extra TLC as well, and vitamin E oil is a great way to give them additional moisture. Because of its thick texture, using vitamin E oil in lip products also give lip products a luxurious feel. If your lips are dry, the Exfoliating Kisser Scrub removes dry skin making lip balm absorb better. Vitamin E oil is used in both the Chocolate Lip Balm with Cocoa Powder and the Honey Kisses Sheer Lipstick to provide extra skin-loving propertie.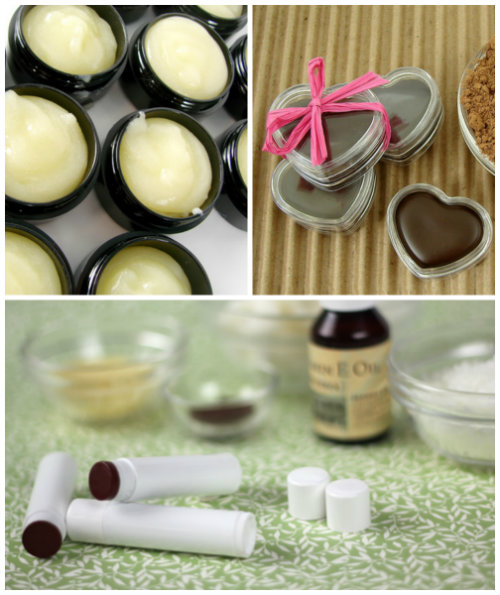 Top left, clockwise: Exfoliating Kisser Scrub, Chocolate Lip Balms with Cocoa Powder, Honey Kisses Sheer Lipstick
How do you incorporate vitamin E oil into your projects?