Nothing does more damage to your skin than being outside in the elements in the sun and wind. Treat your overly sunned face to some pampering oils to help nourish, replenish and reduce inflammation. We've had a string of nice weather here in Bellingham, WA so you better believe that I've been wearing SPF protection and treating my eyes at night with this serum. Stay away wrinkles! You are not welcome here!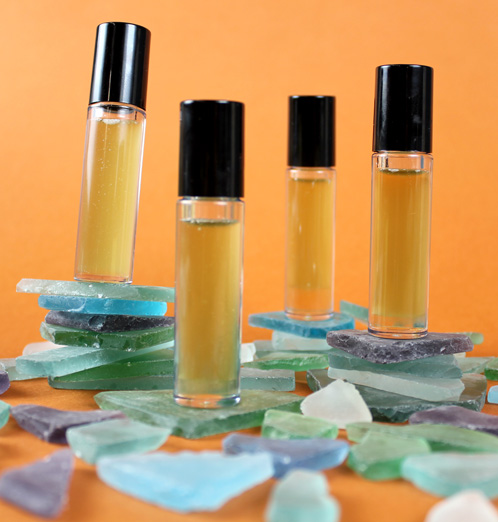 What makes this recipe so healing and skin loving?
Tamanu Oil: Often used to treat burns, insect bites and stretch marks.
Vitamin E Oil: Nourishing, moisturizing and may decrease wrinkles. Often used to heal scars.
Grapefruit Seed Extract (GSE): Used as an antioxidant to help prevent rancidity in oils.
Meadowfoam Oil: Contains 98% long-chain fatty acids making this oil moisturizing and rejuvenating.
Mallow Extract: Contains soothing and protecting properties to dry and sensitive skin. Also used in skincare products to reduce inflammation.
Avocado Oil: Contains natural vitamins B1, B2, and A.
Carrot Seed Essential Oil (optional): Simply the best oil for pampering of more mature skin types. This essential oil works by stimulating red blood cells which improves appearances by adding elasticity and tone to skin.
Eye Serum Recipe
1 ml Tamanu Oil
1 ml Vitamin E Oil
1 ml Meadowfoam Oil
2 ml Mallow Extract
.5 ml Avocado Oil
Optional: .5 ml Carrot Seed Essential Oil (replace this with .5 ml of Mallow Extract)
Plastic Roller Bottle (Discontinued)
Yields: 1 Roller Bottle
Get everything you  need in the click of a button!

Prep: Does your Tamanu Oil look like the picture to the left? Don't worry, that's just what Tamanu Oil looks like. Pop it in the microwave for 10 seconds. Did it melt? If not pop it in for another 10 seconds until the specs are gone and it's a nice dark color like the picture to the right.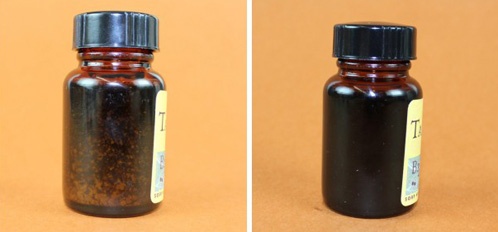 ONE: Using a plastic dropper, add all of the ingredients into the plastic roller bottle. If you choose to add 1 ml of the Carrot Seed Extract  to the recipe, only use 1 ml of the Mallow Extract.
TWO: Add the roller bottle cap and black cap and shake the oils together.
Tip: The Grapefruit Seed Extract (GSE) is super thick so it will settle at the bottom of the container. You'll need to shake the bottle before each use. The oils will turn slightly cloudy after shaking, which is perfectly normal.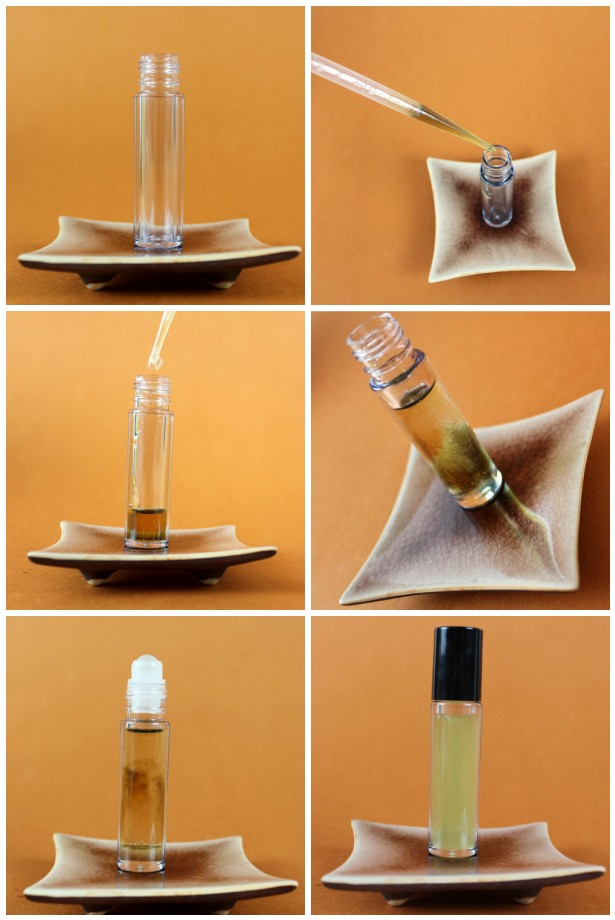 To Use: Generously roll-on the mixture under and around your eyes, gently massaging into your skin before bed time.