It's hard to believe, but we are halfway through 2014. Remember those New Year's Resolutions you set back at the beginning of the year? Yes, those resolutions! Do you need a refresher? Here's the original post with all your goals to review what you said on December 31 about what you wanted 2014 to look like. In effort to keep myself accountable, I'm going to do a little mid-year performance review.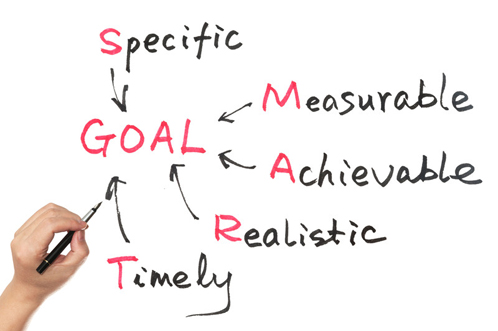 Here were the S.M.A.R.T. goals I set for myself, as well as how I've done so far:
 1. Active Every Day (defined as: 7000 steps on my FitBit Flex or 20 "active minutes" on my FitBit Flex wristband)
Progress: Hitting it! I'm averaging over 12,000 and I moved my baseline "Must Hit" goal up to 8,000.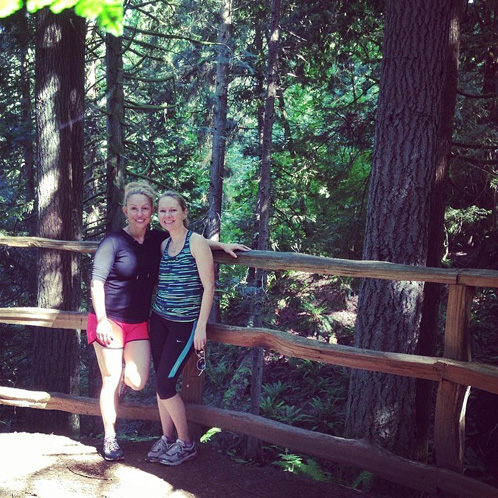 Going on lots of weekend hikes have really helped with this!
2. Protein Shake or Green Juice 4X per week to start off my morning
Progress: Hitting it! I go back and forth between Blueberry Kale Smoothie and Live Soup and Jamisen still drinks them, even at the opinionated age of 3.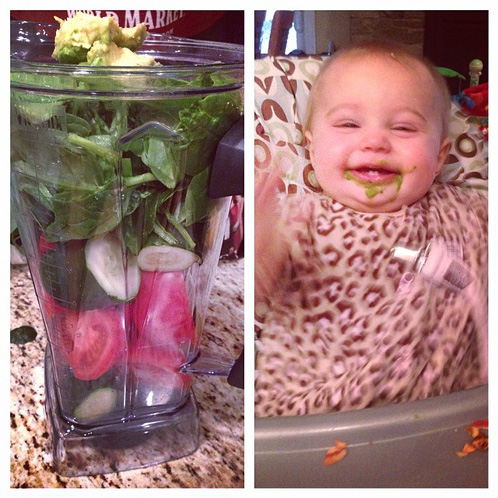 Even Lily likes her morning green smoothie.
3. Read 53 books or more in 2014.
Progress: I am behind on this one. I've only finished 12 books which means I have a lot of reading to do to hit this one.
4. Floss every day (I seriously hate this one; I have to put it back on my goal list every few years because I fall off the wagon. This is one of those years).
Progress: Crushing it, thanks to my Carrot App that taunts me if I don't.
5. Take three Friday mornings off per month to spend with Jamisen doing crafts and play time.
Progress: This is has not been going swimmingly the last month with business travel, I've had to catch up on office time. The summer will be a great way to catch up on those precious moments.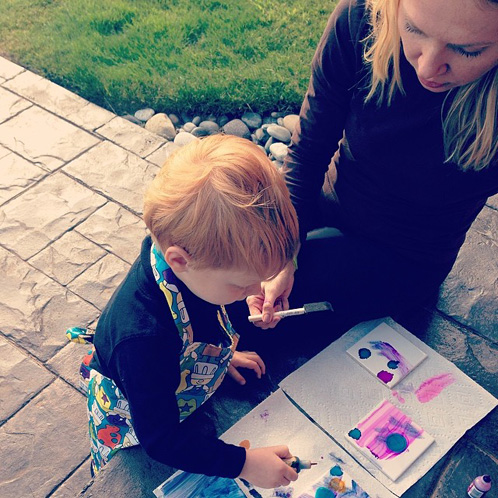 Working on a coaster making project with Jamisen last Saturday.
Now it's your turn. How are you doing on the goals you set yourself for the new year?
In the comments, tell me how you've meet, exceeded or had to rework your goals for a chance to win a prize pack of new Bramble Berry items. The prize pack includes (clockwise from top left): 2 oz. of Burnt Sugar Fragrance Oil, the Doughnut Half Mold, a 13 lb. Stainless Steel Scale, 2 oz. of Winter Gardenia Fragrance Oil, 2 oz. of Autumn Fig Harvest Fragrance Oil and 2 oz. of Espresso Fragrance Oil. You have until next Tuesday, June 10, 2014 to update us on your New Year's Resolutions and a chance to win the prize pack.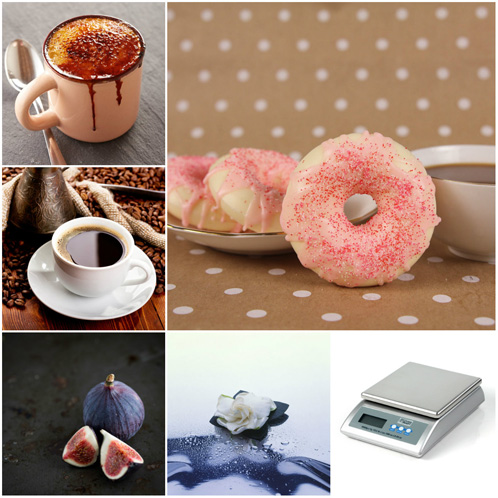 If you need help getting back on track like I do (reading and Fridays), or if you're not sure what a S.M.A.R.T. Goal is, check out the resources below:
Visualizing Success with Vision Boards
Strategies for Managing Change
Ultimate Year End Business Inspiration Mash Up
It's not too late to start on a better tomorrow! We still have six months left in the year =)