We're already in the middle of February, and I am doing my best to keep my eating habits on a healthy track. As many of you know, it'so easy to get caught up with the daily hustle and bustle and forget about the priorities you have set for yourself. While going back and reading all the S.M.A.R.T. Goals, I noticed developing healthy habits was an overall theme for many of you as well. Because of this, I thought it would be a great idea to share this incredibly easy and delicious smoothie recipe.
I love adding fresh greens into my smoothies, not only do they add plenty of vitamins and nutrients, but you can't even taste them!  The chia seeds are rich in omega-3 fatty acids, and also help to thicken the smoothie. I love to start my day off right with a smoothie for breakfast, but it also makes a delicious light lunch. For another great lunchtime smoothie, check out this Blueberry Almond Smoothie.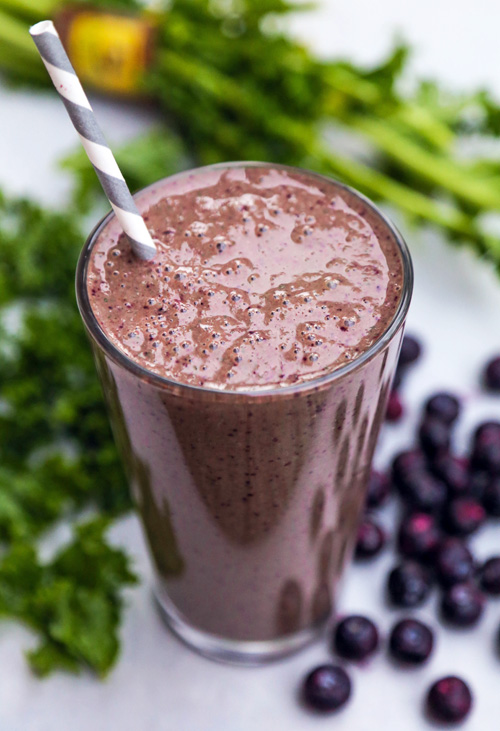 Ingredients:
1 1/2 cups Kale Leaves (roughly torn)
1 cup Frozen Blueberries
3/4 cup Vanilla Yogurt
1/2 cup Cranberry Juice (not juice cocktail)
1 tbs. Chia Seeds
1 tbs. Honey (optional)
Yield:
About 20 fluid ounces
Time:
5 minutes
Note: In this recipe I used vanilla yogurt but you could also use soy or almond milk if you're trying to avoid dairy. I didn't use a sweetened cranberry cocktail juice; instead I used a pure cranberry juice without any added sugar (oooh, tart!). The vanilla yogurt added the perfect amount of sweetness, but if this drink is still too tart you can add a tablespoon of honey or agave syrup to sweeten it up.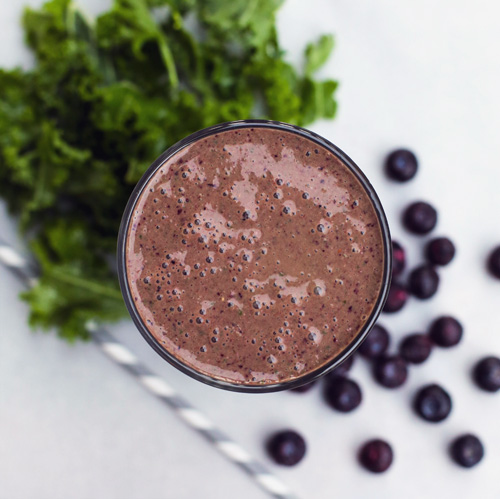 ONE: Place ingredients into a blender, and blend until smooth. If you prefer your smoothies to be thinner, you can add a splash of milk or more cranberry juice. You can also add a few ice cubes if you prefer smoothies to be extremely cold and thick.
I feed Lily a variation of this smoothie almost every morning. I sub the yogurt for kefir though, which is basically yogurt on steroids! Let Lily's face be a testament to how good this smoothie is =)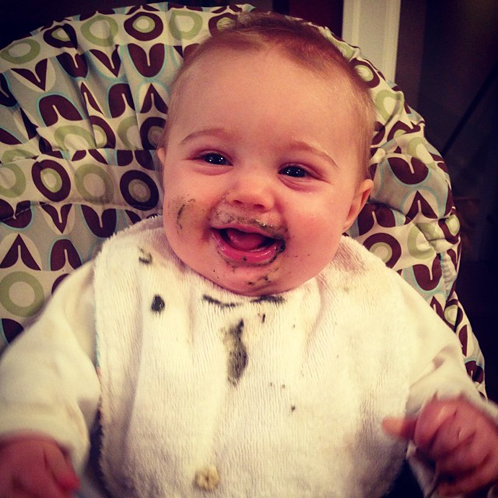 Have you ever tried putting greens in your smoothie before? What did you think? I have found spinach to be delicious as well!