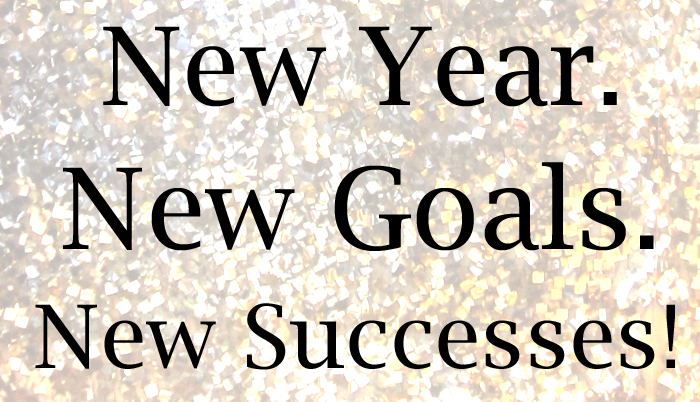 This is the time of year that is naturally contemplative; the days are short, the year is over and we are looking ahead to the New Year. We celebrate the joys of this year and also lament the things that didn't get done or friends, family and pets we lost. In that spirit, I am always so grateful to crack open a new paper planner and start the year afresh, with a new set of goals, dreams, and outcomes for 2016.
I'm speaking at the Indie Business Cruise this year. One of the topics I'm touching on is the reason that New Year's Resolutions often fail. They fail for a lot of reasons – we make too many of them, or we make goals that are way too big. Another reason they fail is because we make goals that we think we "should." We make them for whatever reason: society, our parents, the voice in our head that tells us we're never good enough. It's human nature to make goals that aren't truly meaningful to us. We "should" on ourselves. Let's end that, this year. One of the ways to do this is to design goals that are values-driven.
If you'd like this year to be the year that starts off right, grab a piece of paper and freehand the answer to the following questions:
Write down the 4 people you most admire in your life (living or dead) that you actually know.
Write down 2 people who you admire (living or dead) who you don't know (famous figures, historical figures).
Write down 30 adjectives (descriptive characteristics) for each of those 6 people (stumped on values? Here's a list of 400 of them that is web based, or this one that is a PDF download and is even better). You should end up with 30 adjectives.
 Go through and pick out your top 5 from the list that best represents principles, standards, or qualities that you believe are important in your life. Would you be satisfied if those 5 words were on your gravestone?
Rank them from 1-5 (one being the most important, 5 being the least).
These are your core values. These are the things that motivate you; the things you want people to say you embodied after you are long gone; they are the things that are most important to you in your life. Sit with your list for a few weeks. Pull the words out. Re-read them. See if they hold true. I've done this exercise 5 times in the last 20 years. I can find some historical (cough cough, old) copies of my values exercises and most of those words have been in my list for 20 years (hard work, integrity, accountability, positivity). The ones that have rotated were always in position 5 on the list (mastery, curiosity, thankfulness, recreation, inspiration). Values generally do not change. They are constants in your life to guide you, to help you find the right path and to prod you when you're slipping.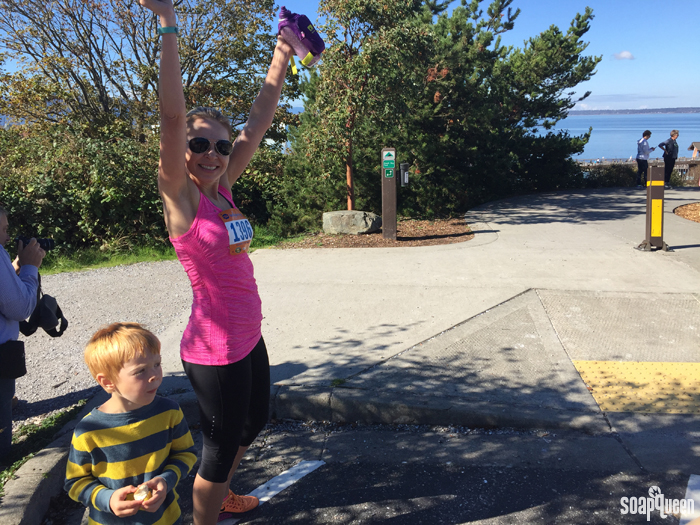 One goal this year was to run a half-marathon. This summer, I participated in the Bellingham Bay Half Marathon!
Read through your words and let them guide you as you make your goals for 2016. At this point in my life, I have a business (yay), a family (so blessed) and myself (put your life jacket on first!) so believe it or not, I do multiple sets of goals. With the help of my team, I do a set of goals for Bramble Berry (and Otion and Handmade Beauty Box). I also do a set just for myself. Last year, my big goal was to start a meditation practice. I did more than 350 days of meditation this year thanks to the Oprah/Deepak Meditation series (seriously, if you haven't tried it, it's gold). All the other goals on the personal list were completed (but really, let's be honest, it's only because I didn't put flossing on there like I did in 2014 … flossing is still my nemesis). Chris and I also do a set of goals for our family. It's a lot of goal setting, but great lives don't happen by accident and, we want great lives. I hope you want a great life for yourself as well. That takes planning, work and follow-through. You're worth it; your business is worth it; your family and community are worth it.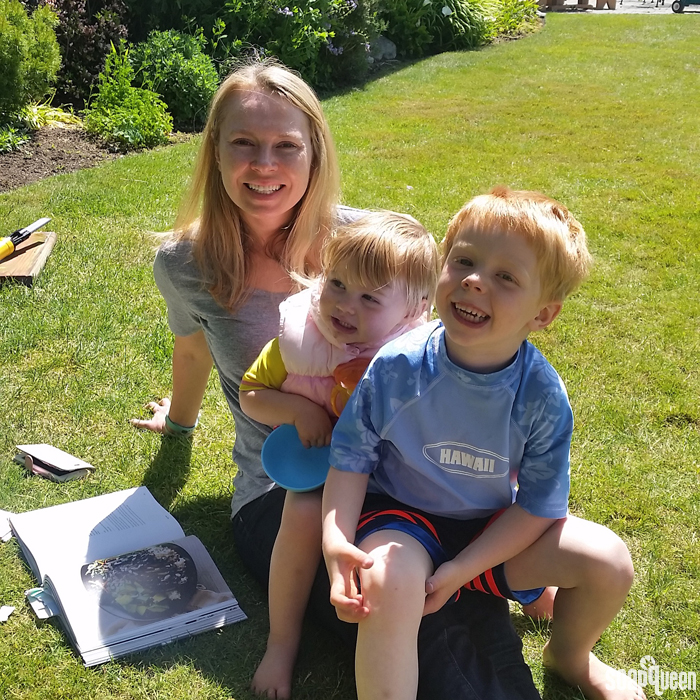 I like to make goals for different areas of my life, including personal, business and of course, family! These kiddos inspire and drive me to create the best lives possible for them and myself.
Having a "North Star" – an endpoint to your map – is important to making sure that you make forward progress this year. Things do not just 'happen' because you think about them. They happen because you DO them. So, take pen to paper, look at your values, really see them and take them in, and then start thinking about where you want to be in 5 years, 10 years. Break that down to the 1 year goal – and then break that goal down to the quarterly goal – and then break that goal down to the monthly goal and keep breaking that goal down into bite-sized chunks so that it becomes something that you can do. During 2016, when you do this tiny chunk of a goal, celebrate the success to give yourself the momentum to keep on chuggin' toward that finish line of your goal.
Live your life with intention. You're worth it!
My Personal Goals for Q1, 2016 are below. I break goals down by quarters because they're easier when done by quarters. Also, little kids means life is unpredictable, zany and fun…and sometimes difficult to plan for!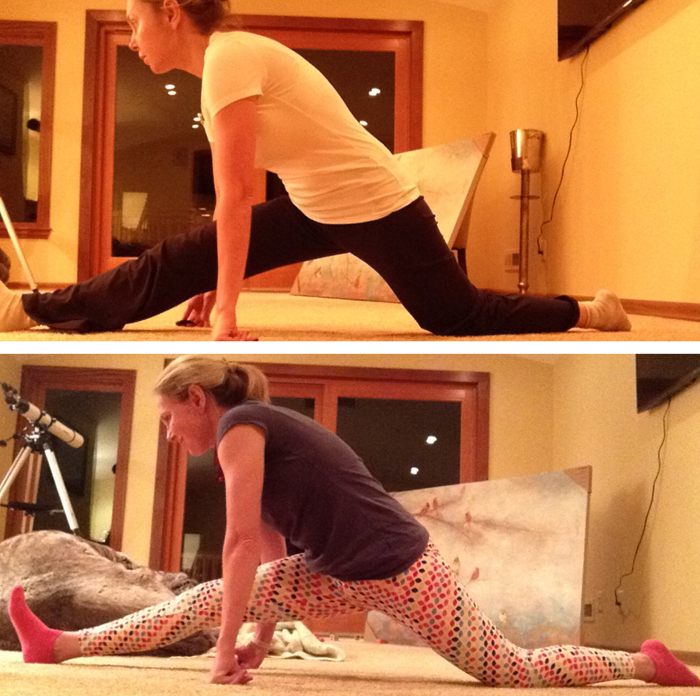 On of my goals for the year to be able to do the splits! I practice every night =)
(1) Stretch Goal, Literally: splits training every night, minimum 5 minutes. Gold standard 20 minutes.
(2) Quality time: extended play date weekend away with kids + another family
(3) Active every day: 8,000 steps on Fitbit or 1 strength-training workout at gym
(4) Always learning: read 14 books, including 4 business books
(5) My body is a temple: go 21 days without sugar (aka: 'yes, read the ingredients on the ketchup bottle' serious level no sugar)
A dream without goals is just a fantasy.What are your goals for this year? I would love to hear about what your core values are, and how they are driving your goals for the year. Leave a comment below to share, and I'll pick one winner to receive a set of planning tools (including a diary planner, a planner for personal and a planner for business with a value of $64.95). I will choose a winner this coming Monday, January 4th.
Update: It was so hard to choose just one person to win this contest. Everybody had such amazing goals, and it was inspiring to read them all. Thank you so much for sharing them with me. =) The two comments that really stood out to me were from Maria and Oliva. Be on the lookout for an email to receive your prizes!