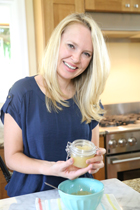 Anne-Marie Faiola is a serial entrepreneur and passionate crafter. She is also a die-hard scuba diver and voracious reader. Anne-Marie currently runs a series of crafty companies, including the one she started at the age of 20, Bramble Berry. She sits on a variety of non-profit boards and loves to bake if she ever has any extra time.
SoapQueen.com is a collection of soap projects, personal musings, business advice from the trenches and the occasional family photo. Her first book, Soap Crafting, was published in 2013.
Anne-Marie lives in Bellingham, WA with her adorable entrepreneur husband (he runs an engineering firm) and a beautiful toddler and new baby sister.
That's Anne-Marie's story in a nutshell, want more? You got it!