Happy Halloween! What is everyone dressed up like today? I'm dressed up as a soapmaker and have been testing recipes like a mad scientist all morning long. Jamisen's is going to be a dinosaur again this year and Lily is going to be a baby pumpkin, which is the cutest darn thing you've ever seen. Onto the main event for today!  Our customer experience manager Kevin, took a quick trip to one of our favorite fruit and vegetable stands here in Bellingham with his boys to get the pumpkins for Team Bramble Berry (office and warehouse included!)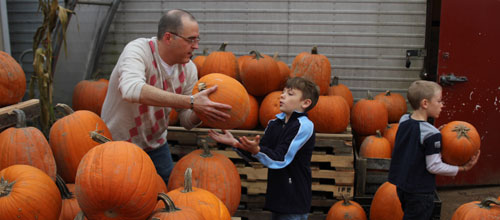 The pumpkins that the team carved were as unique and creative as their personalities. You could tell who carved which pumpkin and I just loved seeing the team spirit that everyone put into their pumpkins. I was totally going to submit a pumpkin, but I ended up with a droopy face pumpkin because my husband thought our pumpkin "seemed wet" so he baked it. Oops!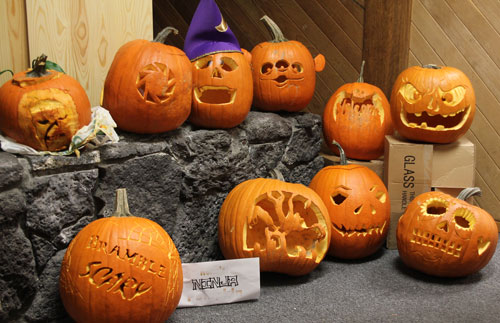 Top Row: Austin (Warehouse), Becky (Social Media Assistant), Miles (Warehouse), Ari (Warehouse), Nikki (Warehouse), Kevin (Customer Service Manager)
Bottom Row: Oryx (Warehouse), Norm (Chief Operating Officer), Carla (Order Manager), Tina (Customer Service), Kari (Live Help)
Check out how spooky these pumpkin look once lit! If you are looking for a good candle recipe this Halloween, you can check out our Whipped Candle Frosting recipe here. In that tutorial we used our sample of the month,  Chai Tea Cybilla, but you can also use our skin-safe Pumpkin Pie (Candle & Soap) Fragrance Oil with a hint of Halloween color from the Orange Wax Dye Block.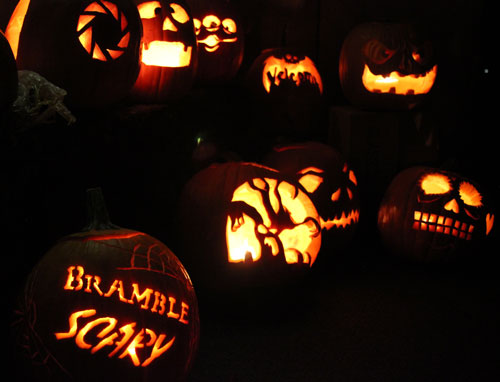 And in true Bramble Berry fashion, after the prizes were handed out, we all headed outside while Chief Operating Officer Norm used our forklift to crush some pumpkins that had started rotting.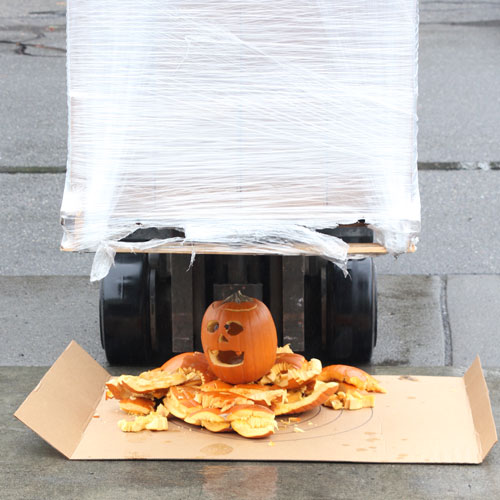 If you are looking for some fun Halloween projects, check this Monster Mash-Up of tutorials from a few years ago (including one on making your very own face paint with Bramble Berry's pigments and oxides!). Happy Halloween!