Halloween is fast approaching, and with it comes scary movies, trick or treating, carving pumpkins and enjoying lots of candy. At Bramble Berry, Halloween also means spooky soap projects! This week there were plenty of tutorials to inspire you. You can see several fun recipes in this Halloween Project Roundup.
In the mood for more creepy projects? Check out this Pumpkin Soap on a Rope. The project uses melt and pour, orange colorant and Pumpkin Souffle Fragrance Oil, which adds a nutty, spicy scent to your project.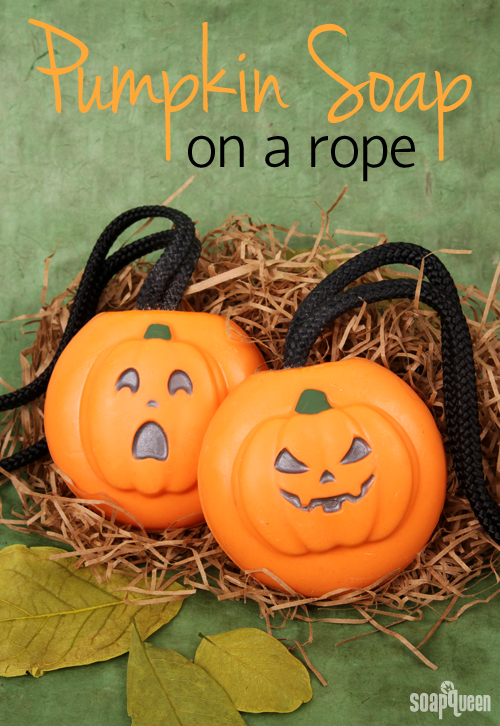 Even if it's sunny outside, pumpkin scents can make it feel like fall. Scents can also help improve your mood. If you want to learn more about aromatherapy, Otion Soap Bar in Bellingham, WA is offering two "Intro to Aromatherapy" weekend sessions this upcoming weekend in Bellingham, WA (just 90 minutes outside of Seattle or Vancouver, BC). Find out more in this Learn Aromatherapy Basics and More at Otion blog post.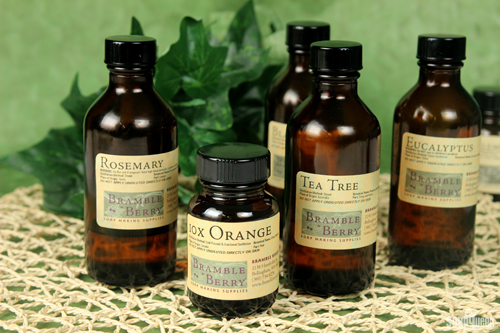 Moroccan Mint Fragrance Oil adds a refreshing and invigorating touch to this Emulsified Scrub. In this throwback Soap Queen TV episode on How to Make Emulsified Scrub, you can learn how to make a product that is both cleansing and moisturizing.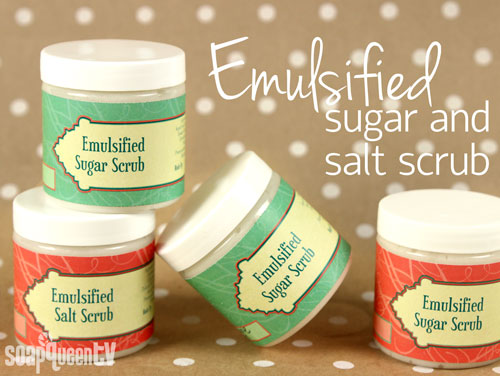 Lotion is the perfect thing to use after an invigorating scrub. If you want a creamy lotion that moisturizes your skin, you can add sodium lactate. Sodium lactate also creates a harder, longer-lasting bar of soap when it's added to your cooled lye water. Learn more about this liquid salt in this Sunday Night Spotlight: Sodium Lactate.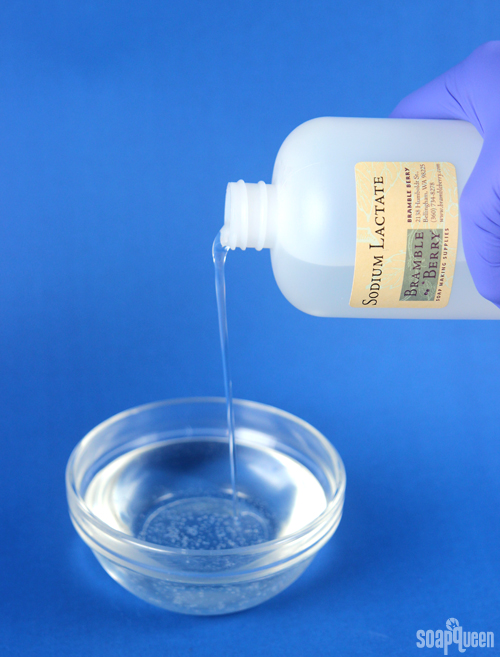 Sodium lactate is perfect if you want to unmold your soap earlier. It can be helpful if you're making soap for holiday gifts because you have more time to cure your soap. Making Christmas gifts for friends and family sparked a passion in Jessica of Bellabrice Body Care. She now owns a soapy business! Check out her business tips in this Turning Gifts into a Business post.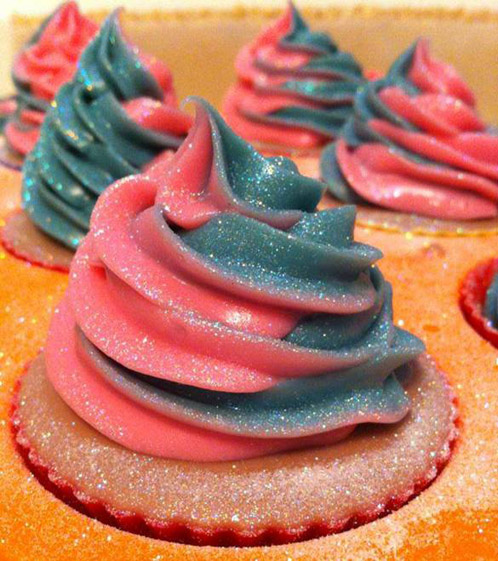 Jessica's soapy cupcakes are so cute. This week's Facebook Photo of the Week by Kathleen with From the Soap House keeps the dessert theme going. Her coffee cake soap is scented with Espresso Fragrance Oil and Hazelnut Toffee Fragrance Oil for a sweet soapy treat.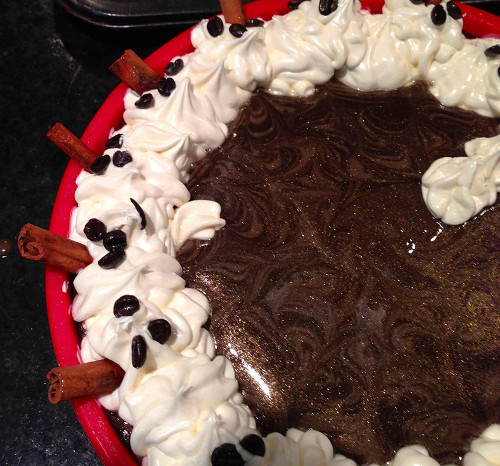 Kathleen topped her gorgeous soap cake with fluffy frosting, cinnamon sticks and coffee beans. Then, she sprayed the soap with a mixture of mica and 99% isopropyl alcohol for some extra sparkle. If you want more coffee inspiration, check out this Espresso Shot Cold Process Tutorial. For a sweeter coffee soap with some light and airy "foam," check out this Pumpkin Spice Latte Cold Process Tutorial.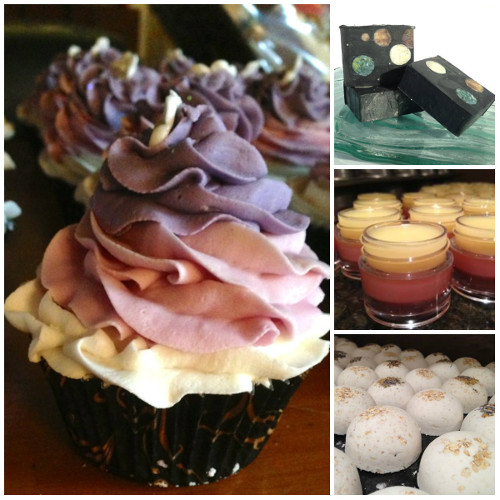 Above (clockwise, left) are Kathleen's Purple Haze cupcake bath bomb and sugar scrub, Dark Side of the Moon soap, Ice Cream Man lip balm and moisturizing bath bombs. If you'd like some added moisture in your tub, you'll love this Soap Queen TV episode on Making Bath Truffles. Skin-loving jojoba oil adds some nourishment to these Mini Heart Bath Bombs.
Find From the Soap House
On Etsy
On Facebook
Post pictures of your crafty creations on the Facebook page each week for a chance to be featured on the Soap Queen blog and receive a sweet soapy package from Bramble Berry. Photos are chosen based on consensus from the Bramble Berry staff, so the best way to increase your chances of winning is to show us lots of photos!