We are so excited about our new swirl tools that we went on a bit of a soaping spree with them (and by 'spree', I mean I made well over 90 pounds of soap in three weeks with them just to try out new techniques). We started with the Frog Foot, continued with the Butterfly Swirl and now we're bringing you this fabulous French Curl. Inspired by a paper marbling technique, this pattern translates beautifully in soap. This soap also has scent blend reminiscent of a gourmet meal: a savory blend of Litsea, Black Pepper and Basil essential oil is a sprightly, uplifting somewhat masculine scent.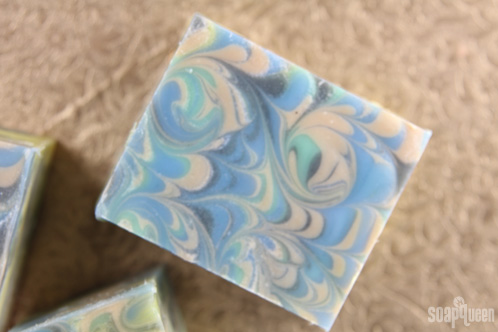 What You'll Need:
24 oz. Coconut Oil
16 oz. Palm Oil
16 oz. Olive Oil
4 oz. Sesame Oil
12 oz. Sweet Almond Oil
8 oz. Meadowfoam Oil
11.2 oz. Sodium Hydroxide
26.4 oz. distilled water
18-Bar Unfinished Birchwood Mold with Liner
Fragrance Blend of: 2.55 oz. Litsea Essential Oil, 1.7 oz. Pure Basil Essential Oil and .8 oz. Black Pepper Pure Essential Oil

Click here to add everything you need for this project to your Bramble Berry shopping cart! And remember, you can always edit the cart to take out things you already own.
If you've never made Cold Process soap before, stop here! I highly recommend checking out our FREE four part SoapQueen.tv series on Cold Process Soapmaking, especially the episode on lye safety. And if you'd rather do some reading, Bramble Berry carries a wide range of books on the topic, including my newest book, Soap Crafting. You can also checkout the digital downloads for that instant gratification factor.
SAFETY FIRST: Suit up for safe handling practices! That means goggles, gloves and long sleeves. Make sure kids, pets, and other distractions and tripping hazards are out of the house or don't have access to your soaping space. Always soap in a well-ventilated area.
COLOR PREP: Disperse 1 teaspoon of each pigment into 1 tablespoon of Sweet Almond or Sunflower Oil. Prepping your colors in the beginning will allow you to work quickly and give you more time to work with your soap. Use the mini mixer to get all those clumps worked out smoothly.

FRAGRANCE PREP: In a glass container, combine the Litea, Basil and Black Pepper Essential Oils. Give the mixture a good stir, and then set it aside.
ONE: Slowly and carefully add the lye to the water, and stir until clear. Set aside to cool. If you'd like a harder bar of soap that lasts longer in the shower, you can add Sodium Lactate to the cooled lye water. Use 1 teaspoon of Sodium Lactate per pound of oils in the recipe.
TWO: Melt and combine the Coconut, Olive, Sesame, Sweet Almond, Meadowfoam and Palm oils in a large glass container. Once the lye water and the oils have cooled to 130 degrees or below (and are ideally within 10 degrees of each other), add the lye water to the oils and stick blend until thin trace.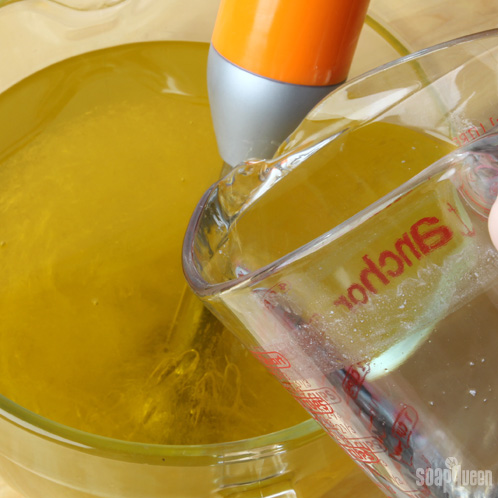 THREE: Once you've reached an extremely thin trace, split the batter equally into five separate containers.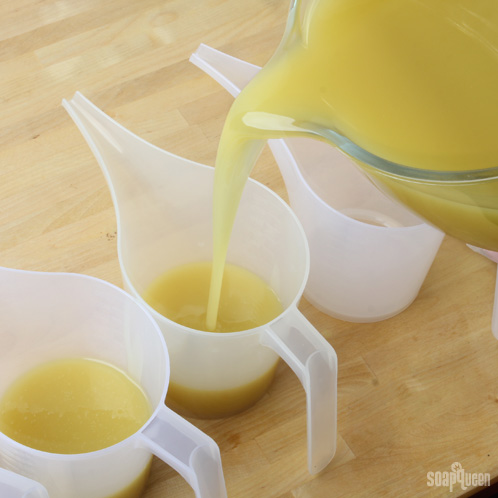 FOUR: Add one color per container in the following amounts. Stir in with a wire whisk or spatula:
2 teaspoons dispersed Fizzy Lemonade
1/2 teaspoon dispersed Ultramarine Blue
1 teaspoon dispersed Hydrated Chrome Green
1 1/2 teaspoons dispersed Activated Charcoal
1/2 teaspoon dispersed Cappuccino Mica, 1 1/4 teaspoons Titanium Dioxide, 1/4 teaspoon dispersed Yellow Oxide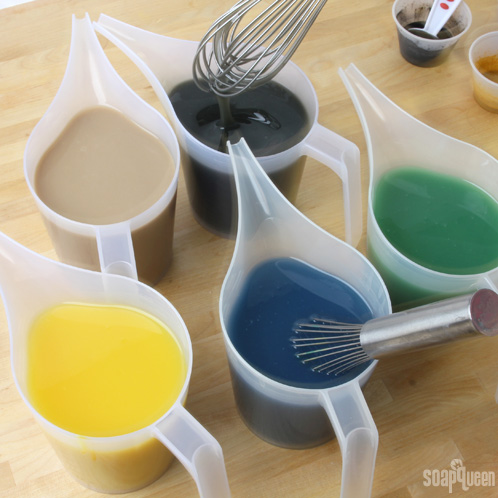 FIVE: Split the fragrance blend equally between the 5 containers. Mix in the blend with a wire whisk or spatula, and note that the blend may thin the trace. If you need to, you can lightly stick blend the batters.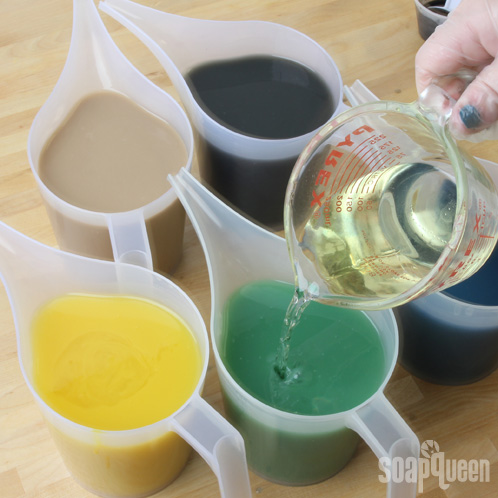 SIX: Fill 5 condiment bottles about 6 oz. of soap batter. Pour one color per bottle and then set them aside.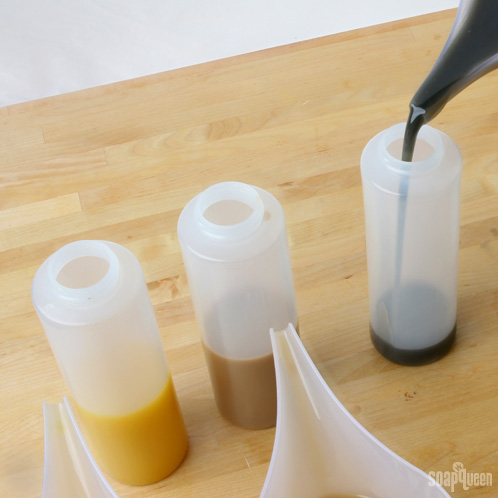 SEVEN: Pour soap from the 5 container one by one into the mold. We poured in a zig-zag pattern down the length of the mold, starting in the top left-hand corner and working our way down to the bottom right-hand corner. Repeat this pattern with all the colors in the same order until you've emptied the containers.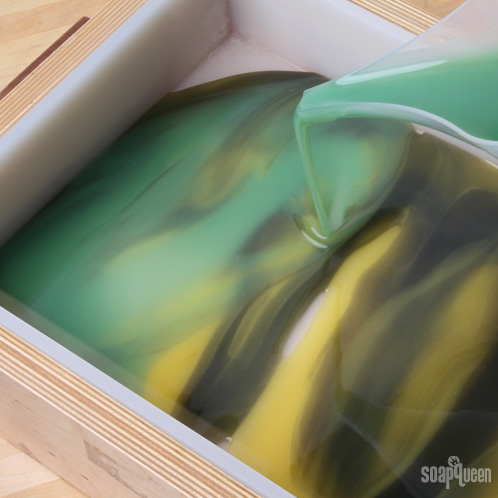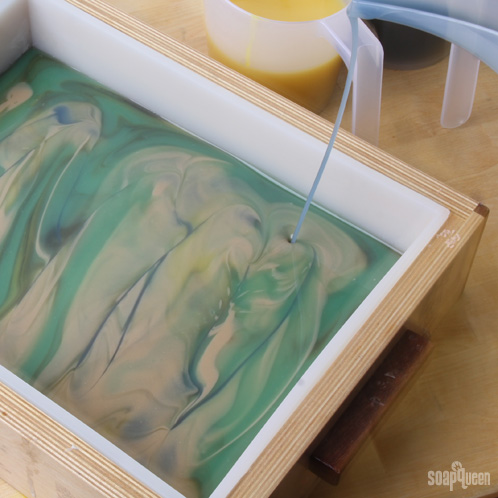 EIGHT: Now turn the mold horizontally and begin pouring your squirt bottle colors. Squirt a layer of each color into the mold in the same order until you've emptied all the bottles.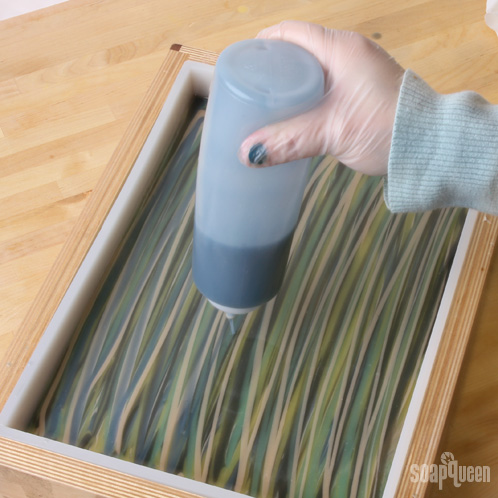 NINE: Use the Comb Swirl Tool to create the initial pareil pattern in the soap by dragging once down through the soap lines.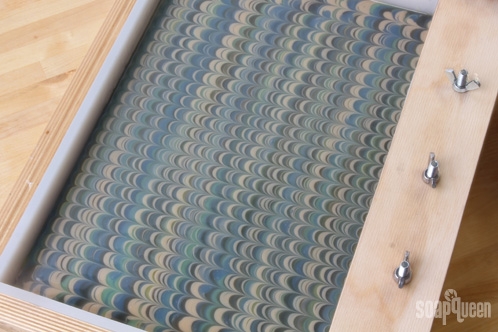 TEN: Next, use the Easy Swirl Tool to make a looping 6 pattern from the top to the bottom of the mold. See the diagram below.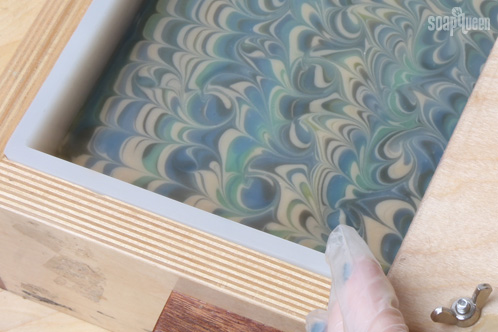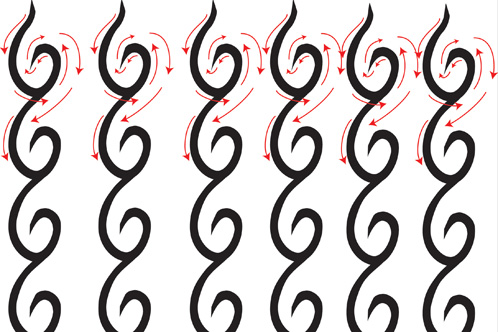 Spray with Isopropyl Alcohol to reduce soda ash and then cover and insulate for 24 hours. Unmold after 3 – 4 days and then allow to cure for 4 – 6 weeks. You can see from the photo below that the 'side cut' of the bars looks amazing too. Enjoy!