Soaping is a hobby that requires practice and persistence, and when a project turns out beautifully it's all worth it. But unfortunately mistakes happen, and sometimes soap doesn't turn out as you'd expect. To help you diagnose any soapy issues, Soap Behaving Badly is a comprehensive overview of a wide variety of soaping mishaps caused by fragrance oils, including ricing, acceleration and seizing. It's a must read for both beginners and advanced soapers! If you are interested in learning more about preventing soapy blunders, our Explaining and Preventing Soda Ash, Why Did My Soap Turn Brown? and How to Prevent Fading and Browning posts are there to help.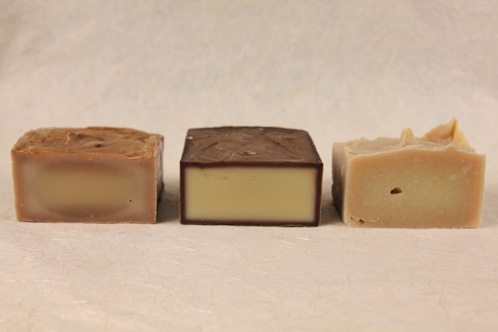 The aftermath of our soapy fragrance testing. Check out Soap Behaving Badly to see what happened to (and how to salvage) these poor bars.
But let's focus on projects that were successful! This week we shared a super easy and refreshing Infused Aloe and Rose Water Toner recipe. If you're looking for more of a challenge, we also shared our Striped Berry Champagne Cold Process Tutorial featuring ombre layers separated by thin lines of mica for definition. If you're a fan of ombre, check out these other DIY projects:
Tired and hungry after all that ombre crafting? This Ombre Layered Cake Recipe is sure to pick you up! Speaking of sugary treats, this week we also shared this Brown Butter and Basil Shortbread Recipe, which is a fun spin on the traditional cookie. As for the the Facebook Photo of the Week, the whipped soapy frosting on top certainly looks good enough to eat!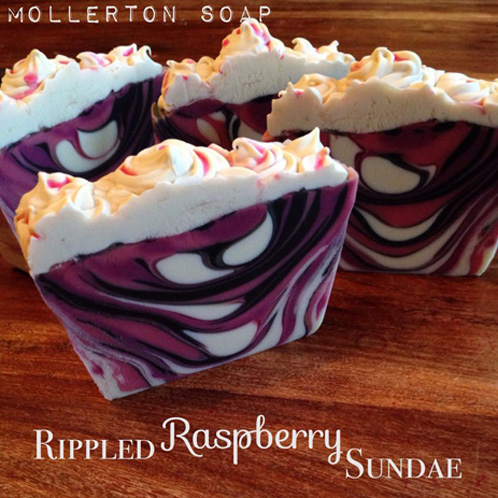 This week's Facebook Photo of the Week comes to us from Majéla of Mollerton Soap. She is one of our international soapers, and hails all the way from Sweden! This stunning Rippled Raspberry Sundae soap features striking swirls of pink, black and white and beautifully textured top. With the abundant amount of curved layers, the swirl in this soap is reminiscent of our Mica Topped Cold Process Soap and the 4 Color In-The-Pot Swirl Tutorial. Wondering how she achieved these stunning, vibrant hues? Our guess is that she used ultramarine pigments, which you can find at Bramble Berry. If you'd like to use more about colorants for both cold process and melt and pour, check out this Talk it Out Tuesday: Colorants post.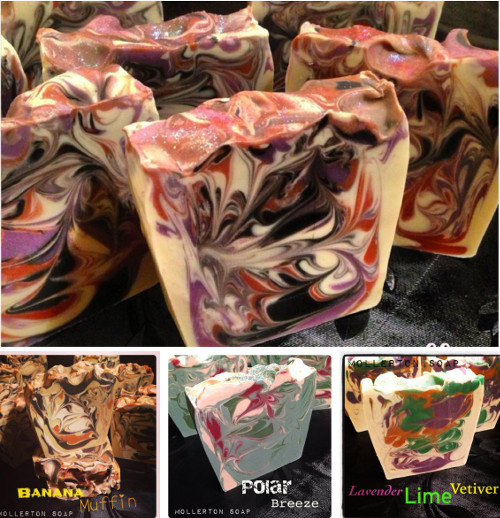 Pictured above (from top, clockwise) are Majéla's Black Raspberry Vanilla Soap, Lavender Lime and Vetiver Soap, Polar Breeze Soap, and a Banana Muffin Soap.  We are so happy to have Majéla in our soaping community. You truly can find soapy inspiration from all over the world =)
Majéla's website: Mollerton Soap
Majéla's Facebook Group: Mollerton Soap
Post pictures of your crafty creations on the Facebook page each week for a chance to be featured on the Soap Queen blog and receive a sweet soapy package from Bramble Berry (or, if you're an international customer, a soapy gift certificate)!