We're hooked on the Great Cakes Soapworks Soap Challenges! They're a great way to practice new techniques and learn from other soapers, and this particular challenge was all about finishing off the soap with a mica swirled top. It's a relatively simple yet beautiful technique that adds the perfect finishing touch. For the base of the soap we did a simple spoon plop technique, which closely resembles the faux funnel pour. The good thing about the mica top technique is it can used with any cold process soap, no matter what technique was used in the base.
If you'd like to check out our other entries to the Soap Challenge, take a look at our Leopard Spot, Mantra Swirl or Elemental Swirl tutorials.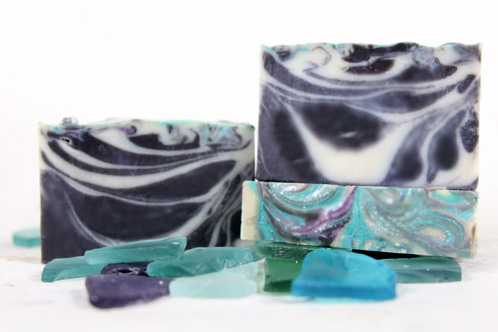 What You'll Need:
33 oz. Swirl Quick Mix
4.5 oz. Sodium Hydroxide
11 oz. distilled water
1.1 oz. Blueberry Fragrance Oil
1.1 oz. Pineapple Cilantro Fragrance Oil

Click here to add everything you need for this project to your Bramble Berry shopping cart!
Don't want to buy the Swirl Mix or want to make a recipe up from scratch? I'd recommend at least 60% liquid oils and no more than 40% (total) of solid oils and butters to give yourself a long time to work with this intricate design.
If you've never made Cold Process soap before, stop here! I highly recommend checking out our FREE four part SoapQueen.tv series on Cold Process Soapmaking, especially the episode on lye safety. And if you'd rather do some reading, Bramble Berry carries a wide range of books on the topic, including my newest book, Soap Crafting. You can also checkout the digital downloads for that instant gratification factor.
SAFETY FIRST: Suit up for safe handling practices! That means goggles, gloves and long sleeves. Make sure kids, pets, and other distractions and tripping hazards are out of the house or don't have access to your soaping space. Always soap in a well-ventilated area.
COLOR PREP: Disperse 1 teaspoon of each pigment into 1 tablespoon of Olive Oil. Prepping your colors in the beginning will allow you to work quickly and give you more time to work with your soap. Use the mini mixer to get all those clumps worked out smoothly.

ONE: Slowly and carefully add the lye to the water, and stir until clear. Set aside to cool. If you'd like a harder bar of soap that lasts longer in the shower, you can add Sodium Lactate to the cooled lye water. Use 1 teaspoon of Sodium Lactate per pound of oils in the recipe.
TWO: Melt the entire bag of Swirl Quick Mix and portion out 33 oz. in a large glass container. Once the lye water and the oils have cooled to 130 degrees or below (and are ideally within 10 degrees of each other), add the lye water to the oils and stick blend until thin trace. You can use any standard recipe with this design if you don't have the Swirl Mix on hand but keep in mind that you need a lot of working time with multiple techniques.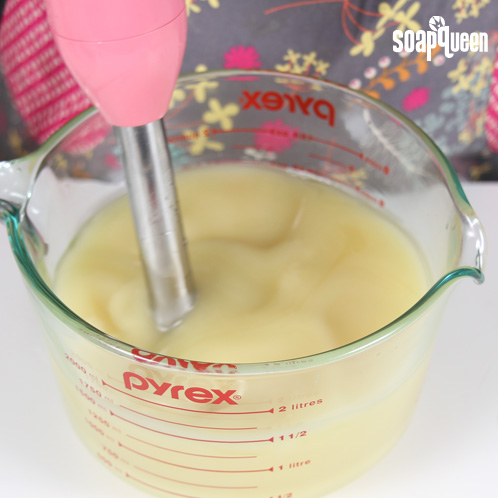 TWO: Split the batch into two equal portions. Eyeballing it is okay! After the split, you should have about three cups of batter per container.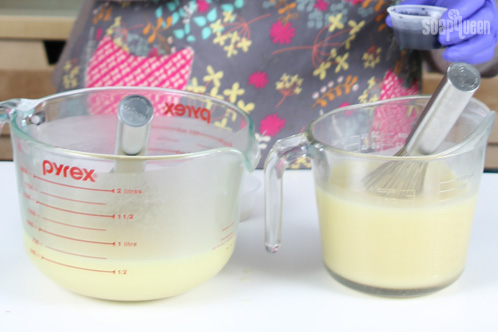 THREE: Add 3 teaspoons dispersed Titanium Dioxide to one cup and 1/2 teaspoon dispersed Black Oxide to the other. Mix the colorant into the batter with a wire whisk or spoon. After the colorant has been incorporated, mix the Pineapple Cilantro Fragrance Oil into the white batter and the Blueberry Fragrance Oil into the black batter.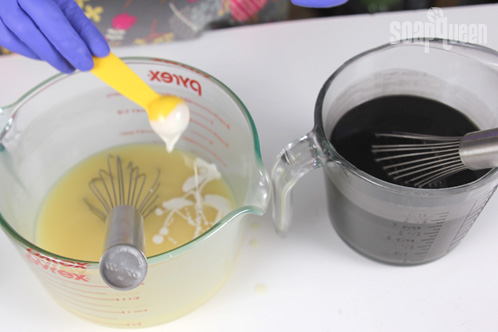 FOUR: Using a spoon, start with the black soap and plop three spoonfuls into the mold. Do the same with the white soap, layering the spoonfuls on top of the black soap. Repeat this process until you've emptied both containers of batter.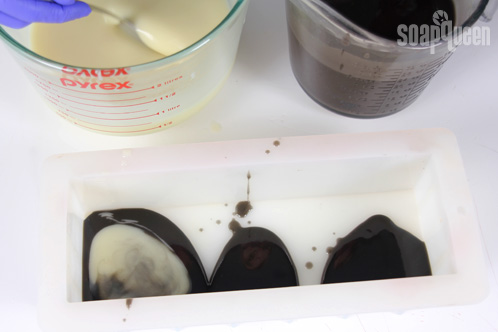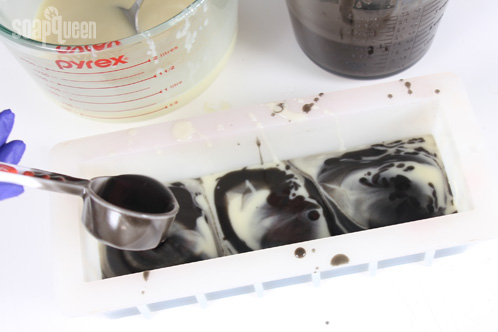 SIX: Insert a chopstick or dowel about 1/2 inch into the top of the soap. Beginning in the top left-hand corner, make a figure eight pattern through the soap, working your way across the mold.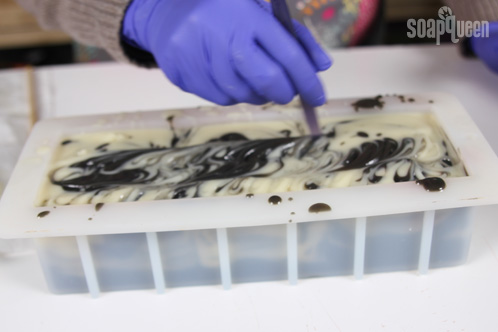 SEVEN: Using a dropper, drizzle the Aqua Pearl Mica across the top of the soap. We drizzled the mica in loop-de-loop swirls, but you can create your own design too!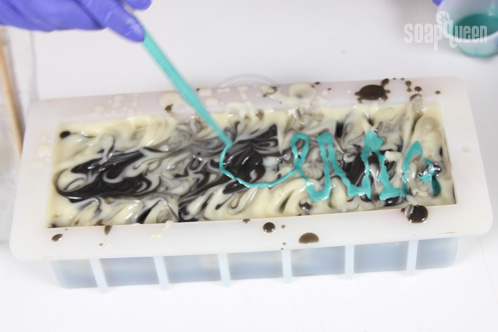 EIGHT: Repeat the process with the Amethyst Purple Mica.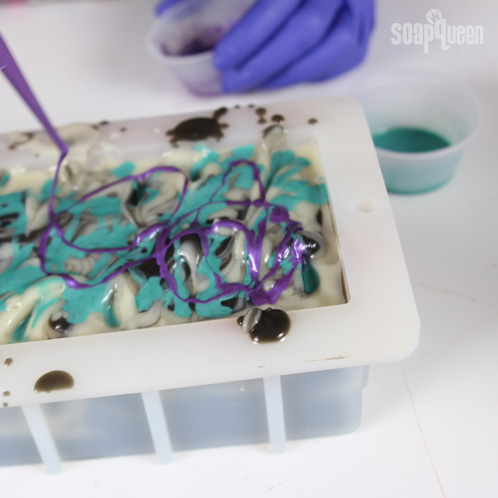 NINE: Once all the mica has been drizzled on the soap, use a chopstick or dowel to make small loop-de-loops across the length of the mold. When you reach the edge, begin your curve again and make a second set of loops under the first.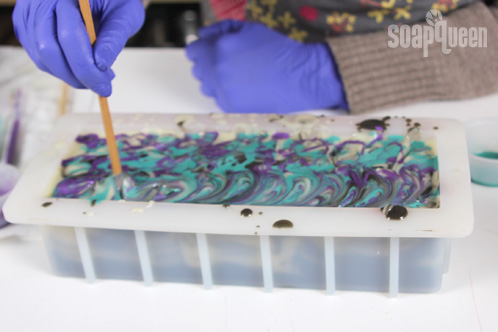 TEN:  Spray the entire top with 91 or 99% Isopropyl Alcohol to reduce soda ash. Cover and insulate for 24 hours and unmold after 3-4 days, and allow to cure for 4-6 weeks and enjoy.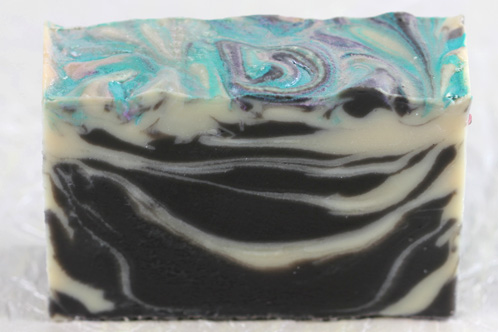 Want to hold this soap in your hands? If you're a tactile and visual learner, we have another way for you to learn. Click here to grab one of these soaps for your very own, complete with a full color instruction sheet, from the Soap Queen Lab Etsy shop.