I love pink hues, floral scents and glitter, but this week the blog was all about masculine projects like the Easy Scrubby Body Wash. The recipe is made with Stephenson Suspending Body Wash. The base evenly distributes the Sierra Sky Jojoba Beads, which add color and exfoliation. The recipe is scented with Bramble Berry's Fierce Type Fragrance Oil. It's easy to make and perfect for Father's Day.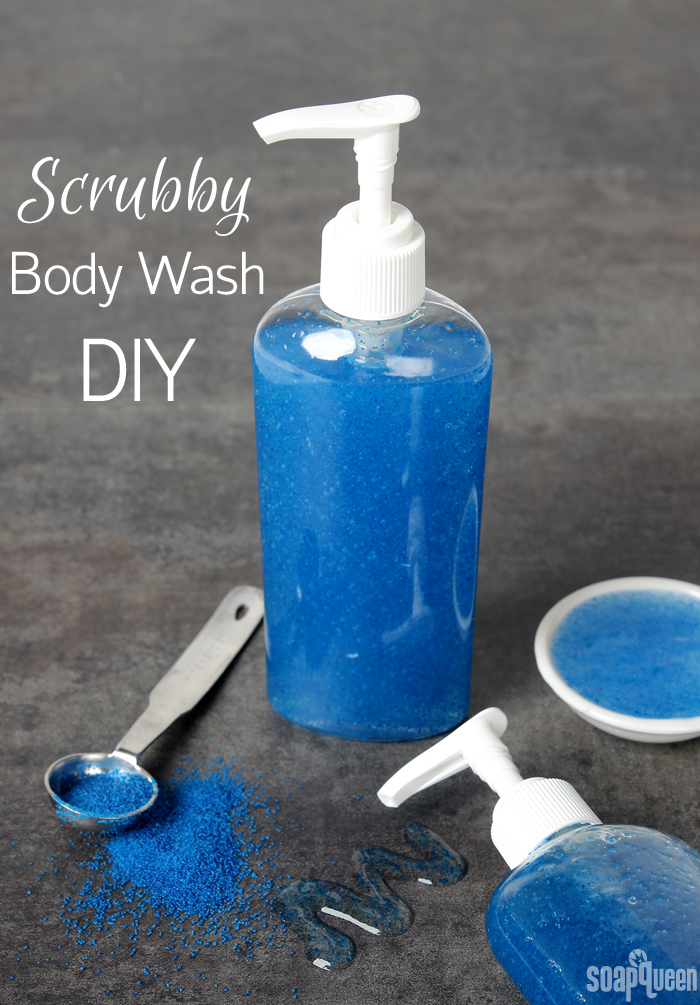 The Cold Process Shaving Soap is another option for Father's Day. It produces a thick and creamy lather that's ideal for shaving. The recipe has cocoa and avocado butter to help moisturize the skin and castor oil for big fluffy bubbles. Bentonite clay is added to create "slip" and help prevent razor burn. The shaving soap smells fresh and earthy from a combination of spearmint and patchouli essential oils.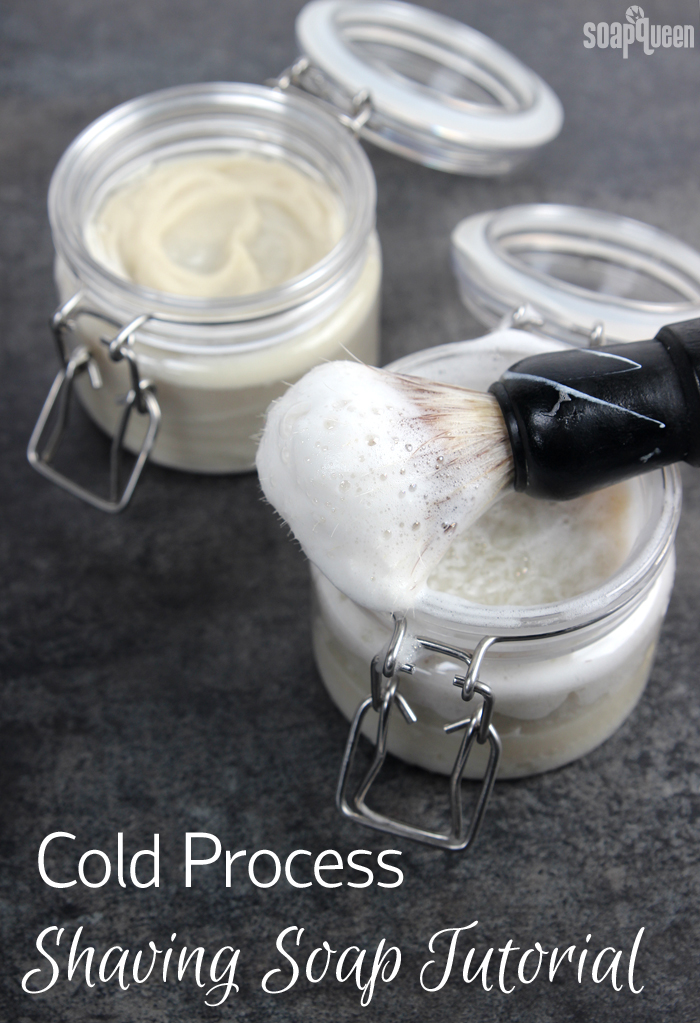 The Masculine Project Roundup has more Father's Day inspiration. It includes the Sculpting Mustache Wax, which is made with cera bellina wax, olive oil, hazelnut oil, castor oil and vitamin E oil. The oils create a spreadable texture that holds hair in place. Another option is Havana Layers Melt and Pour Soap, which has additives like pumice and walnut shells to scrub away dead skin.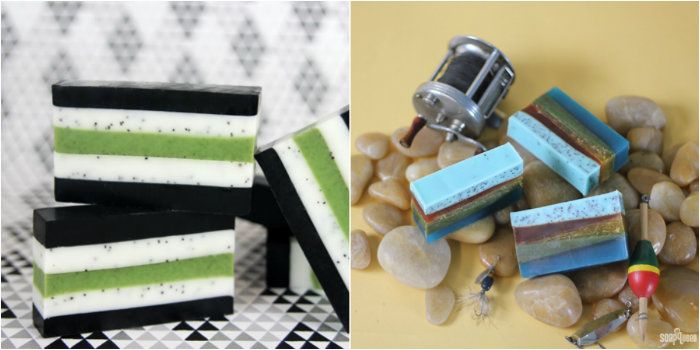 Melt and pour soap is perfect for layered designs because you can get precise, clean lines. Temperature is key for sharp layers. The first layer needs to cool and harden fully so it can support the next layer. The next layer needs to be poured when the soap is 125 ° F or below. That way the soap below doesn't melt. Spraying 99% isopropyl alcohol in between the layers is also key because it helps the soap stick together. Learn more in the 5 Tips for Layering Melt and Pour Soap post.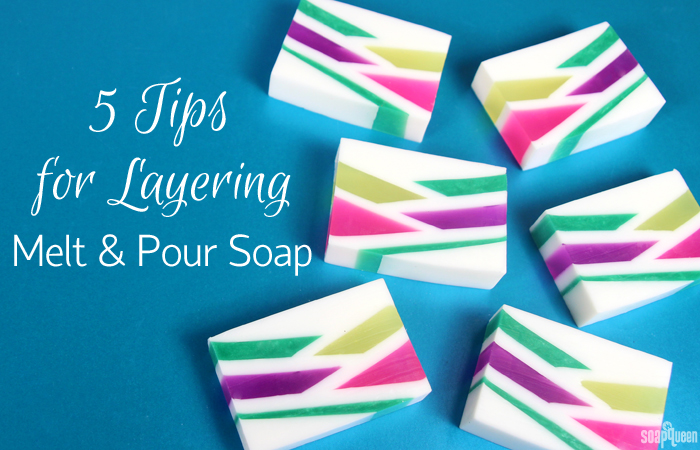 You can also get swirls with melt and pour soap, although it is a bit tricky. This week's Facebook Photo of the Week winner has definitely mastered the technique. Sandy with Sandy Bacho Soaps made her gorgeous Silvery Moonlight soap with Goat Milk and Clear Melt and Pour Soap Base.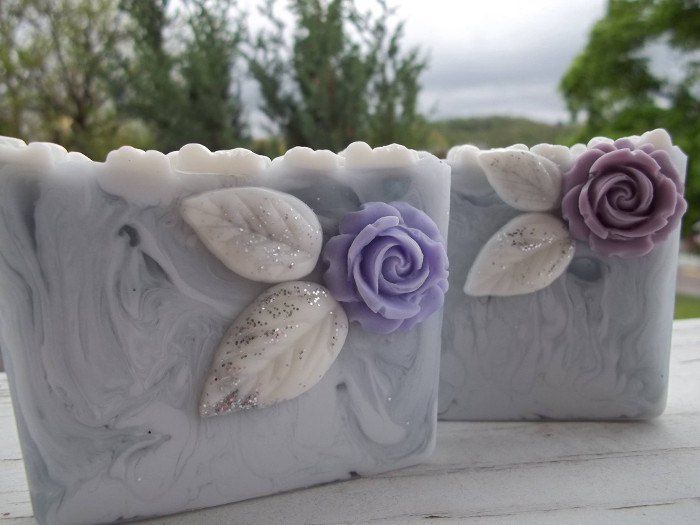 Sandy's silvery swirl is so pretty. My favorite part is the adorable flower embellishments. And who could forget that silver sparkle? For more swirly melt and pour, check out the Thai Tea Melt and Pour Tutorial. The Charcoal and Rose Clay Spa Bars feature a pink and white swirl.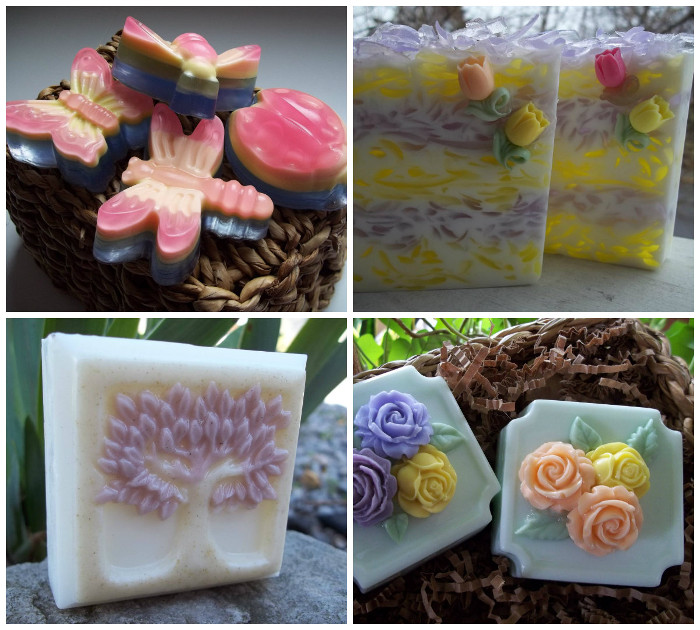 Above (clockwise, top left) are Sandy's Rainbow Bugs Soap, Welcome Spring Soap, Custom Grown Roses Soap and The Peace Tree Soap. If you love the confetti look of the Welcome Spring Soap, you'll love the Green Meadow Melt and Pour Tutorial. Soap scraps look great in cold process as well, as seen in the Couture Confetti Soap Tutorial.
Find Sandy Bacho Soaps
On Facebook
Melt and pour soap is also great for embeds. Heather with Silver Crystals Co. UK made her adorable berry embeds with melt and pour soap. They go perfectly with the rich purple and blue colors in the bar. It's so beautiful. See more of her work on her Instagram page.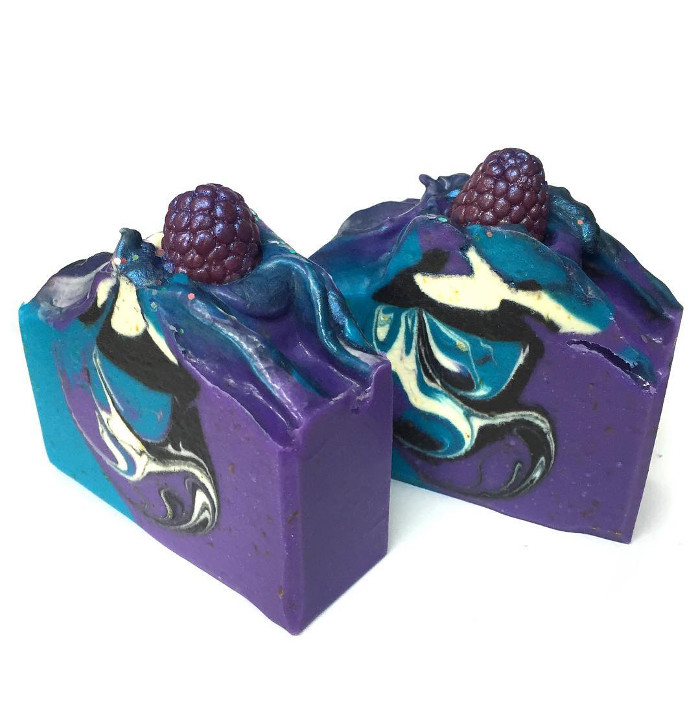 Post pictures of your crafty creations on the Facebook page each week for a chance to be featured on the Soap Queen blog and receive a sweet soapy package from Bramble Berry. Photos are chosen based on consensus from the Bramble Berry staff, so the best way to increase your chances of winning is to show us lots of photos!
To participate in the Instagram contest, hashtag your pictures with #soapshare. Each Friday, I will pick a photo on Instagram to be featured on the Bramble Berry Instagram account.
For those of you who have been featured on the blog, we now have an official "Featured on the Soap Queen" badge! You can include that badge on your website, blog, pictures, etc. To save the badge, click here. =)