This week, the team and I filmed several videos for Soap Queen TV. A few weeks ago, we also filmed a few informative product videos for the new Bramble Berry YouTube channel (coming soon!). I also did a Live Google Hangout (watch in the comments) for the Handmade Beauty Box crew. It's been a lot of camera time this week (!). Making videos is hectic, but balanced by lots of laughing, singing and always, a little dancing. Here is a little behind the scenes peak into our most recent shoots.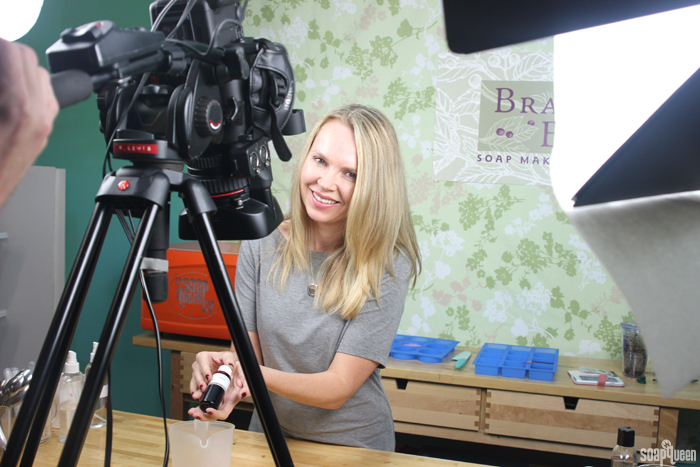 I know this will shock you but I don't wake up looking quiiiiiiiite the way I do on camera. I need help. Below, Amber helps apply some powder, followed by a little gloss and eye shadow. I tend to be pretty make-up optional normally and with my light coloring (hello no eyebrows), it's amazing how the camera makes all features disappear!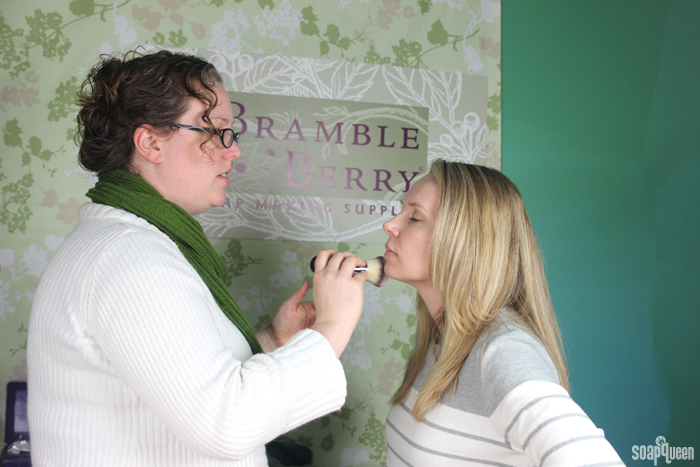 The essentials (phone, smoothie and lip gloss) are never too far away during a shoot. Filming takes several hours (up to a day for full-length Soap Queen TV videos). Tea and smoothies keep my energy level up. The smoothie below was made of a yummy combination of kale, blueberries and some kefir. This recipe is extremely similar if you'd like to make one of your own =)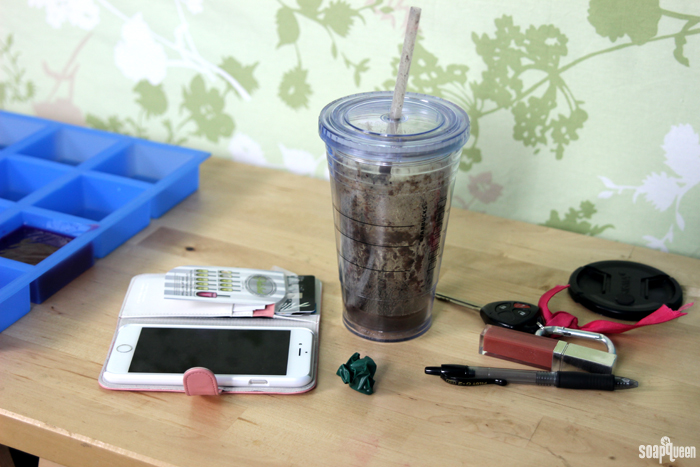 The bakers rack in the Soap Lab fills up quickly with soap, tools, props and examples to show on camera. Each and every step of a video must be made beforehand in order to keep the shoot as quick as possible. As you can see, the melt and pour soaps have been wrapped in plastic wrap to prevent glycerin dew.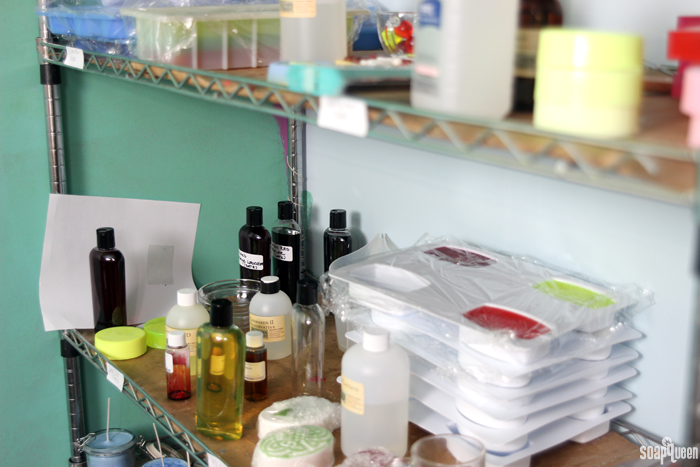 The soaps below were created to demonstrate the beautiful colors produced by LabColors. Shown below are the Lime, Orange, and Red LabColors in the Clear Melt and Pour Base. I love the shape of these soaps which were made in the 12 Bar Oval Silicone Mold; they are so easy to hold in your hand.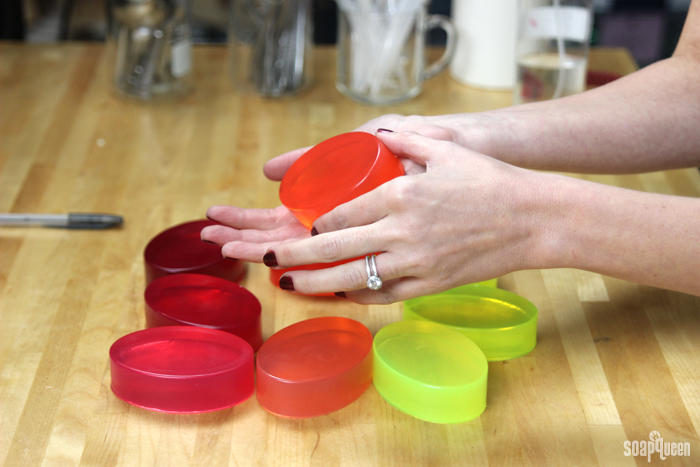 Dark red Brazilian Clay was featured in a video, and below I demonstrate how to disperse it into 99% isopropyl alcohol for melt and pour soap use. Because clays tend to soak up moisture in cold process soap, I recommend dispersing them in distilled water. Recently, this clay was used in the Marbled Clay Hot Process tutorial.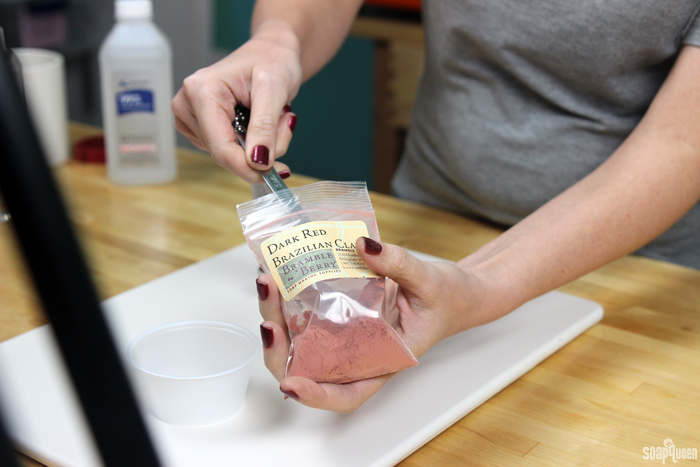 Taking a break to get the set re-set is key during a long shoot. I'm pretty much addicted to all things Bramble Berry social media so in between shoots, my phone is generally in hand so I can check Instagram and the answer comments and questions on the Bramble Berry Facebook page.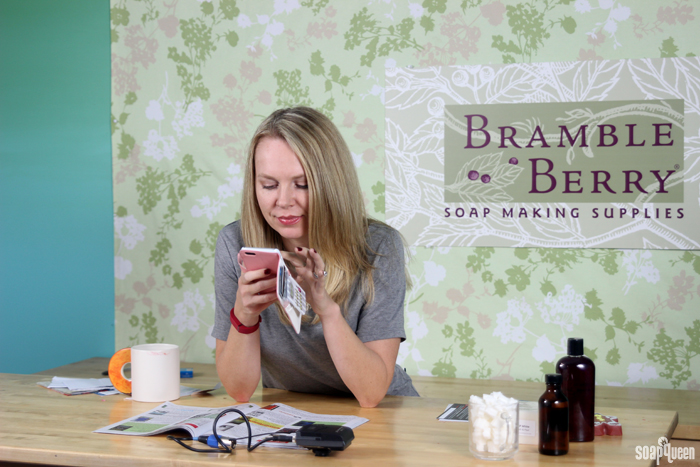 The video shoots get a lot more giggles-filled towards the end of the day when brains are tired and slightly delirious. Near the end of the day, I almost always struggle to get through my lines without busting into laughter from one-too-many silly flub-up. This was the last take of the day before the weekend. Clearly, my brain was already in Saturday-mode.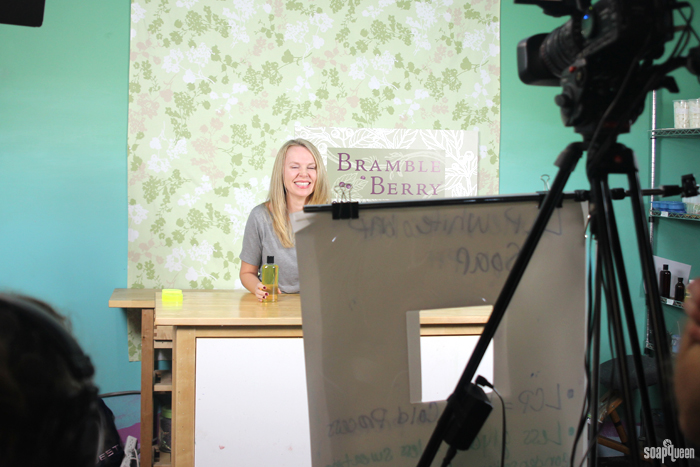 Below is a shot of the colorful a sparkly melt and pour project. It was directly inspired by a previous melt and pour tutorial, and updated to show more color. I love the way it turned out! The top layer has lots of glitter and sparkle, and it's scented with Pink Grapefruit Fragrance Oil.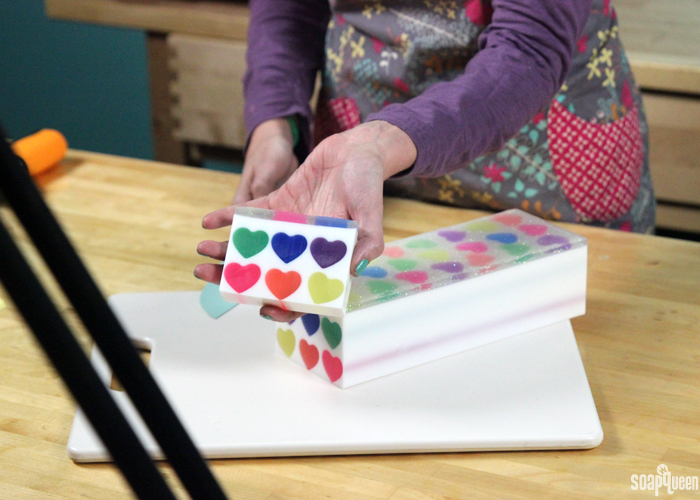 Of course we have to Instagram the shoot! Below, Amanda snaps a photo of me pouring the top on the Lemon Poppy Seed cold process soap. It was such a popular tutorial, that we decided to make a video. Notice the tea cup, the water and the phone at easy reach behind me. Can't get dehydrated! =)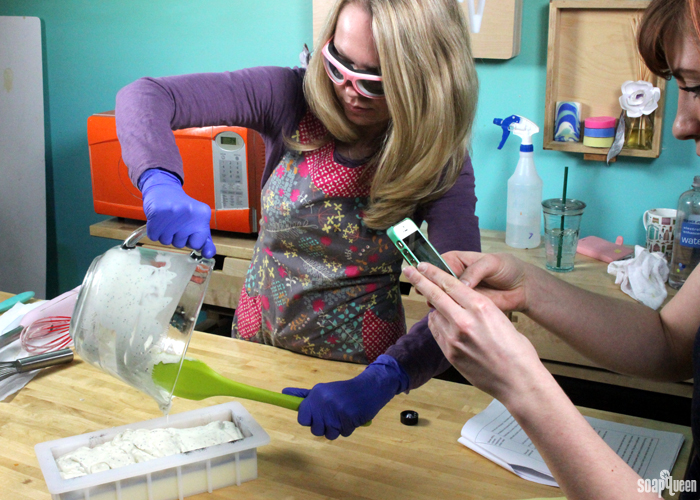 Gal-of-all-Trades and my absolute better half when it comes to marketing, Amber always acts as the producer on the videos to make sure we get all the necessary shots. In the shot below, I'm shaving off Color Block pieces to add to the melt and pour.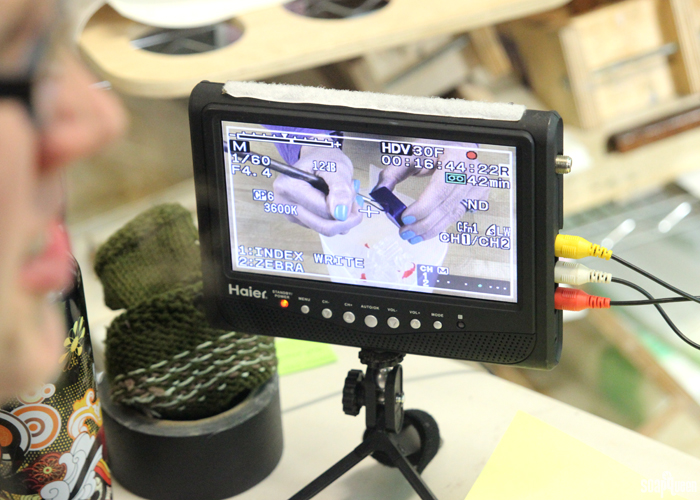 I can't wait to share these videos with you! What kind of Soap Queen TV video should we make next?