The Bramble Berry team is a diverse group of people who love creating, being active in the community, and spending time together. What started as CEO and founder Anne-Marie selling a few supplies out of a 400 square foot space is now more than 80 employees researching products, pouring fragrances, and helping customers. Learn more about us below.
We love to create
Soap isn't the only thing we make. Employees love to cook, take photos, make stamps, embroider – you name it. If you've gotten a hand-drawn note in your order, it's likely from Ben in the warehouse. Bramble Berry Chief Marketing Officer Amber has a house full of craft supplies. She recently demonstrated how to create art with beeswax and a blow torch.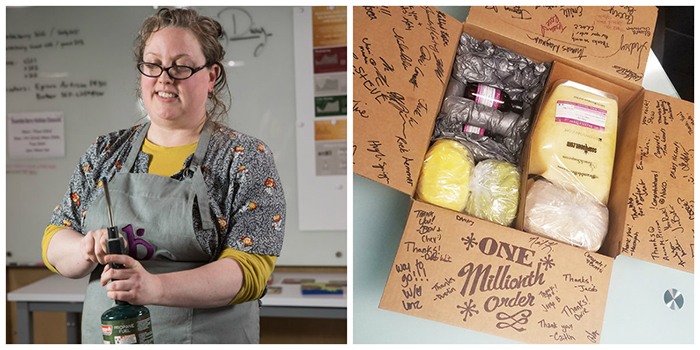 Amber demonstrates encaustic painting, Ben shows off his lettering skills on our one millionth order.