The week is technically over but there is still so much to be excited about! We announced a new Soap Swap, our Bramble Girl is almost due, and my book is ever closer to publication. In fact, here is a Vine video I shot last week while making a super secret bonus project that goes along with the book:

This week we also worked on a fruity Strawberries & Cream soap using fresh strawberry puree and real cream. Keep your eyes peeled for a tutorial =)
Can't get enough of the Vines? Here are 3 more: Dreamcatcher 1, Dreamcatcher 2 & Veggie Puree.
My favorite pins feature a ton of fun crafts (and one very delicious dessert).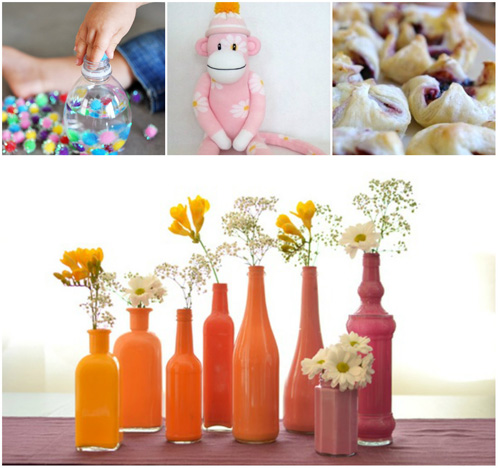 (Top left) Jamisen would love this fun activity — it's something he could put together himself! Who knew that kids could have so much with a water bottle, some colored ribbon and a few glittery pom poms?
(Center) I think the sock monkey has become the new teddy bear.
(Top right)  I just love these black raspberry brie bites. What a great little treat to bring to a barbecue or dinner party =)
(Bottom) No spring cleaning is complete without fresh flowers, and flowers need bright, fun vases. Plus, this is a great way to re purpose old glass bottles. Look for how we used this idea in the Bramble Berry Sprinkle party.
We can't forget my favorite tweets too! These were some of my favorite things in 140 characters or less:
Every customer can teach you something, even the unhappy ones.
We've been doing a bit of rearranging in the Bramble Berry offices and for those of us who are spatially challenged (ahem), the MagicPlan app is great.
Think twice about recycling baby food jars. These four projects would make for wonderful gifts.
Have a great weekend!