Facebook Photo of the Week (January 25th ~ January 31st)
This week was full of fun and easy projects, perfect for a beginner crafter. Our Super Simple Shoe Polish is a great inexpensive alternative to store bought polish, and adding a little brown or black oxide really helps to liven up worn or faded leather. We also kicked off our Show Your Love promotion by making these cute and easy Mini Heart Bath Bombs. Interested in giving these bath bombs a try? Order soon because everything in the recipe is 30% off until February 7th =)

Our Natural vs. Organic post is full of information for the beginner and advanced crafter. If these terms have ever caused you confusion, it's a good read.
Looking for some culinary inspiration for your Super Bowl party? Out of the numerous chili recipes entered into our Chili Cook Off, Kari's Chili Verde with Pork was the winner (click through to get the recipe to make it yourself). Everybody in the office loved the tangy verde sauce and hearty chunks of pork. It was incredibly delicious!
But let's get back to my favorite topic…soap! This week's Facebook Photo of the Week comes to us from Josie of Josie's Beauty Boutique. Her "Don't Eat Me Because I'm Beautiful" soap is lovely, and I was impressed to hear that she has only been soaping since November! She definitely got some bonus point for that cute and clever soap name too.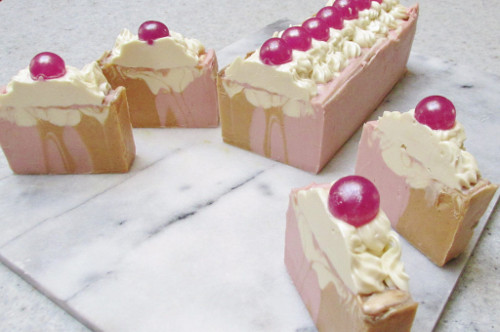 Fragranced with the LoveSpell (Type Fragrance Oil), I love the subtle Valentine's Day vibe of Josie's soap. This bar of soap also reminded me of a cupcake with its pastel colors and heaping frosting. In fact, we may or may not reveal a creative cupcake recipe on the blog next week (winkwink), so stay tuned! Interested in making your own dessert-inspired soap? We've got you covered with the following foodie-inspired projects: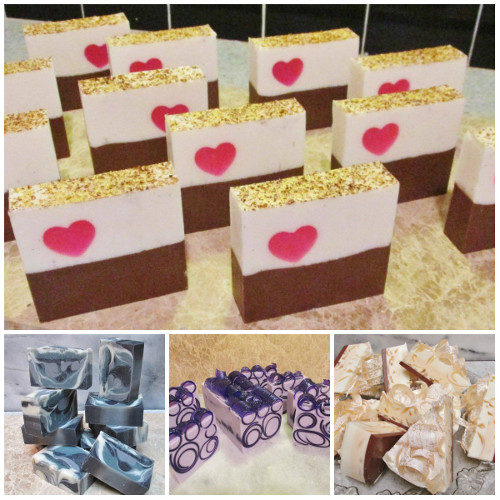 Aren't Josie's soaps beautiful? It's hard to believe she has only been soaping for about 3 months, and she has more than 700 bars of soap under her belt. Thank you so much for sharing your soapy creations with us Josie, we are so happy to have you as part of our soaping community!
Josie's Ebay Shop: Josie's Beauty Boutique 
And thanks to everyone who posts photos, asks questions and otherwise makes our soaping community the best it can be. Seeing your creations each week is a true treat!
Post pictures of your crafty creations on the Facebook page each week for a chance to be featured on the Soap Queen blog and receive a sweet soapy package from Bramble Berry.

18 Responses to "Facebook Photo of the Week (January 25th ~ January 31st)"
Leave a Comment
(Your email address will not be published)