Aside from actually making the products, one of the best parts of crafting is creating fun packaging to enhance your soaps, bath bombs or scrubs. As part of Show Your Love, we're giving you a few simple ways to jazz up the bail jars that make great containers for the Mini Heart Bath Bombs or the Pink Sea Salt Foot Scrub (tutorial coming soon on the blog!).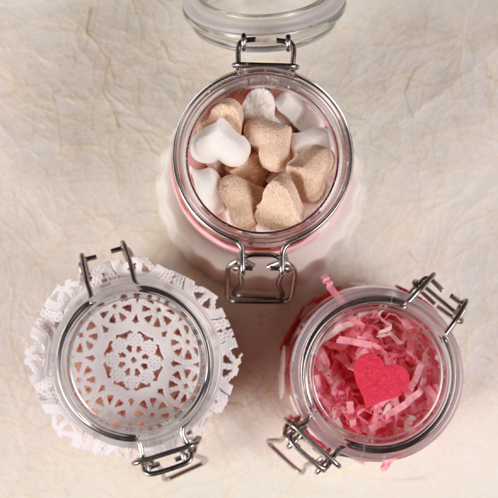 The jars in these examples are the 8 oz. short size, but you can embellish the 4 oz. Plastic Bail Jar or 8 oz. Glass Bail Jar too. We used a hot glue gun, a pair of scissors, fun ribbon and other small items we had in the Soap Queen Lab. How you embellish the jars is up to you, and we encourage you to use our ideas as a jumping off point! For more creative packaging ideas, check out the Make it Monday: Packaging album on Facebook.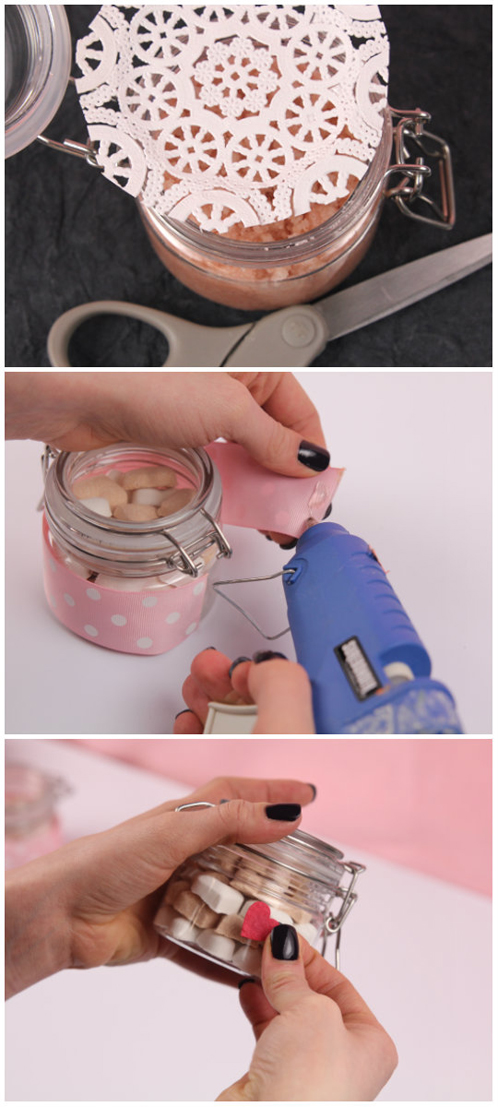 Top: We found some small white doilies in the lab and cut them to fit over the bail jars. Close the bail jar lid and you've got a cute cover for your jar.
Middle: Using ribbon is a great way to make the jars a little fancier. We cut a 10.5 inch piece of patterned polka dot ribbon and hot glued it on the outside of the jar.
Bottom: These small red and white paper hearts are reminiscent of the famous Sweetheart candies, and we randomly glued them around the outside of the jar for a fun, playful look. Super easy and super cute! You can make them with a paper punch.
More V-Day inspiration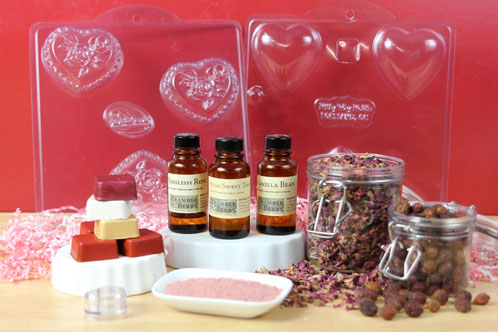 Pictured above from left to right : Color Blocks for Melt and Pour in Non Bleeding Perfect Red, Shimmer Light Gold, Shimmer Super Pearly White, and Shimmer Merlot Sparkle. Fragrance Oils: English Rose, Hello Sweet Thang, and Vanilla Bean. In jars, Rose Petals and Buds and Rose Hips. In front, Rose Clay and Heart Lip Butter Pot. Molds in the back, Heart with Rose Mold and Simple Heart Mold.
For even more Valentine's Day inspiration, check out our Valentine's Day Gift Ideas post or the Valentine's Day Mash Up post. A few of our favorite V-Day themed tutorials include:
We've seen many fun creations on our Facebook page this past week, and some of them really reminded us of Valentine's Day. Take a look at the following creations from members of our soapy community and get ready to be inspired: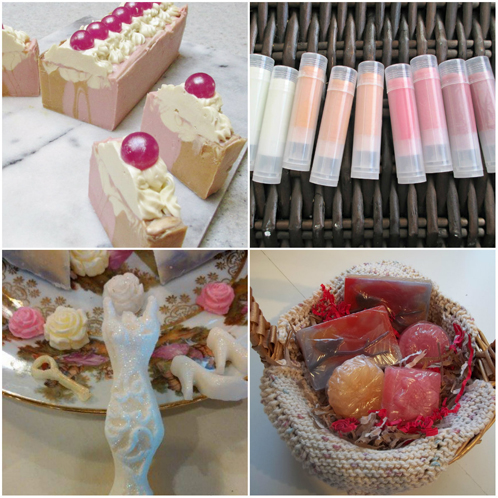 Clockwise from top left: Lovespell soap from Josie Sundell, colored lip balms from Rachelle Rapp, Wedding Dress soap from Michelle Daniel and Lemongrass Essential Oil gift set from Sandra Bacho.
What fun things are you making for Valentine's Day?