What a fun week it has been for me here at the Soap Queen blog. Earlier this week, I introduced a brand new weekly blog feature — our Sunday Night Spotlight. This new weekly feature will pick one Bramble Berry product and I'll go over why I love it so much and a few different recipes that I've used it in. Have a suggestion for a spotlight? Leave it in the comments below! There was also the free giveaway from The Saponifier. Did you miss it? It's here. We also released a new SoapyLove e-zine kit (colorants included). Learn more about it here. After that thrilling recap, I'm betting you are ready for this weeks winner? It was one of my favorites that was posted to Bramble Berry's Facebook page this last week, and you'll see why!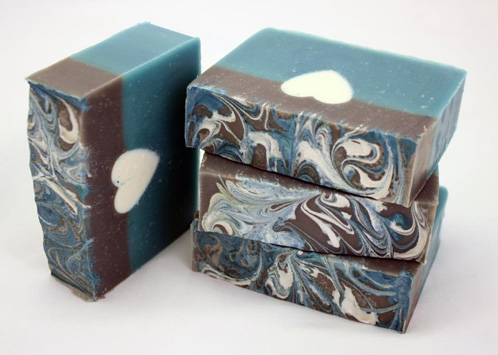 I was so excited to share this week's Facebook Photo with you because you are getting a sneak peek of one of the soaps that has been entered into our Spring Soapy Swap.  Jennifer of Jennifer's Handmade Soap shared this photo with us last week and I was instantly smitten by her gorgeous design. She was excited to share her finished soaps for the swap and even told us that she was able to experiment a bit with the mica-oil tops as well! Thank you for participating in our soapy swap and being a fabulous part of our community on Bramble Berry's Facebook page. Look forward to a special little package headed your way.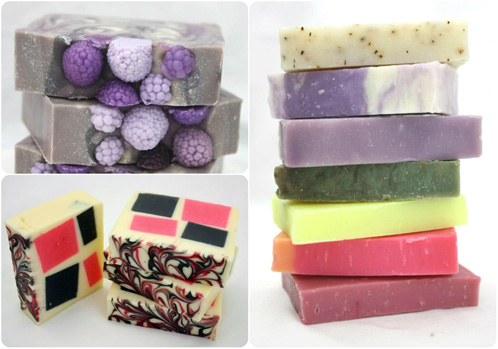 Jennifer's Facebook Page: Jennifer's Handmade Soap

Jennifer's Blog: Jennifer's Handmade Soap
Would you like your photo or project to be featured on the blog? Come join us for soap talk, contests and lots of crafty inspiration on Bramble Berry's Facebook page and share a photo of your latest project. Your handmade soap might be next week's feature! Do you have a full tutorial to go with your soapy project? Submit your recipe to teachsoap(at)brambleberry(dot)com to get have a chance of winning a $10 Bramble Berry Gift Certificate, click here for more details!