I am an over-the-top ridiculous, messy crafter. If you left me in a Michaels craft store for a month with enough microwaveable meals and water, I could happily live there, exploring all the different arts, crafts and crazy skills they have to offer (seriously though, I've always wanted to learn how to solder; doesn't that seem fun yet also, useful?!) Arts and crafts promote creativity and problem solving skills in every age – but, especially in our kiddos. Creating art projects with your kids is also a great bonding activity. There are so many fun projects that you and your little can create together, including melt and pour, bath fizzies and nail polish. The project you choose will depend on your child's age and skill level. In general, I recommend keeping the projects simple. That way the activity stays fun, easy and stress-free. My favorite activity craft subscription boxes are Kiwi Crate, Koala Crate, Messy Play Kit (pictured below, top two photos) and Handmade Beauty Box (of course!).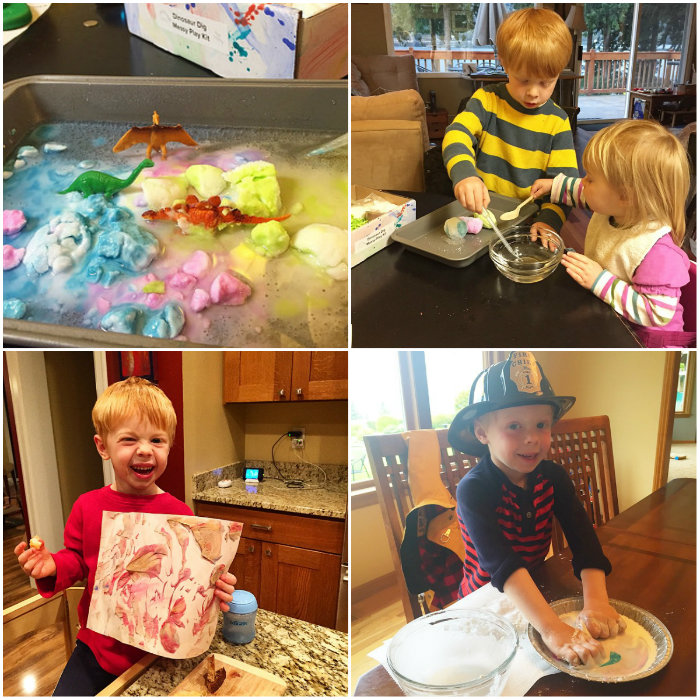 Jamisen and Lily love to create!

Melt and pour is a great project to make with children. I recommend keeping the projects simple, with no complex layers or detailing. Also, make sure the children understand that liquid melt and pour is very hot. Jamisen loves adding fragrance, colors and other additives, but I usually prefer to pour the hot, melted soap into the mold. The gemstone soaps created in the Beginner's Soapmaking video below are a great simple project that kids will enjoy. In particular, kids will love adding glitter to these gems! Jamisen started crafting with melt and pour when he was two years old (seriously; two! Adult supervision is a magical thing).
Another fun way for kids to customize melt and pour projects is to embed small toys into the soap. In the Embedding in Soap video on Soap Queen TV, cute eraser toys are placed into the liquid melt and pour. Then, after lots of baths, the kiddos can play with the toys inside. Other kid-friendly melt and pour projects include the simple Inspired by the Sea Melt and Pour Project, which involves only one color and pour per soap. For older children, the Doughnut Melt and Pour soap is easy to customize and results in an adorable final product.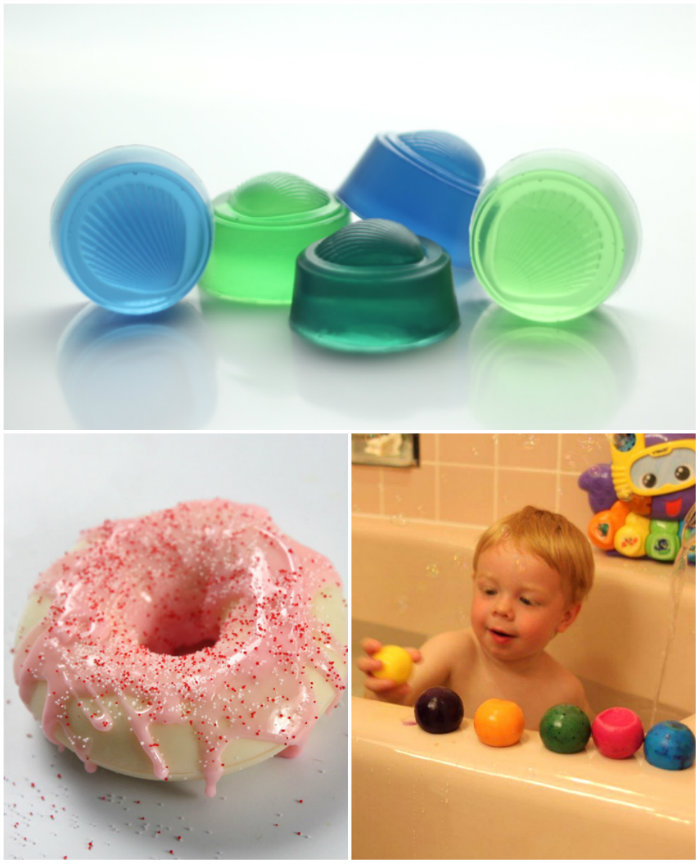 Top, clockwise: Inspired by the Sea Melt and Pour Project, Super Soapy Crayon Tutorial, Doughnut Melt and Pour
To make bath time extra fun, bath crayons allow kids to get creative! Made with melt and pour and lab colors, the Super Soapy Crayon Tutorial creates crayon spheres that can be used to draw images on shower walls. Another option is to place the highly pigmented melt an pour into lip balm tubes to create crayons that are easy to hold. See how it's done in the Melt & Pour Bath Crayon tutorial.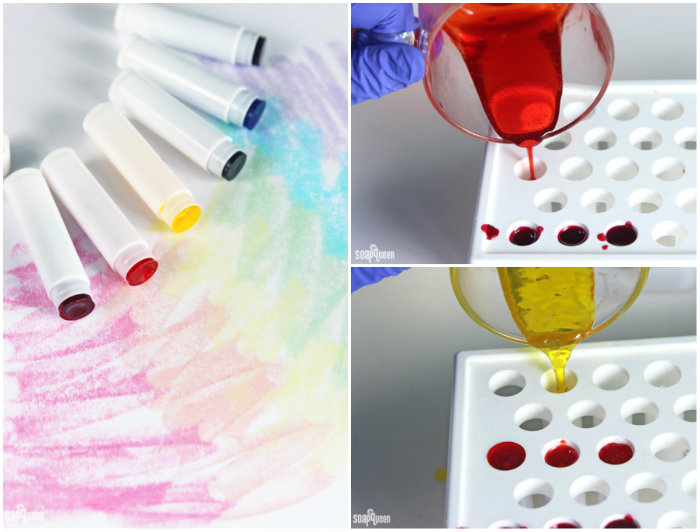 Bath bombs are another project that kids love. Mixing the baking soda and citric acid is incredibly fun, especially when bright colors are involved. The best part is seeing their faces when the bath bombs are thrown into the tub. My kiddos love the fizzing effect! When making bath bombs with kids, I recommend sticking to one color to keep things easy. The Sparkle Power Bath Bombs tutorial is a perfect option for girly-girls, with lots of sparkle, rose shape and hot pink color. If you're looking for more floral inspired fizzy options, the Mini Flower Bath Bombs are perfect for small hands. The Mini Heart Bath Bombs are also the perfect size for kiddos; they can throw several in the tub at a time!
If your children love playing with bath bombs in the tub, the Hidden Color Bath Bombs add an element of surprise. Drops of colorant are placed in the center, with uncolored bath bomb mixture placed around it. Once the bath bomb is activated in water, the hidden color appears. A similar effect can also be achieved by layering different sizes of bath fizzies, as shown in the Sherbert Surprise Bath Fizzy guest post from Holly Port.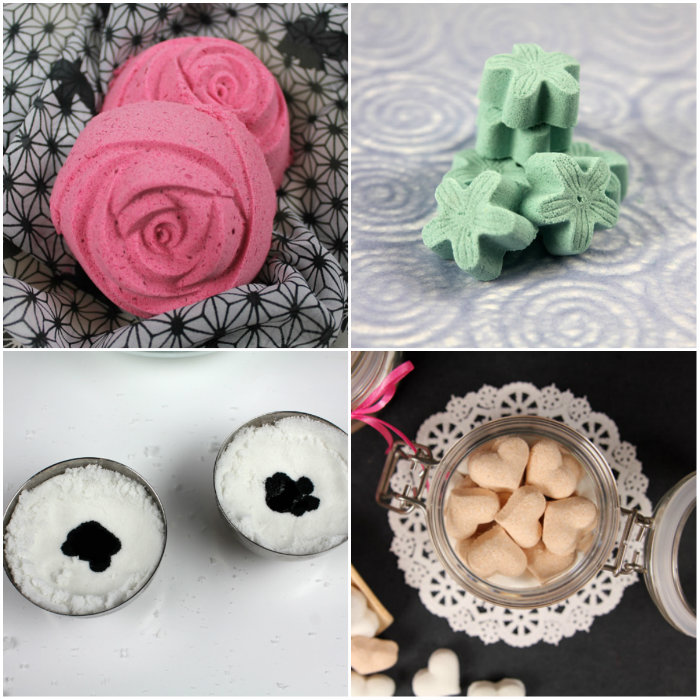 Top row: Sparkle Power Bath Bomb Tutorial, Mini Flower Bath Bombs
Bottom row: Hidden Color Bath Bombs, Mini Heart Bath Bombs
One extra special project that kids can't resist are bath bomb cupcakes. Just make sure they know that it's a bath fizzy…not a sweet treat! Depending on their age, the bath fizzy frosting may need to be created by an adult, but kids have a blast packing the bath fizzy mixture into the cupcake molds. Learn how to make this fun project in the Soap Queen TV video below.
If you have older children with steady hands and self control, creating nail polish is a fun and easy. Carefully add the Nail Polish Base to the bottles, and customize with various colors, glitter and even fragrance.
For more details on creating your own polish, check out the How to Make Nail Polish video on Soap Queen TV. The Talk it Out Tuesday: Nail Polish blog post is also full of great information. If you and your kids love glitter, the Peacock Glitter Nail Polish is full of color and sparkle. Want even more color? The Radiant Neon Nail Polish Kit brings the neon hues!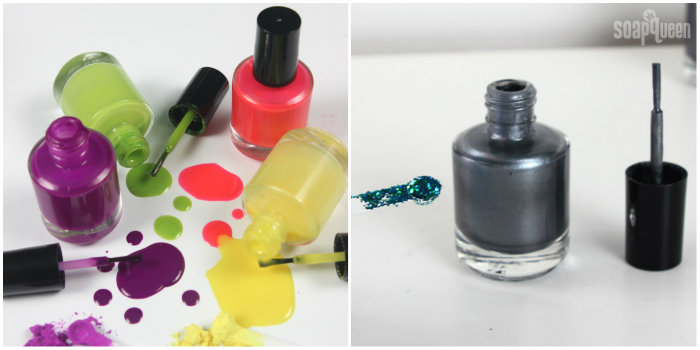 Left to right: Radiant Neon Nail Polish Kit, Peacock Glitter Nail Polish
What kind of projects do you like to make with your children? I can't wait for Lily to get a little bit older so she can make more advanced projects, like nail polish!