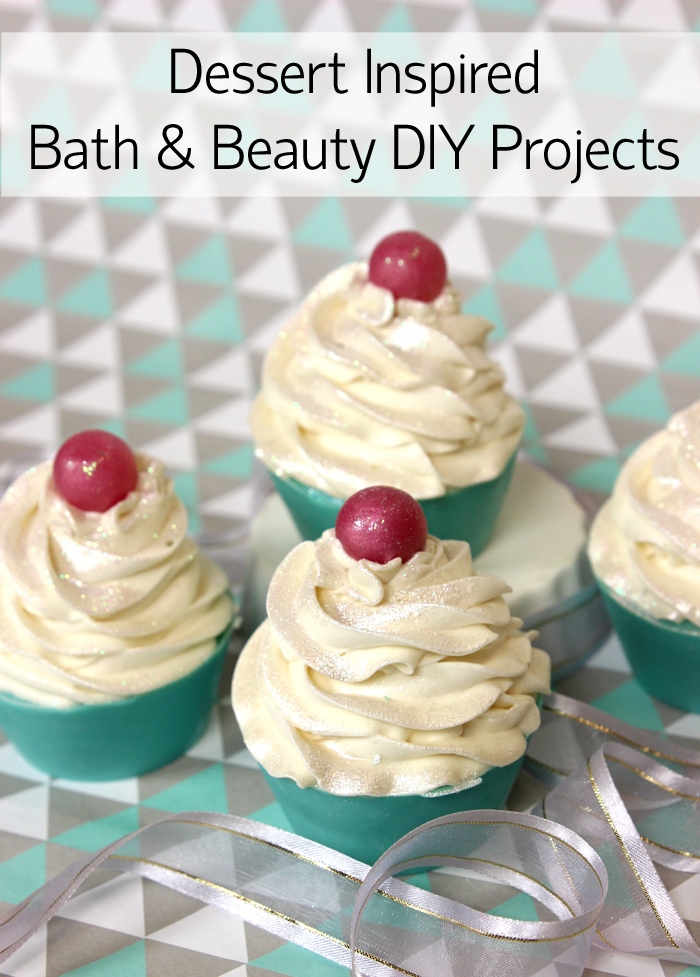 I'm willing to bet that even if you don't have a sweet tooth, there is one sweet you can't resist. For me, it's cupcakes (a close second is the Peppermint shortbread cookies my Grandma used to make me when I was a kid). But back to cupcakes, they look adorable, and I can't resist frosting! If you have been a long-time reader, you may have caught onto my love of cupcakes from the many cupcake-inspired tutorials. But, I appreciate all sweets and love making products that are inspired by pie, candy and more. If you'd like to make your own dessert inspired project, I've got you covered.
Like I said, cupcakes are a favorite of mine. I've created different variations of cupcake inspired items with everything from cold process soap to bath bombs. The trickiest part of creating soap cupcakes is the frosting. There are a few different methods, including using cold oil and lye. In the Sparkling Champagne Soap Cupcakes video, I demonstrate how to use cold oils and lye to create a thick frosting. Check out the video below to see the process in action.
Want more tutorials using cold process frosting? In the Lemon Cold Process Soap Cupcake Tutorial, a portion of the frosting is colored with Yellow Lip Safe Mica to create a multi-colored effect. For a slightly easier method, you can wait for the frosting to thicken to a pipeable texture. In my experience, this method works best for small amounts of frosting like "dollops" or more "messy" frosting techniques. Examples of soapy dollops are shown in the Berry Rhubarb Crumble Soap Tutorial and the Pumpkin Pie Cold Process Soap. I mean, what's pie without a little dollop of whipped cream? =) In the Pumpkin Souffle Cold Process Soap, thick soap is manipulated with a spoon for a foamy, messy look.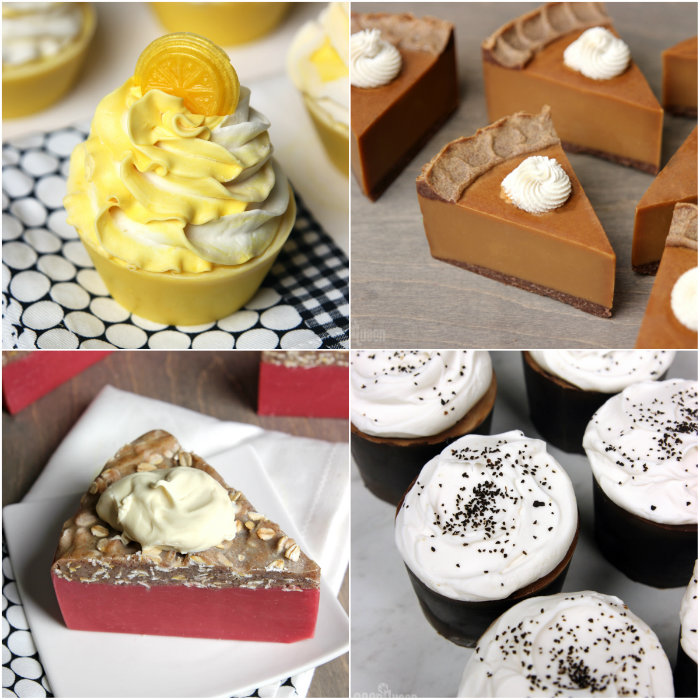 Top left, clockwise: Lemon Cold Process Soap Cupcakes, Pumpkin Pie Cold Process Soap, Berry Rhubarb Crumble Soap Tutorial, Pumpkin Souffle Cold Process Soap
You can also create frosting for melt and pour soap. In the classic Soap Queen TV video below (made 6 years ago!), the melt and pour frosting is created with a combination of melt and pour and Natural Castile Liquid Soap. When whipped together with a stand or hand mixer, they create a unique fluffy texture that looks great.
Making bath fizzies? Yup, you can make frosting for that too! In the Soap Queen TV video below, I shared my recipe for Bath Bomb Cupcakes. The base is made with the usual baking soda and citric acid combination. The frosting is created with various ingredients including jojoba oil, SLS and powdered sugar. If you're looking for tips on frosting your cupcakes, check out this video with Jeanee of Dirty Laundry.
Another option for frosting is Foaming Bath Butter, as shown in the French Macaron Inspired Bath Bombs. The Foaming Bath Butter is mixed with melt and pour soap, which gives the  frosting a firmer texture. It's placed in a frosting bag and piped between two thin layers of bath fizzies. Aren't they cute?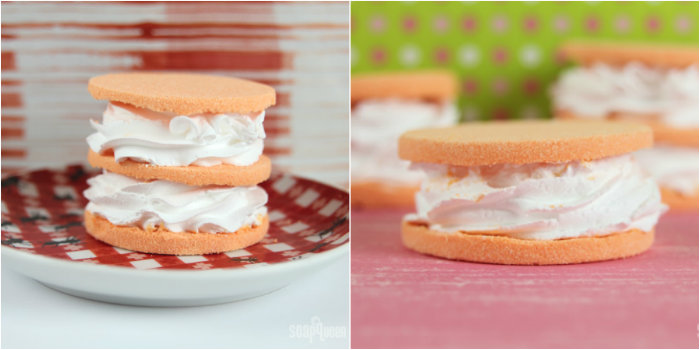 The French Macaron Inspired Bath Bombs look just like the real thing!
Of course you don't need frosting to make dessert inspired soap. In the Red Berry Melt & Pour Soap Tart Tutorial, layers of pink and red soap are topped with a melt and pour "cherry" embed. Layers of soap recreate classic mint candies in the Chocolate Mint Melt & Pour Squares, and give the illusion of crust in the Pumpkin Pie Melt and Pour Soap. Melt and pour is drizzled on top of the Melt & Pour Soap Truffles for a finishing touch.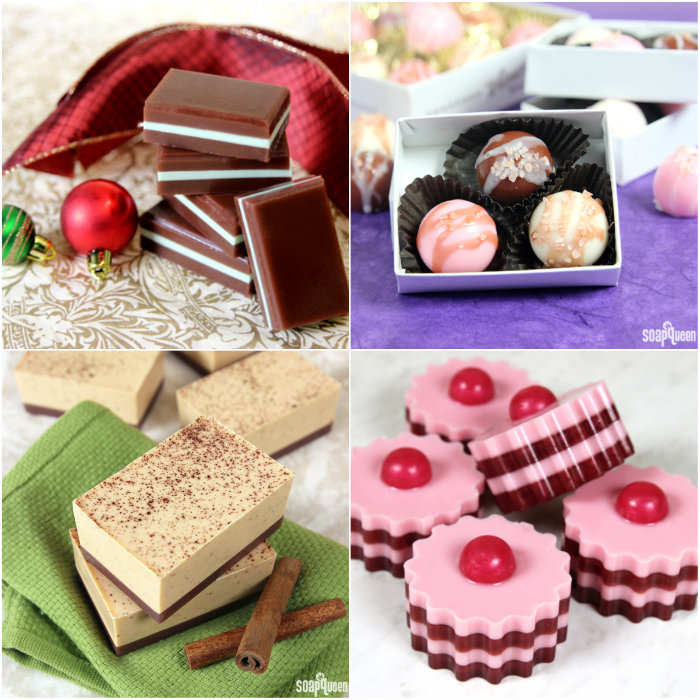 Top left, clockwise: Chocolate Mint Melt & Pour Squares, Melt & Pour Soap Truffles, Red Berry Melt & Pour Soap Tart Tutorial, Pumpkin Pie Melt and Pour Soap
If you prefer candy, I've created several projects that look like peppermints, candy canes and more. The Peppermint Candy Bath Bombs look just like classic confection. They are created by painting a mixture of mica and alcohol on the bath bombs. Polysorbate 80 helps prevent the mica from sticking to tub. In the Candy Cane Soap Tutorial, glycerin is added to melt and pour to give it a flexible texture that can be twisted into a candy cane shape. When it comes to candy, licorice is one of my favorites (especially salted licorice from Europe; yum!). Layers of white, pink, blue and black soap create the look of licorice in the Licorice Candy Soap Tutorial. Aren't they ridiculously cute?! =)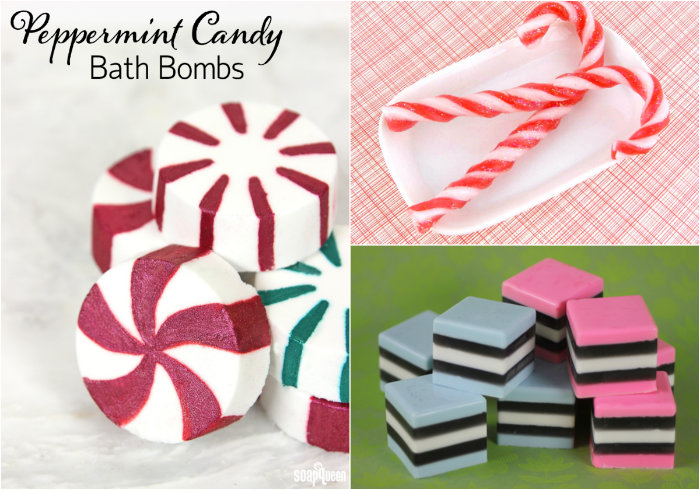 Far left, clockwise: Peppermint Candy Bath Bombs, Candy Cane Soap Tutorial, Licorice Candy Soap Tutorial
Have you made a dessert-inspired soap recently? We would love to see it on the Bramble Berry Facebook page! Or, post it on Instagram with the tags #SoapShare and #SoapnotFood =)