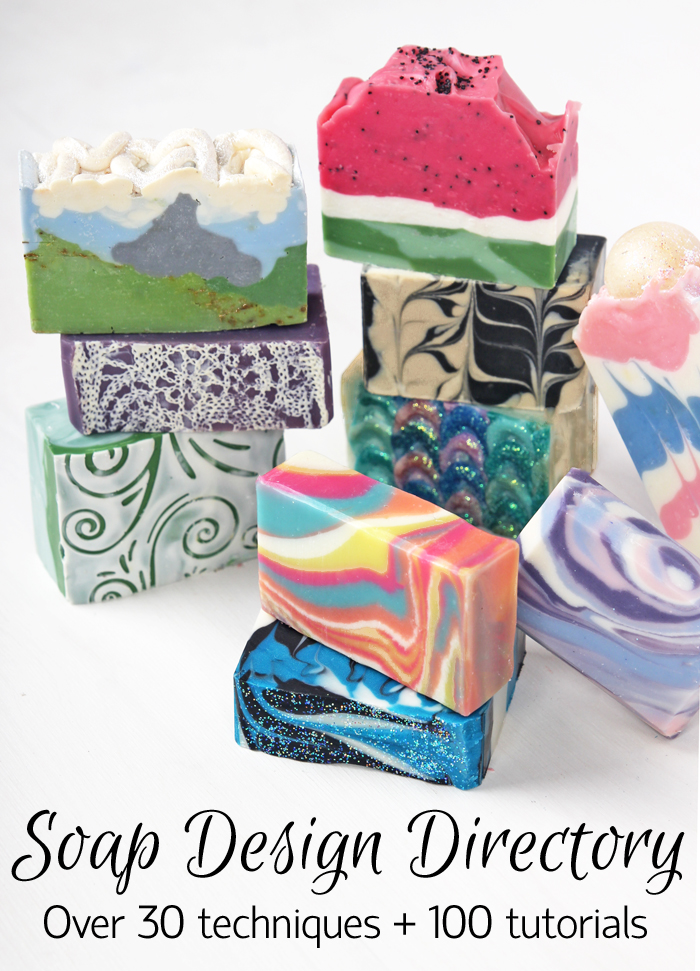 There are so many designs that can be created with cold process soap. The ability to manipulate the texture from thick and pipeable to fluid and pourable allows a wide variety of possible techniques. For example, thin soap can be swirled in the mold to create a spin swirl. On the other hand, extremely thick soap can be piped and manipulated to create shapes and texture. If you can dream it, you can probably soap it!
Over the years, I have tried a lot of techniques and designs. With each tutorial here on the blog, I'm always thinking about what technique I have yet to feature. I love teaching and demonstrating the possibilities of all things soap, bath and beauty. Because of that, I thought it would be helpful to categorize just about every Soap Queen cold process tutorial by design type.
This Soap Design Directory is quite the list and includes everything from techniques created with thick soap (layers, textured tops, spoon plop) to thin trace techniques such as the spin swirl and linear swirl. Keep in mind this list focuses on the design elements and technique, rather than recipe type. In addition, some tutorials feature more than one technique so they may pop up in several categories. As I continue to publish tutorials, I will try my best to keep this list updated. But, if you don't see it updated right away, just know I will get to it as soon as I can. =)
I hope you enjoy this design directory, and find it helpful and inspiring! It has helped me identify which techniques I need to showcase more. Stamped soap, confetti soap, feather swirl and petal techniques…I'm looking at you!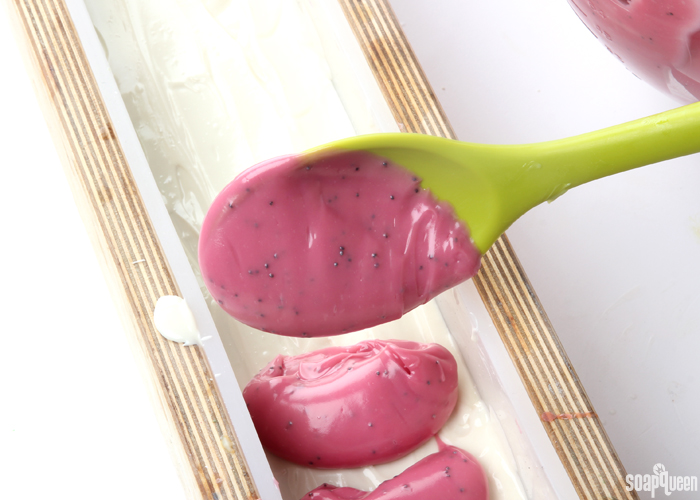 Layers
Moonstone Cold Process Soap
Sahara Sunset Cold Process Soap Tutorial
Exfoliating Green Tea Cold Process Bars
Goat Milk & Oatmeal Cold Process Soap
Watermelon Cold Process Soap Tutorial
Lard & Loofah Cold Process Soap Tutorial
Natural Colorant Rainbow Cold Process Soap Tutorial
Couture Confetti Cold Process Soap Tutorial
Layered Lavender Cold Process Tutorial
Luck of the Irish Hot Process Soap
Layered Lilac Loofah Cold Process
Queen of Hearts Cold Process Tutorial
Vibrant Mehndi Cold Process Soap
4th of July Fireworks Cold Process
Black, White and Gold All Over Cold Process
Striped Berry Champagne Cold Process
Holiday Cookie Bar Cold Process Tutorial
Bramble Beer Soap
Soap Challenge: Elemental Swirl
Smoky Bay Cold Process Tutorial
Waves of the Sea Cold Process Tutorial
Handmade Soap for Gardener
Sunset Ombre Soap Tutorial
Falling for Pumpkin Pear Soap
Ombre Rebatch Layers
Fall Sweater Stripes
Sunset Over the Water by Lovin' Soap
Man Soap with Tamanu Oil
Neapolitan CP for Valentine's Day
Almonds, Chocolate and Lavender CP Tutorial
Apple Jack Peel for Fall
Luck of the Green Beer Cold Process Tutorial
Let it Bleed: Cold Process Soap Color Gradation Tutorial
Cheery Holiday Cold Process Soap Tutorial
Valentine Cold Process Soap