Ever since Tanya Rasley included some adorable samples of her lip balm in her April Soap Swap package, we've been hooked on her beautiful soaps and high-quality products. Tanya owns and operates Baby Duck Soap Co., and she offers a wide variety of cold process soaps, body butters, lip balms and sugar scrubs. Since then, I found her on Instagram and love to see her happy soap and family photos frequently. Read on to learn more about one inspirational small businesswoman.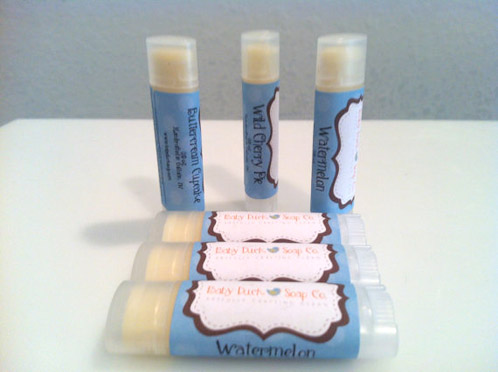 Soap Queen: How long have you been soaping for and how did you get started?
I've been soaping since July 2012. I taught myself how to soap through devouring any soap making books I could find, reading the Soap Queen Blog about 1800 times and watching every YouTube video ever made on the subject.
When my son was born in January 2011, I was fortunate enough to be a stay at home mom. That was a huge adjustment for me given that I used to 60-80 hour work weeks. I started taking up hobbies to keep my brain busy — soapmaking being one of them. I knew that I didn't want to leave my son for 60-80 hours per week working for someone else again. With the unwavering support of my husband, I ignored the negative voices in my head, opened my Etsy Shop and started selling at my local farmers market. It's been a non-stop roller coaster ride since then!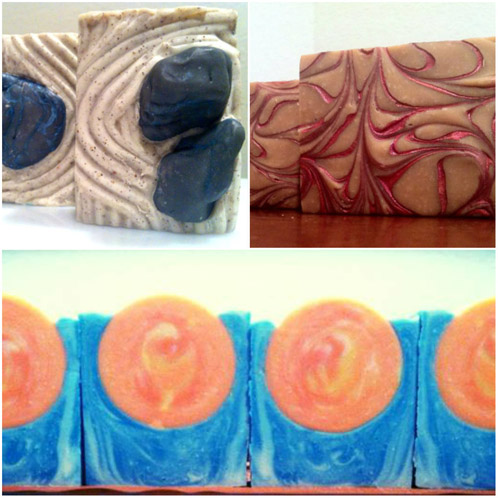 (Zen Garden Soap, Cedar & Saffron Soap, Good Day Sunshine made with Orange Valencia Essential Oil & Yuzu Cybilla Fragrance Oil)
Soap Queen: What sort of advice would you give to those soapers just starting their businesses?
Stop listening to the negative thoughts in your head and just go for it! There will always be a reason to NOT move forward with your craft/ business/ life. If it doesn't put you in the poor house or harm you in any way, dive in feet first!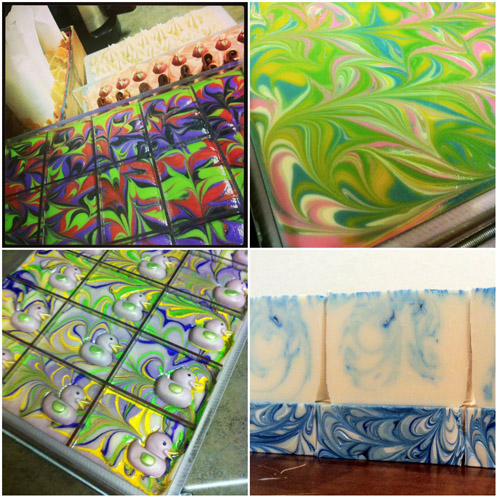 (Bonus: the soap in the top left corner won our Pinterest Soap Crafting contest back in September!)
Sop Queen: What is your favorite type of product to make?
Cold process soap. From trace to cutting, seeing how each bar and each batch differs is super addicting.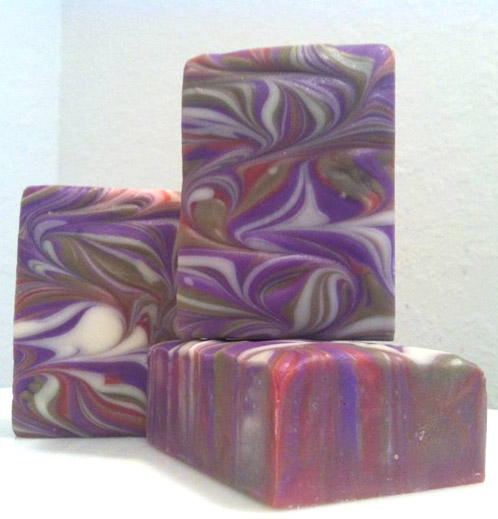 (Sweet Berrywine Soap)
Soap Queen: What inspires you to create?
Anything from a smell of a new fragrance, to the beautiful colors of a crisp autumn day, soap challenges, a beautiful painting, browsing social media soap porn… Luckily, soaping is my therapy so it doesn't take much!
Soap Queen: What is your favorite Bramble Berry product?
Definitely anything fragrance oil-related! My top five favorites would be: White Tea & Ginger, Yuzu, Bonsai, Summer Melon Spritzer and Cherry Blossom.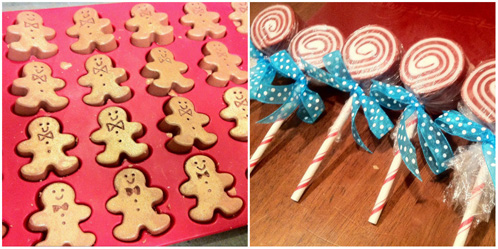 Soap Queen: How did you come up with the name for your business?
My husband's father used to call him 'Baby Duck' when he was little. When my son Liam was born, he inherited the nickname. It only made sense to name the company after him since everything I do, I do for him.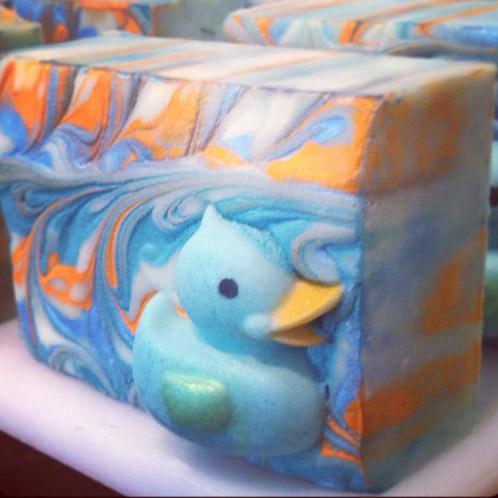 (Just Ducky Soap fragranced with Celestial Waters, Yuzu and Red Apple)
Find Baby Duck Soap Co.:
On the web
On Etsy
On Facebook