The are holidays said and done and the new year is underway, so now is the time treat yourself to new soapy products.  There are dozens of new products (including a crazy triangle spatula and new silicone molds) since the last What's New post. In the upcoming year, you can expect more new items based on your suggestions.
Fragrance Oils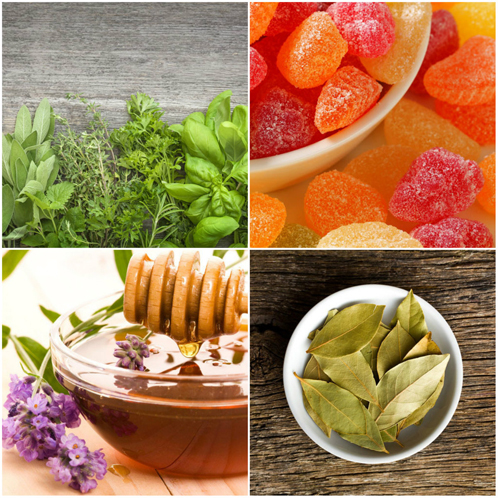 Sunny Herb Garden Fragrance Oil, Sugared Fruit Surplus Fragrance Oil, Wildflower Honey Fragrance Oil, Tobacco & Bay Leaf Fragrance Oil
Four new fragrances were added to an ever expanding fragrance collection. Sunny Herb Garden and Tobacco & Bay Leaf are both earthy, masculine scents. Wildflower Honey is subtly sweet, while Sugared Fruit smells just like its name implies — delightfully sweet candied fruit!
Silicone Molds and Liners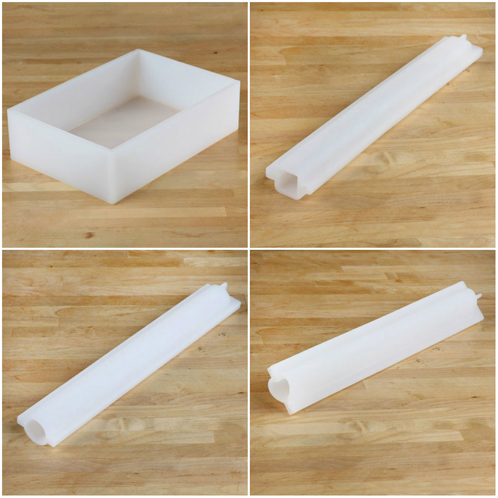 Silicone Liner for 9 Bar Mold, Mini Square Silicone Column Mold, Mini Round Silicone Column Mold and Mini Heart Silicone Column Mold
Make your soaping sessions even more convenient with a silicone liner for the 9 Bar Birchwood Mold. These liners make unmolding soap quick and easy, and you can even use them to make melt and pour projects too. Keep in mind that silicone insulates cold process soap much better than paper liners, which means it can take longer for the soap to harden. We recommend adding 1 teaspoon of Sodium Lactate per pound of oils in the recipe to release soap from the mold faster.
Embedding shapes are a snap with three silicone column embeds. They are watertight, so they're suitable for both melt and pour and cold process. For more on how to use them, check out this Rainbow Hearts Melt & Pour project featuring the Mini Heart Silicone Column Mold.
Colorants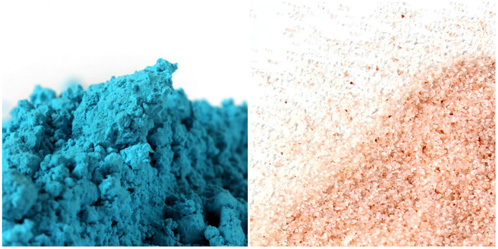 Neon Blue Raspberry Colorant, Extra Small Pink Sea Salt
Since finding Neon Blue Raspberry Colorant, it's become a go-to colorant for cold process projects. This colorant is approved for soaps, lotions, lip products and even eye shadows. It's also non bleeding! Recently, it has been used in the Amethyst Garden and Cherry Blossom Glitter cold process tutorials. The Extra Small Pink Sea Salt provides color as well as gentle exfoliation to scrubs and soaps. Try it out in this Pink Sea Salt Foot Scrub.
Tools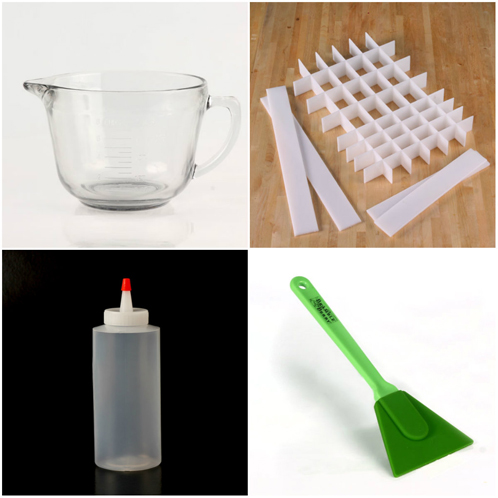 2 Quart Glass Mixing Bowl, Guest/Standard Dividers for 36 Bar Birch Mold, Squeeze Bottle and Triangle Silicone Spatula
You can never have too many soapy tools to ensure soapy success. The 2 Quart Glass Mixing Bowl and Squeeze Bottles are staple tools in the Soap Queen Lab, while the Triangle Silicone Spatula will help you scrape every last bit of batter out of your containers. After you've used these tools to make your project, use the Guest/Standard Dividers for the 36 Bar Birch Mold to add the finishing touch. These dividers are unique in that they create 24 guest-size soaps (2 oz.) and 24 standard-size soaps (4 oz.).
Butters, oils & preservatives

Creamy Body Butter Base, Virgin Coconut Oil, Optiphen ND
If you're looking to expand your soapy product line, the premade Creamy Body Butter Base makes it easy. Luxurious and moisturizing, the base comes unscented and uncolored. The recommended fragrance usage rate is 1% – 2% or about 0.2 oz in 16 oz. of lotion. Use LabColors to color the base. To switch up your soapy recipes, consider using Virgin Coconut Oil. It comes from a certified organic manufacturer, and behaves just like regular Coconut Oil. To preserve your lotions, scrubs or shampoos, Optiphen ND is a highly effective paraben and formaldehyde-free preservative. The recommend usage rate for this preservative is 1%.
Books

Creating a Custom Silicone Slab or Block Mold for Soapmaking, Let's Get Soapy E-Zine Kit #2 and Let's Get Soapy E-zine Kit #1
Expand your soapy knowledge and be inspired with new e-books and zines. Learn all about silicone molds and how to create your own in Creating a Custom Silicone Slab or Block Mold for Soapmaking. You can also find pages upon pages of soapy inspiration from the Let's Get Soapy E-Zine Kits #1 and #2.
Molds
Do you have a football fan in your life? There's a mold for that! From beautiful butterflies to basic shapes and cute puppy paws, the newest crop of molds has something for everyone.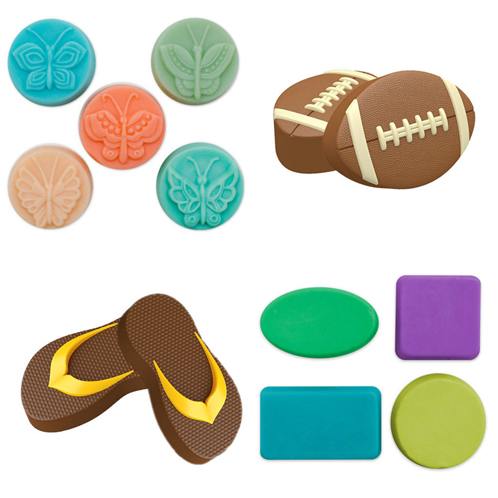 Guest 5 Butterfly Mold, Guest Mini Football Mold, Guest Mini Flip Flop Mold, Guest 4 in 1 Mold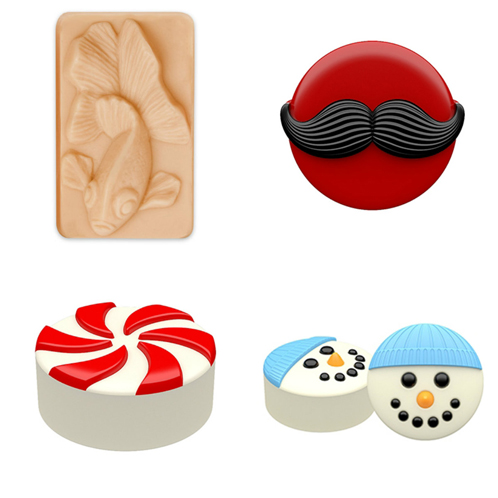 Guest Gold Fish Mold, Guest Mini Mustache Mold, Guest Mini Peppermint Candy Mold, Guest Mini Snowman Mold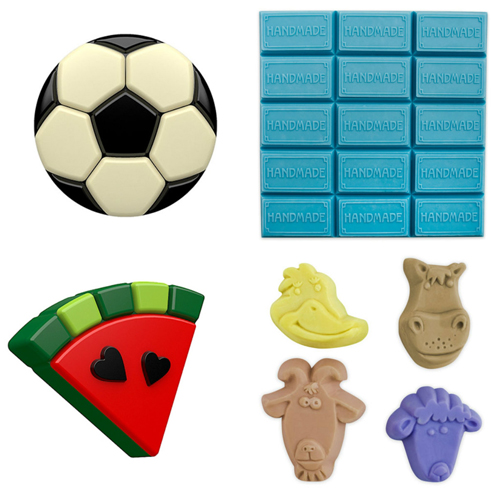 Guest Mini Soccer Ball Mold, Guest Tray Handmade Mold, Guest Mini Watermelon & Hearts Mold, Kid Critters 5 Mold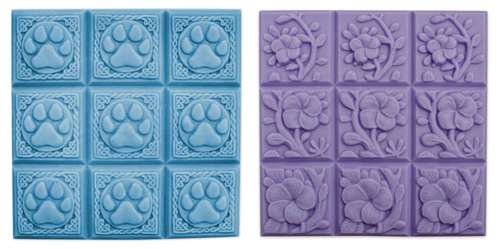 Paw Print Mold, Tropical Vine Mold
I'm curious, if you could have any of these products, which one would you choose?