"Mere color, unspoiled by meaning, and unallied with definite form, can speak to the soul in a thousand different ways. "
― Oscar Wilde
The first thing anyone sees about your soap creation is its color and shape. The thing that will intrigue a customer and get them to pick up a bar of soap is not the scent; it's the color. From LabColors, to micas, color blocks for melt and pour and pigments, there are many options for coloring your soap. If you prefer to use natural ingredients in your soap, you can still achieve vibrant, beautiful colors using natural colorants. Natural products that impart color include clays as well as herbs and botanicals.
For a comprehensive overview of soapy colorant options, check out this Talk it Out Tuesday: Colorants post. Another fantastic resource is E-Book Infusing: Herbs, Spices, Teas and Clays, which features an extensive chart of more than 104 herbs, spices, teas and clays, with tips and notes on their color outcome.
Using natural herbs in your soap can add benefits for the skin as well as providing color to soap and toiletries. A few of favorite herbs that impart color include Rose Clay, Indigo Powder and Paprika.

Rose Clay (right) This mild  Kaolin Clay not only gives your soap a soft pink hue, it's also commonly used to purify the skin by drawing out impurities from the pores.
Indigo Powder (center)Extracted from the leaves and stems of the indigo containing plants, this natural colorant gives your soap a soft blue hue. For a darker blue we suggest reconstituting the indigo powder in your lye solution.  Using a palm free cold process recipe will help to achieve a more consistent coloring of the soap.
Paprika (left)Adding this natural colorant to your soap gives a vibrant, warm orange color. This colorant is actually considered a pepper, and because of this it's believed to increase blood flow in the skin.
For all three colorants, the general recommended usage rate is 1/2 tsp. of colorant per pound of cold process soap. You can work up or down from there. Many more subtle herbs will require more than just 1/2 tsp of the natural herb or colorant. For melt and pour, start with  1 tsp. of colorant dispersed in 1 tbsp. isopropyl alcohol per pound of melt and pour base. Looking to use these colorants in your next batch of soap? Here are a few tutorials to get you going: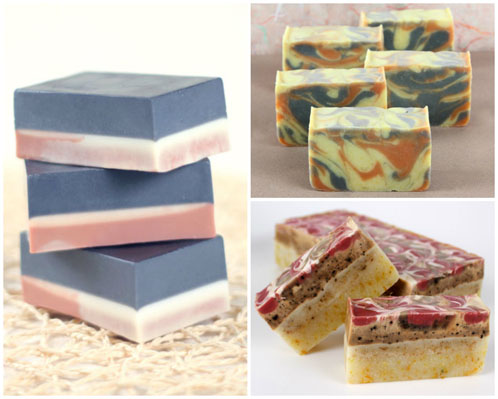 From left to right (clockwise): Charcoal and Rose Clay Spa Bar (uses Activated Charcoal and Rose Clay), Indigo Spoon Plop Soap Cold Process Tutorial (uses Indigo Powder & Paprika, Safflower Powder), Handmade Soap for the Gardener (uses Rose Clay, Kelp Powder).
There are several informative posts and resources regarding natural colorants on the Soap Queen blog, as well as additional tutorials using natural colorants. Check them out here:
Tutorial: Rose Clay & Pink Salt Bar from Otion
Here's a video on adding herbs and natural additives to melt and pour (and reusing molds):
My favorite additives to soap right now are clays; here is a great starter pack of clays that add color to soap. A fantastic way to give your soaps color and texture is by using natural herbs and botanicals. A few of popular options are Marigold Petals (left) Lavender Buds (center) and Rose Petals & Buds (right). They add interest to any bar of soap – even when just sprinkled on top.

Have you used natural colorants in your soap before, or do you prefer other color options? Do you have favorites? We'd love to see photos on our Facebook Page and comments with the usage rate. The soft, muted tones of natural colorants can be truly beautiful!