It's always fun to experiment with new molds, fragrances and designs, but at the end of the day every soaper has their own tried and true recipe and go-to set of soapy tools. In the Soap Lab, our foolproof toolkit is anchored around the 10″ Silicone Loaf Mold.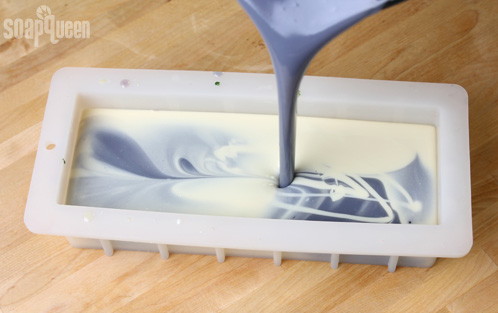 The 10″ Silicone Loaf Mold in action!
Earning a 5/5 star review on our website, this mold can handle anything you throw at it. It's made of heavy reinforced silicone to help hold its shape. It can withstand temperatures between -40F to 446F, which means you can throw it in the freezer or stick in the oven depending on your soapy project.
With a capacity of 50 oz., or about 3 lbs., it's perfect for a variety of soapy designs and projects, from layers to swirls. We've used this mold in countless cold process Soap Queen tutorials: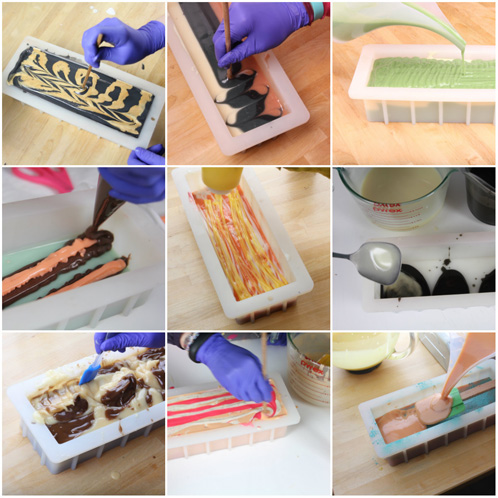 Top row, left to right: Black, White and Gold All Over, Natural Colorant Taiwan Swirl,  Shamrock Cold Process
Middle row, left to right: Leopard Spots Tutorial, Rainbow Squirty Swirls, Mica Topped Cold Process
Bottom row, left to right: Beeswax Cold Process, Strawberries & Cream, Striped Berry Champagne Cold Process
As with any silicone mold, we recommend adding Sodium Lactate to your lye water so it releases sooner from the mold. Sodium Lactate is the sodium salt of Lactic Acid, and is commonly used as a preservative in food products. For soaping purposes, it facilitates the hardening of the bar and thus eases the unmolding process. The usage rate for sodium lactate is 1 teaspoon per pound of oils (not total yield!) in your soaping recipe.
Because it's silicone, the 10″ Silicone Loaf Mold does wonders for melt & pour projects too. Take a look at a few below:

Left to right: Embedded Hearts, Birthday Cake Soap, Violet Glitter Gradient
This mold is built to last, but every now and again it needs a little TLC. The best way to care for this mold is to hand wash it with soap and water. It is possible to stain the mold with some colorants, but the stain is unlikely to transfer onto any future soapy projects. The same goes for lingering fragrances too!
Still not convinced this is the best mold ever? Check it out in action in the Instagram video below!
What is your go-to soapy mold?