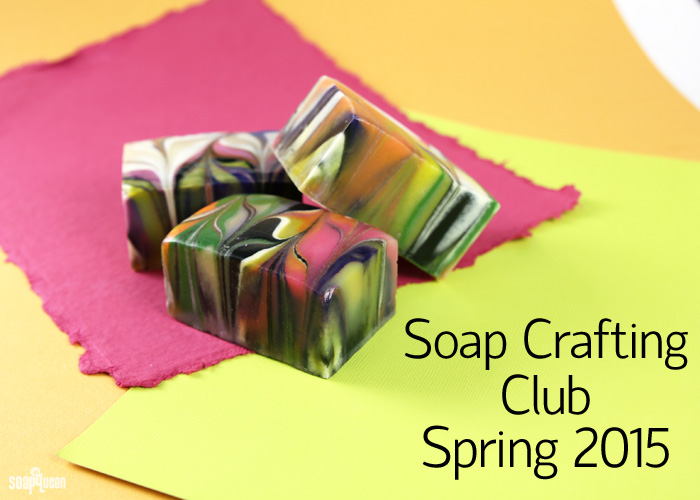 Can you believe it's already spring? With another season comes another session of the Soap Crafting Club. The Spring 2015 Soap Crafting Club starts in May, and believe me – you don't want to miss out on this session! If you are not familiar with the Soap Crafting Club, it's a fun way to expand your soaping abilities while connecting with fellow soapers. Each month you'll receive pre-measured ingredients (including the mold!) needed to create a unique cold process recipe from the Soap Crafting Book.
Along with the ingredients, the Soap Crafting Club gives you exclusive access to an online classroom. The classroom is full of resources, including a video for each recipe. There is also a space to troubleshoot with classmates and the Soap Crafting team of experts…including me! The online class is the perfect place to ask questions and share your creations. Each project also includes a live demonstration from me; this live demo is a great way to see the project made and ask questions in real time.

The Spring 2015 Soap Crafting Club includes three intermediate/advanced recipes: Painted Hearts Cold Process, Stained Glass Cold Process and the beautiful 12 Color Linear Swirl Cold Process soap. All three projects feature plenty of color and complex techniques. Pictured below is the Painted Hearts Cold Process…isn't it gorgeous? Each of the projects in the Spring Soap Crafting Club are made in the 18 Bar Birchwood Mold, which comes with the kit! In addition to the mold and ingredients, the club kit includes the silicone liner, 2 squeeze bottles and 2 square silicone trays. Shipping is also included in the price.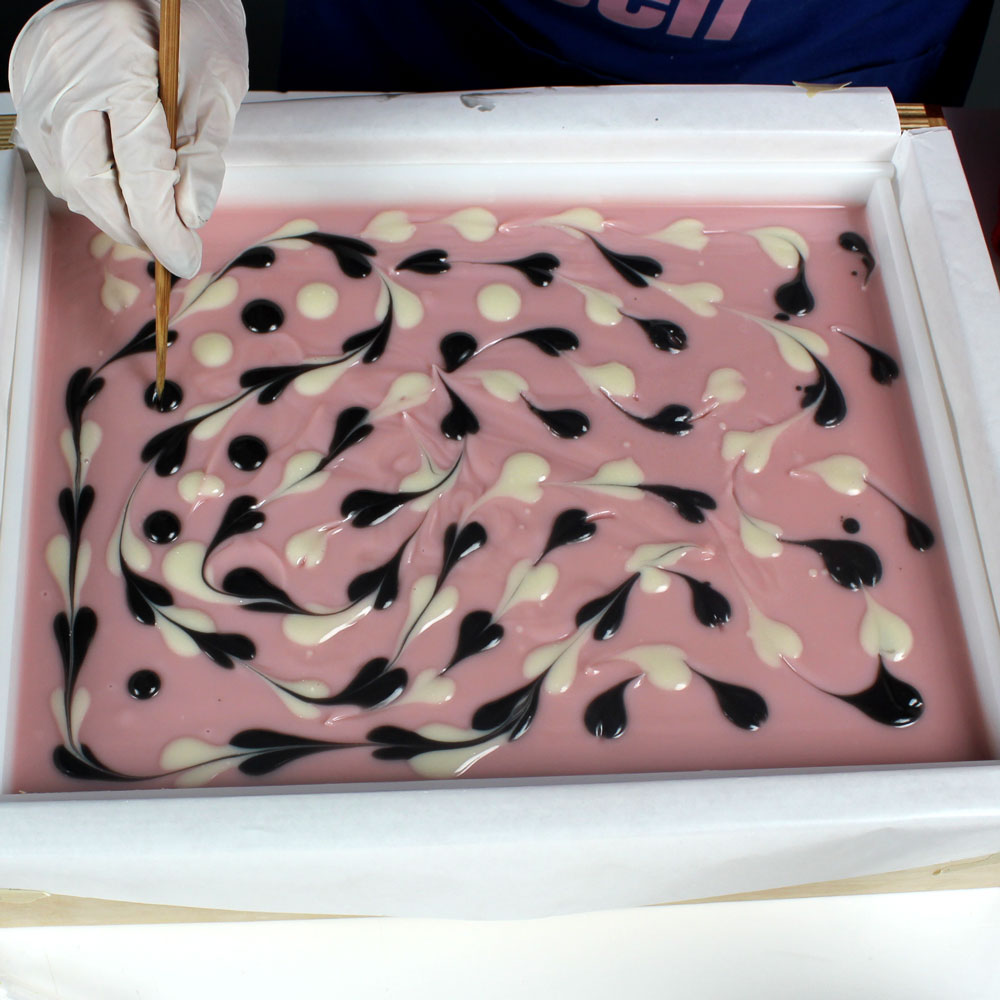 Below, left to right: Stained Glass Cold Process, 12 Color Linear Swirl Cold Process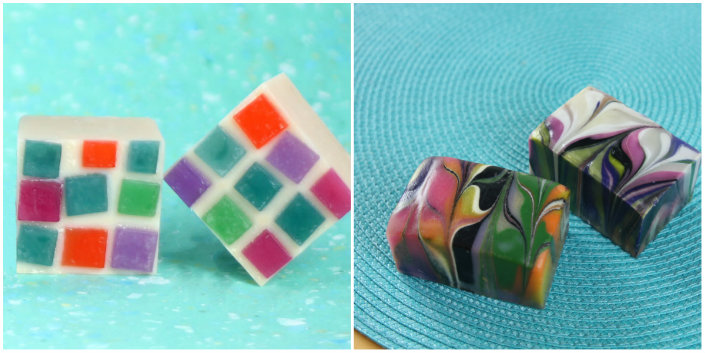 Because these projects are more advanced, this class is best suited for soapers who have a few batches under their belt, and are ready to take their craft to the next level. But if you are ready to give it a try check out our Learn to Make Soap Class. It's an online class taught by Bramble Berry staff trained by me. It's only $10 and is packed with great information. It's the perfect way to take the leap into soap making! If you sign-up now you'll have plenty of time to get the hang of making soap in time for the Spring class.
If more advanced techniques make you nervous…the Soap Crafting Club is here to help! With pre-measured ingredients and plenty of support, the class is specifically designed to help you take the next soapy step. Check out what past club members had to say about their experience:
"I am currently in the 'Summer' club. I can't believe I didn't try it sooner. The club is an amazing value. Not only do you get all the supplies to make three batches of soap, you also get the support of your fellow soapers and Brambleberry's staff. I truly wish that I had joined the clubs sooner, and I already know that I'm going to join future clubs (I've asked for a subscription for Christmas). It's awesome to get three packages over three months. It's exciting to wait for and to see not only how your personal soap turns out, but how your classmate's soap turns out too. This is the best type of class: one that you really want to do and don't get graded on! 😉 I highly recommend this to anyone, no matter their current 'skill' level. I'm an experienced beginner, but there's so much still to learn and this is a safe place to ask questions and share your success/failures!" -Patricia
"Having all your soap ingredients gathered together in one box and ready to go is great. And it's a nice treat to have your next soap project arrive every month. I can't wait to sign up for the next class(es). :)" -James
"I am enrolled in the Fall session of the Soap Crafting Club and will definitely be joining the next sessions! It is obvious that this class was well thought out from the information-packed, beautifully illustrated book (bought separately), ease of access to the online classroom and all if the tutorials, conversations and feedback that it has to offer, to the much anticipated boxes that arrive with all the ingredients pre measured and ready to use. Safety is stressed throughout and support offered for beginner to advanced level questions. Everyone has been really nice and supportive, sharing ideas, pictures etc. I have found this a wonderful way to learn about and try techniques that so far I could only have said 'Wow, maybe some day……….'. Now that someday is emerging and it is so much FUN! Thank you Anne-Marie (and staff!). I can hardly wait for the next box to arrive!" -Barbara
If you do not live in the continental US, there is also a club option for residents of Canada, Alaska and Hawaii. Located somewhere else? The online club option gives you access to all the soaping information. Don't wait to sign up, spots are going fast! Have you participated in the Soap Crafting Club? If so, I would love to hear what you thought!