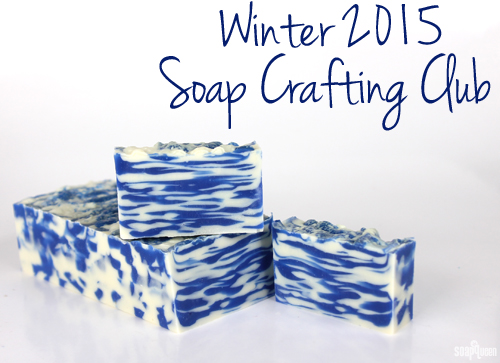 One of my favorite things about making soap is sharing the craft with others. It's rewarding to share ideas, tips & tricks and encouragement with the awesome soap making community. If you feel the same way, the Soap Crafting Club is the perfect way to develop cold process skills while receiving personalized support every step of the way from myself, and fellow soap makers.
Each month, you receive pre-measured ingredients (including the mold!) needed to create a unique cold process recipe in the Soap Crafting Book. The only tools you need to provide are the book, lye, and soap making tools such as a stick blender, mixing bowls and spatulas. Shipping is also included in the price! The Winter Soap Crafting Club starts soon; the last day to sign up is January 16th at noon, PST. With only 21 spots left, don't wait!

In addition to the ingredients, you'll have access to a private online classroom where you can ask questions, and receive support from myself, the Soap Crafting Club team and your fellow classmates. The classroom includes instructional videos for each recipe and a place to share your creations. Each project also includes a live demonstration from me; this live demo is a great way to see the project made and ask questions in real time. Check out what previous club members had to say about their experience:
"I would highly recommend the Soap Crafting Club – loved, loved, loved the Summer 2014 SSC!! I am a soaping newbie and this was my first session with the club. I learnt a lot through Anne-Marie's expert guidance and feedback as well as the others at BB. I have made new friends here and have benefitted so much from their expertise and all their projects and tips they have so generously shared in the online classroom. Thank you Anne-Marie, Brittany, Amber and all you lovely ladies at the SSC!" – Andrea
"Five out of five stars! An incredible value for the price. A-M and her team communicate with you directly to troubleshoot and support your soapy adventures. If you're fairly new, or seasoned and want to try new recipes, this class is for you. In the online forum, the participants assist each other and share tips and photos of their successes and challenges. Troubled by deciding which recipe to make? The Club helps since your box arrives each month with your assignment. You'll probably try something that you wouldn't have otherwise! A-M also answers your questions during live demos and offers a ton of advice and techniques. It's like seeing the Soap Crafting Book come to life! Enjoy!" – Katie
"I have absolutely LOVED the winter soap subscription!! Anne-Marie and her staff are amazing teachers. I am new to soaping and totally addicted!! Since making my first batch a few months back, this gave me the confidence and knowledge about CP I was looking for, at my own leisure. The techniques are really great, and cutting your soap is like Christmas morning! Just signed up for the summer subscription!" – Carrie
The Winter Soap Crafting Club includes the incredibly versatile 10″ Silicone Loaf Mold. This mold will be used to create the Calendula Cleansing Bars, Coconut Milk Bars, Squirty Swirls and the Clay Spoon-Plop soap. Check out these beautiful projects below!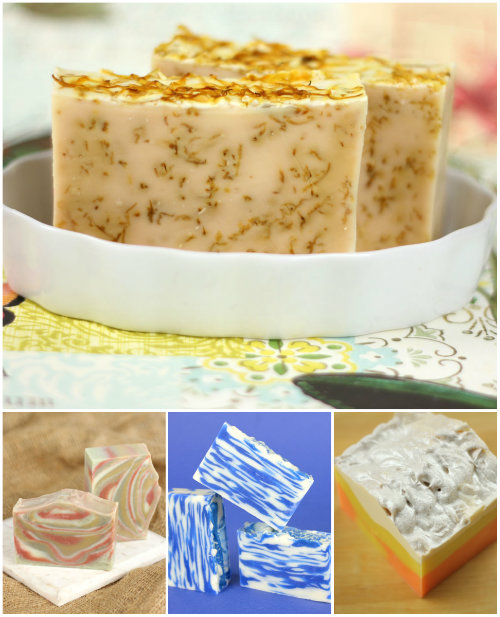 Winter 2015 Four month Class:
January – Calendula Cleansing Bar
February – Coconut Milk Bars
March – Squirty Swirls
April – Clay Spoon-Plop
If you are not located in the continental US, there is also an option for students in Canada, Alaska or Hawaii. Click here to find out more.  If you are located elsewhere in the world, you can the online class option allows you to still join the fun. I can't wait for the class to start, and I hope to see you there!