Halloween is just around the corner, and we've been taking full advantage of the season. We took a fantastic trip to the apple orchard last weekend, and picked a ton of apples — if you've got any good festive apple recipes, I'd love to hear them! And of course, no Halloween is complete without pumpkin carving.
Between all the holiday festivities, I attended a super fun charity event for Blue Skies for Children (Bramble Berry sponsored the event) with my besties and then it was off to Las Vegas for an awesome business conference. I even got to meet one of my idols, Ram Charam, author of "Execution: The Discipline of Getting Things Done" and "Global Tilt: Leading Your Business Through the Great Economic Power Shift." I highly recommend any of his books to small business owners, and I am still in awe that I got to meet him face to face.
As usual, there's all sorts of exciting things going on in social media too. Take a look!
Pins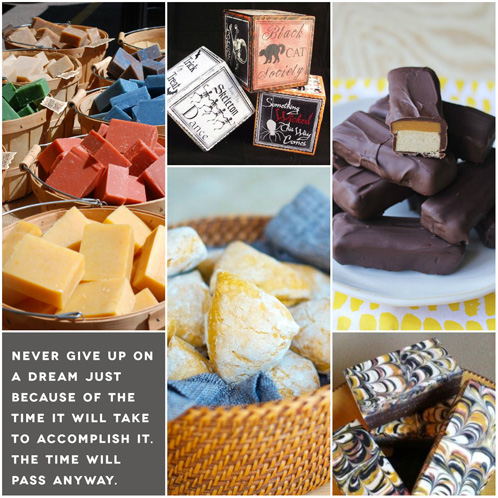 First column, top: Love the idea of using fruit baskets as a way to display soaps and other bath & body products at craft fairs. This reminds me of our visit to the orchard.
Bottom: This is one of my favorite motivational quotes as of late. Hopefully you'll be rewarded ten-fold for the time you put into working toward your dreams.
Second column, top: For quick and easy Halloween decor, these little modge podge blocks are adorable. This would be a great craft project for a blustery night in.
Bottom: I have a weakness for scones, and these Sweet Potato Scones look absolutely delicious. I am loving the sweet potato trend lately too — from french fries to these scones, they seem to be everywhere!
Third column, top: These are so totally not part of my healthy eating plan, but they looked too good not to post: homemade twix bars! How much would the neighborhood kids love me if I passed these out instead of regular old Halloween candy?
Bottom: This Fall Soap from Chrissy B Soap is absolutely gorgeous. I love the color palette, and Arabian Spice, the fragrance oil she used, has such a warm, sensuous scent.
Instagrams
We went on a soapmaking marathon a few weeks ago, and here we are cutting two soaps from that session. The left one is our Shades of Grey inspired soap scented with Indian Sandalwood and the right one is the Dandelion Zebra Swirl we submitted for the Great Cakes Soapworks Soap Challenge.
Jamisen cutting his first soaping project! He was so elated, and he is budding into an excellent little soaper. =)

This was our first attempt at the Bird Wing, a technique we borrowed from the world of paper marbling. This didn't turn out quite like we'd hoped, so we soaped it up again today and while we didn't get it perfect, it got closer. Hopefully the third time will be a charm on that one.
Tweets
Have a wonderful weekend everyone! To keep up with the latest soapy social media throughout the week, you can follow me on Twitter, Tumblr, Vine, Instagram, Pinterest and YouTube.