Last month, we introduced our second Make it Month contest with our March sample of the month which conveniently happened to be one of my favorites fragrances, Oatmeal Milk & Honey Cybilla. The entries came pouring in and I got to see some really unique and fun designs and products. If you missed the contest, you can check out all the entries in our album on Bramble Berry's Facebook page. Are you ready for the winners?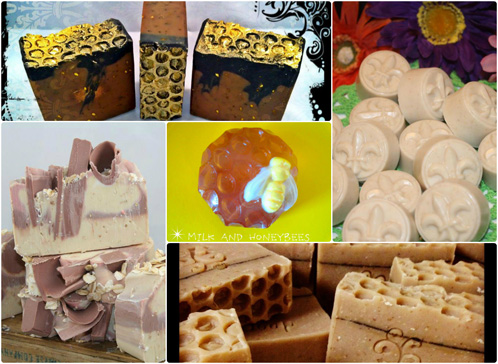 Pictures from Top Left Clockwise: Amanda Cannon, Jennifer Picou, Robie from Soaphistique, Rachel from The Daily Scrub, Mandy from Bubblina's Soap Boutique
A big thank you to all the participants in the contest, Team Bramble Berry loved seeing your soaps. If you happen to have a full tutorial that goes with your photo, we'd love to see it and give you a chance to win a $10 Bramble Berry Gift Certificate. For full details on this ongoing Teach Soap contest, click here.