If you loved last month's Make it Month #babypowder, you're in luck, because we're bringing it back. This month's featured sample is the delightful Oatmeal, Milk and Honey Cybilla Fragrance Oil. OMH Cybilla is a delicious fragrance with notes of warm milk and honey supported by the richness of oatmeal that is sure to be a hit in your products. Show off your skills on the Bramble Berry Facebook page by posting a picture of your bath and body product with the hashtag #OMHcybilla and at the end of the month, we'll pick our faves. Your soap could be featured in a special Soap Queen blog post!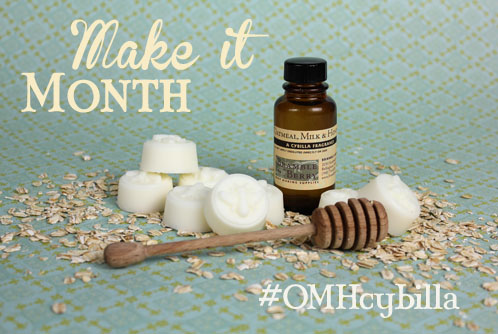 The breakdown:
Every order you place with Bramble Berry comes with a free fragrance oil sample, and we want you to make something (anything!) with it. It could be a soap, lotion, body butter or any other toiletry product that you could imagine. Orders placed from today on will be receiving a sample of Oatmeal, Milk and Honey Cybilla. Click here for an exclusive project and blending ideas using the Oatmeal, Milk and Honey Cybilla sample.
Post the pictures of your Oatmeal, Milk and Honey Cybilla scented product to Bramble Berry's Facebook page during the entry period (now until March 29th).
Your entry must have the hashtag of the month in order to be entered into the contest. Use "#OMHcybilla" this month.
You may submit up to five pictures.
At the end of the month, Team Bramble Berry will pick our favorite soaps. The winners of the challenge will be featured in their very own Soap Queen Blog post. You have until Friday, March 29th to post your #OMHcybilla products.
Here's some inspiration to get you started: