These sweet honey soaps from our Bees Soap Kit are perfect for spring! Instead of using a soap colorant, these are subtly tinted just with fragrance oils. It's also a super simple project for beginners that allows you to really play around with the natural discoloration of our Oatmeal Milk and Honey, and Vanilla Select fragrances.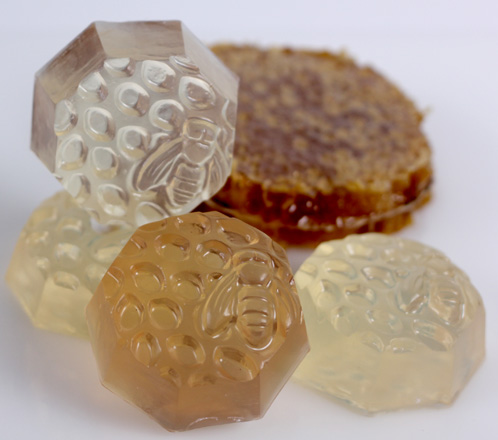 Ingredients
2 pounds of Honey Melt and Pour Soap Base
1 oz Oatmeal Milk and Honey Fragrance Oil
1 oz Vanilla Select Fragrance Oil
Buy the Bees Kit in the click of a button! 

ONE: Cut up 1 pound of Honey Melt and Pour into small chunks, and place in a microwave-safe container.  Microwave in 30 second bursts until melted. Careful! Don't overheat the soap; you don't want it to steam or boil.
TWO: Stir in .5 ounce of fragrance oil and mix well. I did a fun combination of Oatmeal Milk and Honey and Vanilla Select (equal parts) for the darker soap. It has a beautiful natural discoloration.
THREE:  Slowly pour the soap into each cavity of your mold and spritz with rubbing alcohol to eliminate air bubbles. Let the soap cool for 4-6 hours before unmolding.
FOUR: Repeat these steps to make 4 more soaps.
Bonus: Lightly scent the soap or leave it completely unscented for a different color hue.
For more basics on melt and pour soapmaking, check out our series for beginners on Soap Queen TV!